Ecuador: Violence, Assassinations Loom Over Elections
Ecuador's gang violence claims its latest victim - a Presidential candidate - and looms over its upcoming election.
Ecuador's elections, already set to be dominated by discussion over the country's spiralling violence, have been hit by the assassination of Presidential candidate Fernando Villavicencio, apparently at the hands of one of Ecuador's warring drugs gangs. It has led to the declaration of a State of Emergency, one of several to have been called in the last year as the country struggles to deal with rampant violent crime. 
A constitutional crisis, brought on by impeachment proceedings, had cut short the first term of centre-right neoliberal President Guillermo Lasso, and led to a forthcoming snap election that throws into stark relief the rapid deterioration of the security situation in the country, fuelled by increasingly powerful gangs involved in trafficking cocaine. 
The murder of Villavicencio – a former journalist and outspoken critic of corruption – has only further highlighted the worsening gang violence that has taken hold of Ecuador. Just days before his killing, Villavicencio had spoken out against death threats from Los Choneros, one of Ecuador's largest gangs – following his shooting, a video emerged on social media of individuals claiming to represent Los Lobos, a rival gang, taking credit for his killing.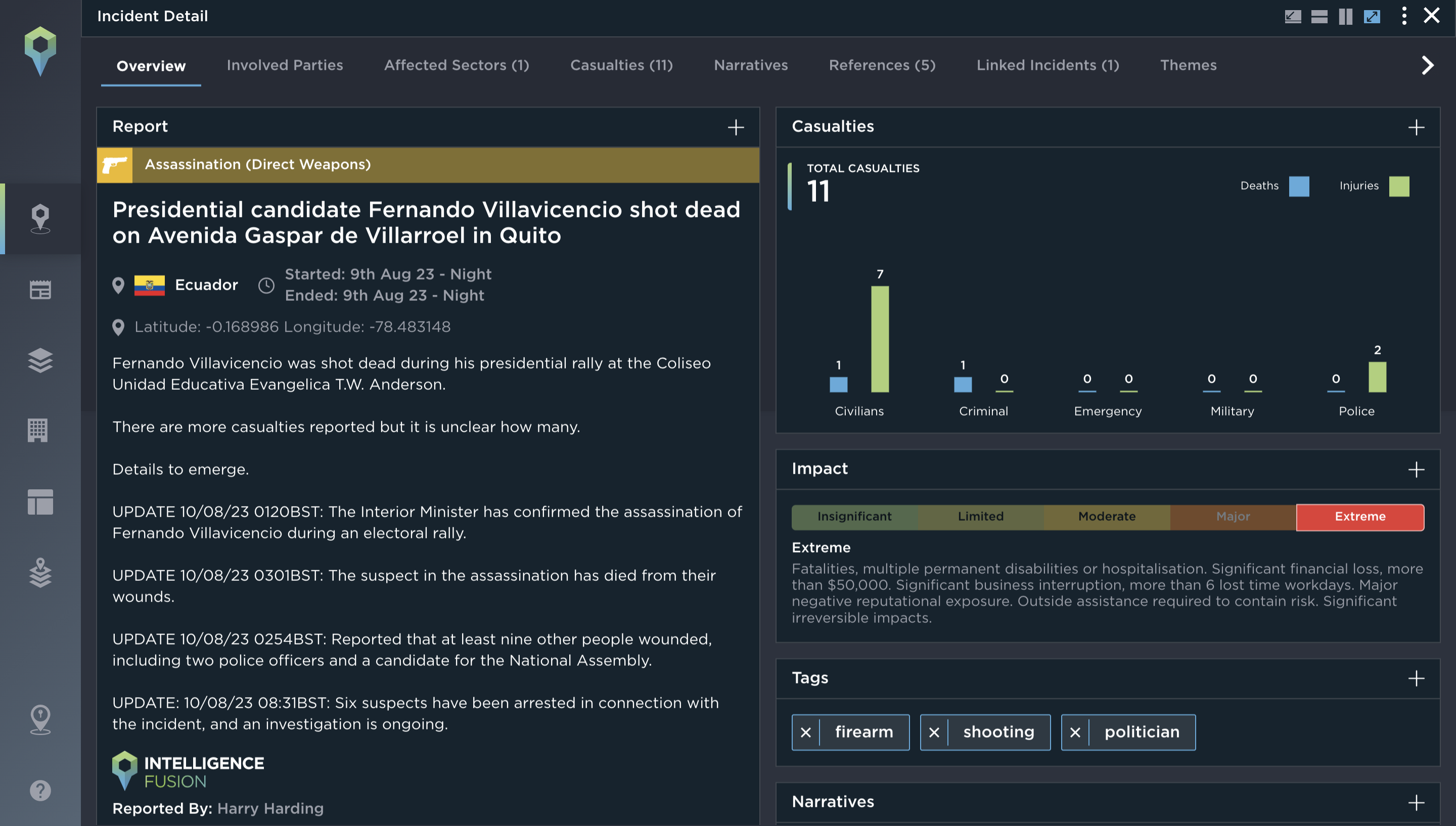 Presidential candidate Fernando Villavicencio became the most high profile victim of Ecuador's gang crime when he was shot dead in Quito on 9th August [image source: Intelligence Fusion]
Whoever the true culprits, it serves as a reminder of Ecuador's surging crime rate, which has claimed thousands of lives over the past three years, contributed to the downfall of its sitting President, and which now threatens to loom over the coming elections. 
Why is Ecuador holding early elections?
In May 2023, sitting President Guillermo Lasso, facing impeachment hearings, and with approval ratings of less than 10%, invoked a clause in the Ecuadorian constitution known as 'mutual death', dissolving the legislature and ruling by decree, but also cutting his term short early by nearly two years, with a new President to be elected and take power six months later. The winner would then only be in power for a year and half, to see out the rest of the remaining term until 2025, rather than have a full four-year Presidential term.  
These elections are set to take place shortly, on 20th August 2023. Neither Lasso nor any other candidate from his party are running. 
The impeachment process originated in a scandal that erupted in January 2023, when digital outlet La Posta made a string of corruption allegations against associates of President Lasso. 
The Encuentro Case – initially referred to as the Gran Padrino case – centres around allegations of corruption involving a network led by Danilo Carrera, brother-in-law of President Lasso, accused of negotiating the sale of positions and contracts in public companies, including receiving bribes from state suppliers when contracts were awarded.  
One top government appointee, Hernan Luque, appointed as chair of the board of directors of EMCO in July 2021, became a fugitive from justice and fled Ecuador for Argentina in December 2022. Another associate of Carrera alleged to be involved in the corruption scandal was Ruben Cherres, a businessman who was accused of having ties to the Albanian mafia groups involved in trafficking cocaine in the country. Luque is reportedly married to a cousin of Cherres. Cherres was found murdered in March 2023, alongside three other people.  
As well as the ongoing Encuentro case, the attorney general's office is also pursuing an investigation into state oil company Petroecuador. This probe resulted in a prosecutorial raid on the CEO's residence, prompting his subsequent resignation. 
However, while the corruption cases are ultimately what led to President Lasso's impeachment and subsequent dissolving of the legislature, they only play a small part in his unpopularity in the country.  
Ecuador's gang violence epidemic has plagued Lasso's time in charge, and casts a long shadow over the election, with the assassination of Fernando Villavicencio serving as a grim reminder of the country's rapid descent into extreme violence. 
Ecuador's surging violence
The rise in violence in Ecuador has been exponential over the past few years – going from a country with one of the lowest homicide rates in Latin America to having one of the highest in the world. In 2020, Ecuador had a homicide rate of 7.7 per 100,000 – this doubled to 14 per 100,000 in 2021, nearly doubling again the next year to 25.9 in 2022.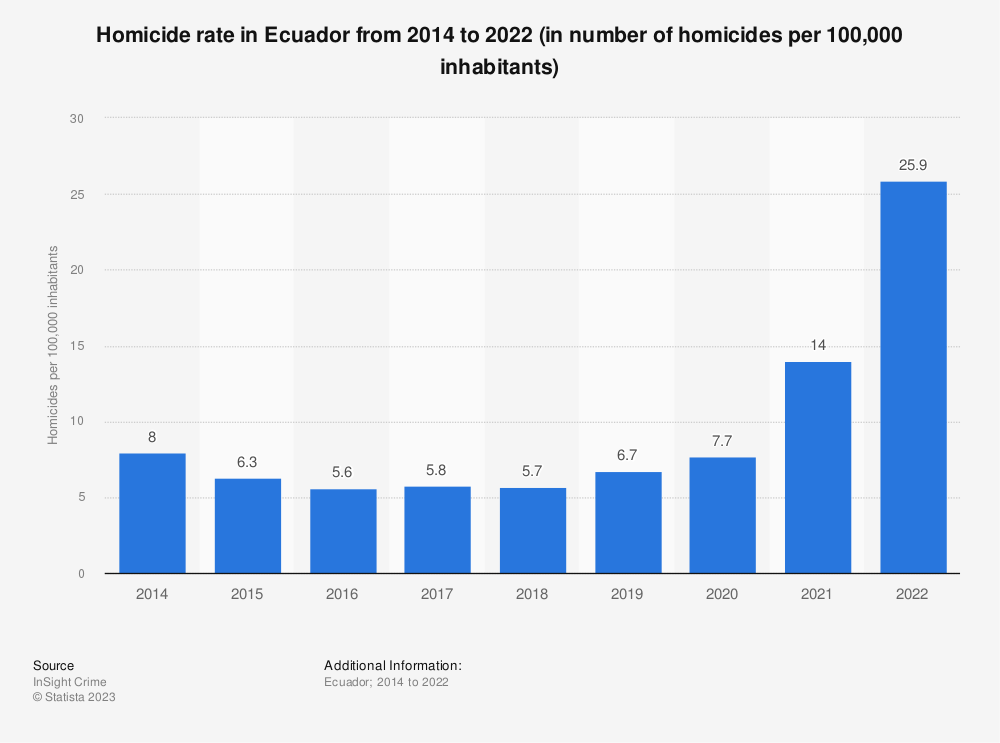 Ecuador's homicide rate has increased exponentially since 2020 [image source: Statista]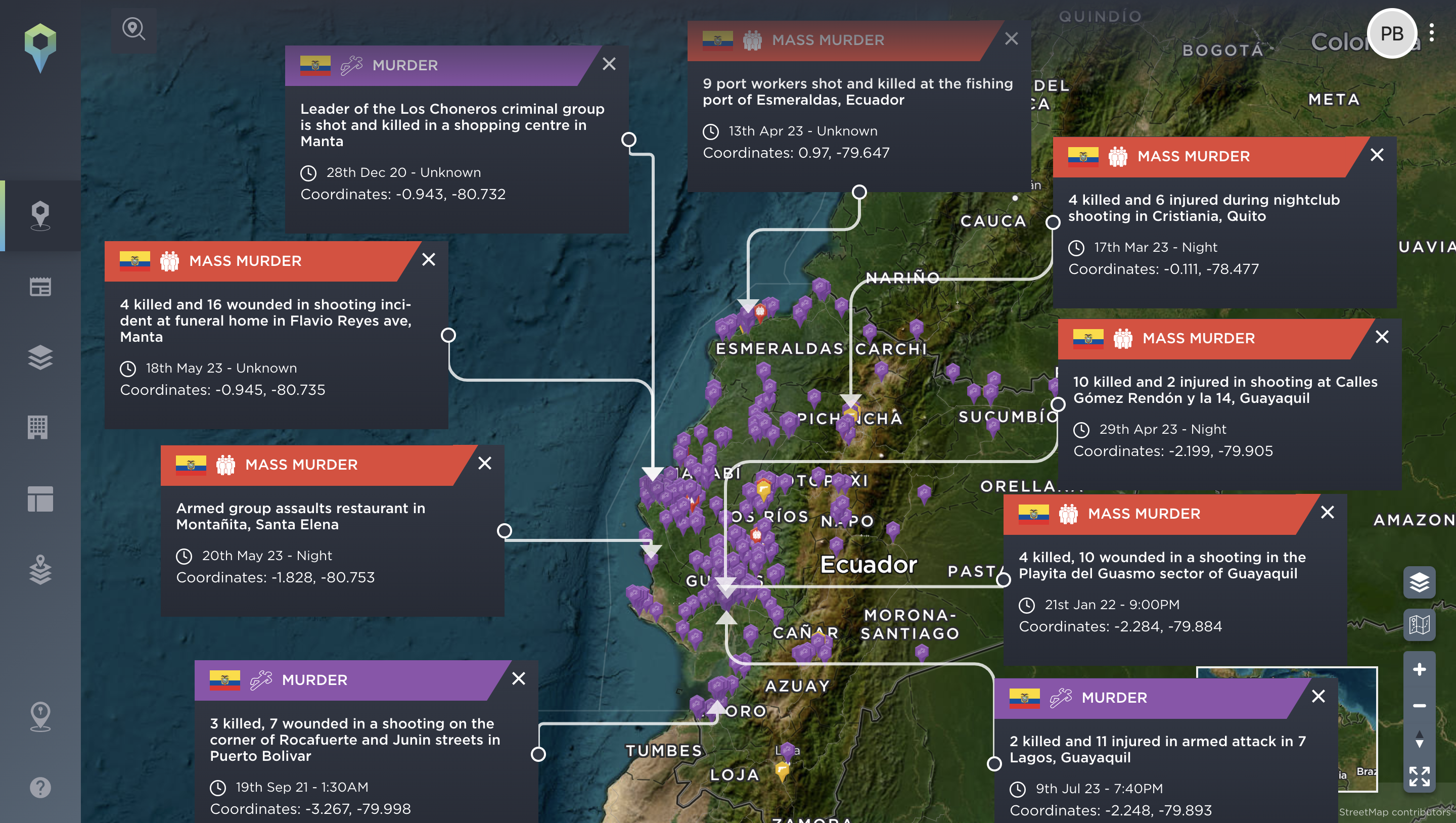 Incidents related to gang crime in Ecuador [image source: Intelligence Fusion]
Drug Trafficking in Ecuador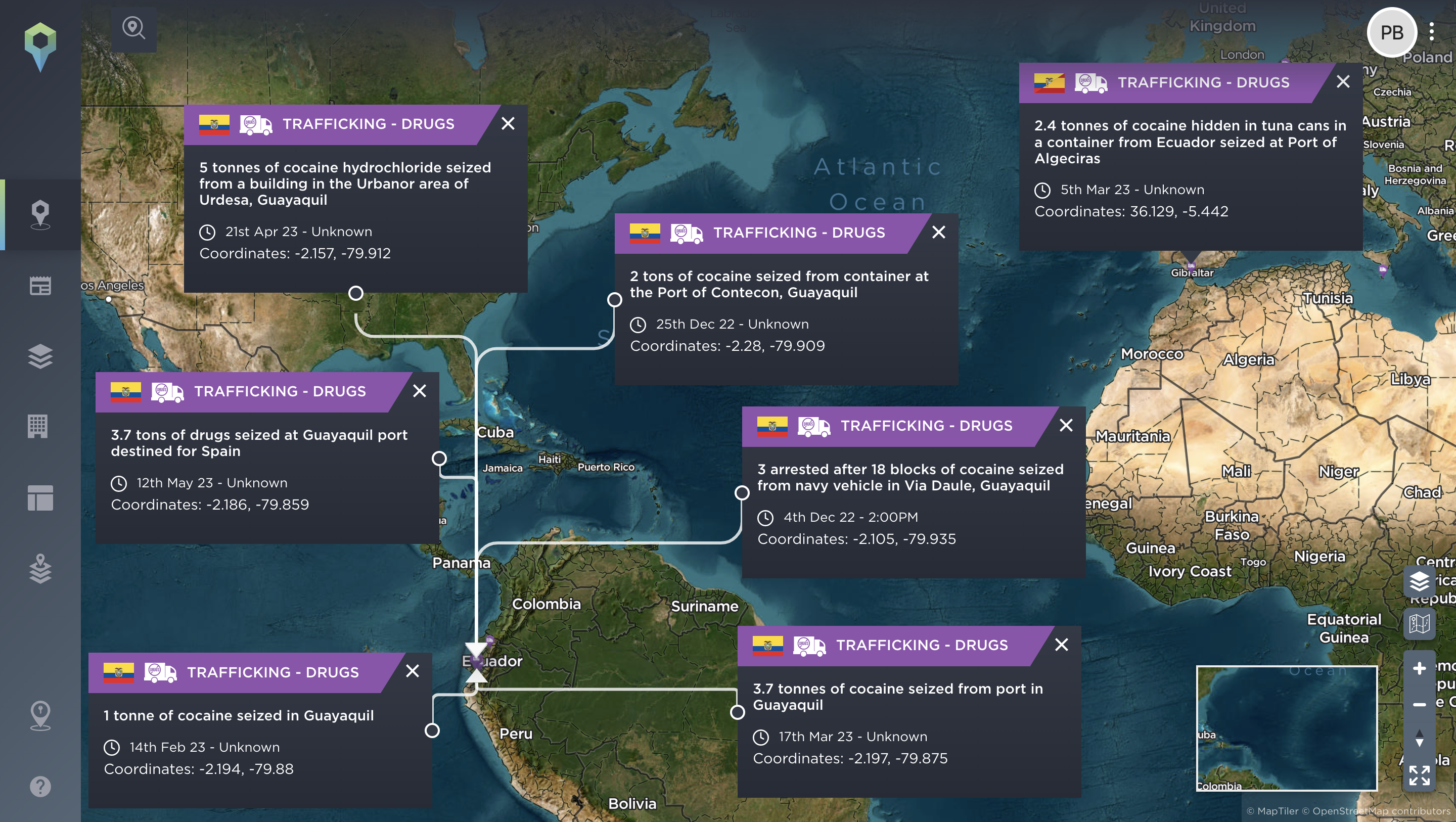 Ecuador has become a key part of the global cocaine trade [image source: Intelligence Fusion]
This exponential rise in violence and drug seizures has coincided with an explosion in cocaine production and demand. Following the FARC's peace deal with the Colombian government and disbandment in 2016, a power vacuum left in the coca producing regions it controlled has led to a huge rise in the amount of cocaine being produced in the country. At the same time, cocaine usage and demand has risen significantly in Europe, a much more lucrative market with higher wholesale prices than in North America. According to the UNODC, in Ecuador "the proportion of cocaine destined for Europe increased from 9 per cent in 2019 to 33 per cent in 2021, increasing to more than 50 percent when only counting cases where the destination was known." According to the same report, more cocaine was seized in shipments in Europe that had originated in Ecuador than from any other country in 2021. 
Ecuador's location makes it ideally situated for cocaine traffickers. Its bustling ports provide a gateway to North American and European markets. It has existing established global trades; Ecuador is the world's largest exporter of bananas, for example, an ideal good for stashing cocaine as it is perishable and needs to be cleared by customs quickly. And its location puts it in close proximity to large amounts of cocaine. 
From Intelligence Fusion's report dated April 2022: 
"Ecuador is located in between the two largest producers of cocaine – Colombia and Peru – making it ideal for drug traffickers to use to ship cocaine from, and for precursor chemicals and other illicit goods to come through back to those two countries. The fact that Ecuador uses the U.S. Dollar as a currency has also provided criminals an opportunity for money laundering.  
Drugs flowing from Colombia follow several trafficking routes including to various points along Ecuador's coast where fishing boats, low-profile vessels and planes at clandestine airstrips are used to move the drugs up the coast towards Central America and the United States. This has led to several seizures off the coast of Costa Rica where drugs are often left attached to GPS buoys for the next group in the drug supply chain to pick up and take them further north. Other routes take the cocaine to the largest port in the country, Guayaquil, where the drugs are loaded onto container ships heading for North America, Europe, and Asia among others. This has led to levels of corruption amongst dock workers and customs officials to forge paperwork and load the drugs onto containers loaded with legal goods." 
As cocaine and cash has flooded into Ecuador's criminal economy, this has given rise to spiralling organised crime. Local gangs, once relatively small-time prison gangs, are now becoming powerful cartels, supported by foreign OCGs, brokers and traffickers, including Colombians, Mexicans, Albanians and others. 
This influx of money, drugs and competition has also been accompanied by weapons; into the hands of gangs, into prisons and onto the streets. 
Gang violence in Ecuador
The lucrative drugs trade has led to competition between gangs new and old in Ecuador. Powerful gangs such as Los Choneros have reportedly splintered into different factions, with rivals Los Tiguerones, Los Lobos and the Chone Killers all originating in the gang. The assassination of Choneros' leader Jorge Luis Zambrano, alias Rasquiña, in December 2020 has been cited as a catalyst for the explosion in violence, weakening the Choneros, causing a leadership vacuum, and signalling an opportunity for its rivals to exploit. With easier access to cocaine and the opportunities it provides, new criminal gangs such as R7 have also emerged. Some of these gangs' memberships are reported to be in the many thousands of people. 
Analysts have suggested that violence is also being fuelled by gangs vying to work with the rival Mexican Sinaloa and Jalisco New Generation cartels, as well as securing partnerships with European criminals such as the Albanian mafia groups based in the country. 
Prison violence
The exploding violence first emerged in Ecuador's prison system, where much of the gangs' leaderships are based. Rival gangs have frequently carried out coordinated attacks against each other in an attempt to assert their dominance. Prison riots in Ecuador could often more accurately be described as prison massacres, with scores of inmates being killed at any one time, including beheadings and being burned alive. Inmates also appear to have access to grenades and fully automatic weapons, as seizures of weaponry from prisons reveal. Several prisons have seen riots with high casualty counts in recent years, with 119 inmates being killed in clashes at the Litoral prison near Guayaquil in September 2021. More recently, over 30 people were killed and 14 injured in a riot at the prison, while 96 guards were also taken hostage in late July 2023. According to the Permanent Committee for the Defense of Human Rights (CDH), an estimated 600 people have died in prisons in Ecuador from 2019 to 2022. On 25th July 2023 a 60-day State of Emergency was declared across the penitentiary system in the country, with further riots expected.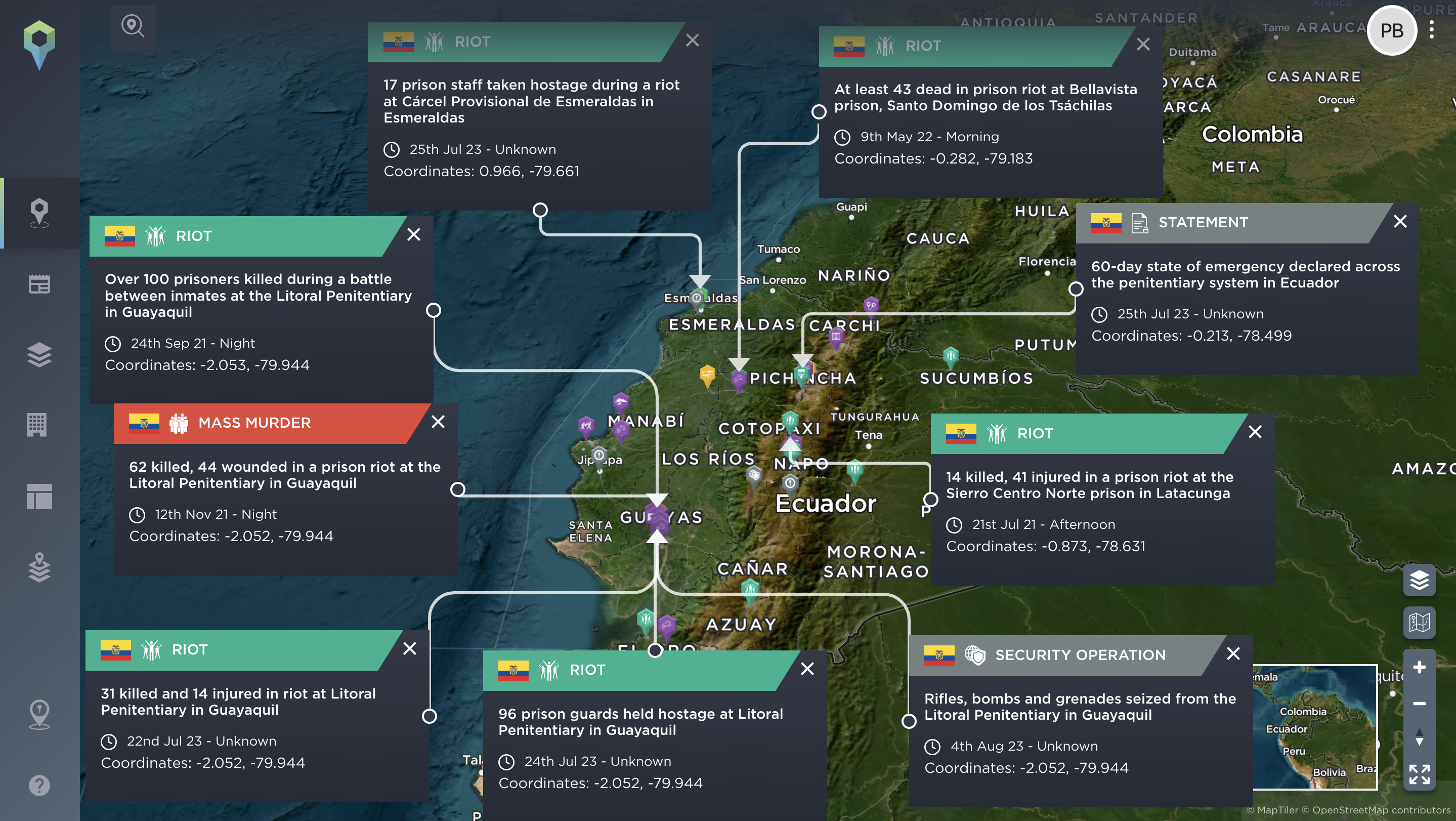 Ecuador's prisons have been the scenes of extreme violence between rival gangs [image source: Intelligence Fusion]
Street violence
The extreme violence has since escalated from the prisons onto the streets of Ecuador.  
Brutal violence, most pronounced in port cities along the Pacific coast, has become a common occurrence as gangs battle to control cocaine supply and distribution routes, rule over certain territory, and carry out tit-for-tat killings. In scenes designed to intimidate and instil fear, beheaded corpses and bodies hanging from bridges have been left as a macabre warning to rivals and civilians. Killings have not been confined to battles between gang members, with attacks on police also common. Civilians are also being caught up in the violence. According to figures cited by Pressenza, of the more than 3,500 victims of violent deaths in the first half of 2023, 79% had no criminal record – this could also demonstrate how gang members are being drawn from the civilian population as well as hardened criminals. In one incident, gang members reportedly took control of a hospital, seeking to assassinate a 16 year old hitman who was believed to be receiving treatment there. Extortion and kidnapping are also becoming increasingly common.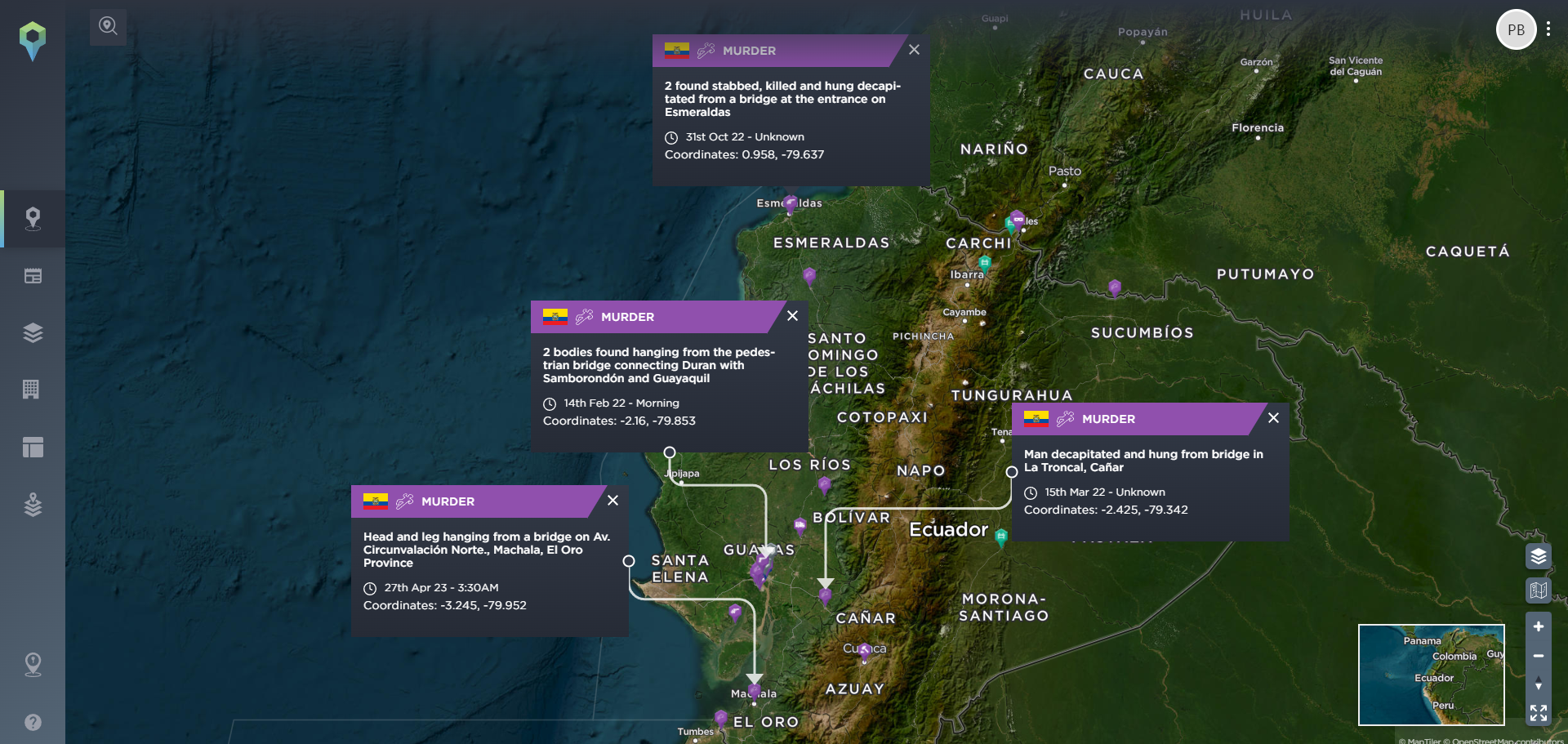 Decapitated bodies have been hung from bridges in an attempt to intimidate rival gangs and civilians [image source: Intelligence Fusion]
The violence has not been limited to Ecuadorian gangs, with a series of killings of Albanian criminals suggesting that foreign mafia groups are also vying for control in the country. 
As the assassination of Fernando Villavicencio demonstrates, violence is increasingly being carried out against political figures too. 
Political violence
Villavicencio's assassination is the most high-profile killing of a politician in Ecuador but it is not the first this year. In July 2023, Augustin Intriago, mayor of Manta, Ecuador's third largest city, was killed in a shooting that wounded four others. A week later, gunmen targeted the home of the governor of Los Rios, Connie Jimenez, although she emerged unscathed. In February 2023, Omar Menendez was elected mayor of Puerto Lopez – Menendez had been shot dead by gunmen hours before polls opened the same day. Two weeks before those mayoral elections the candidate for the coastal town of Salinas, Julio Cesar Farachio, was also shot dead.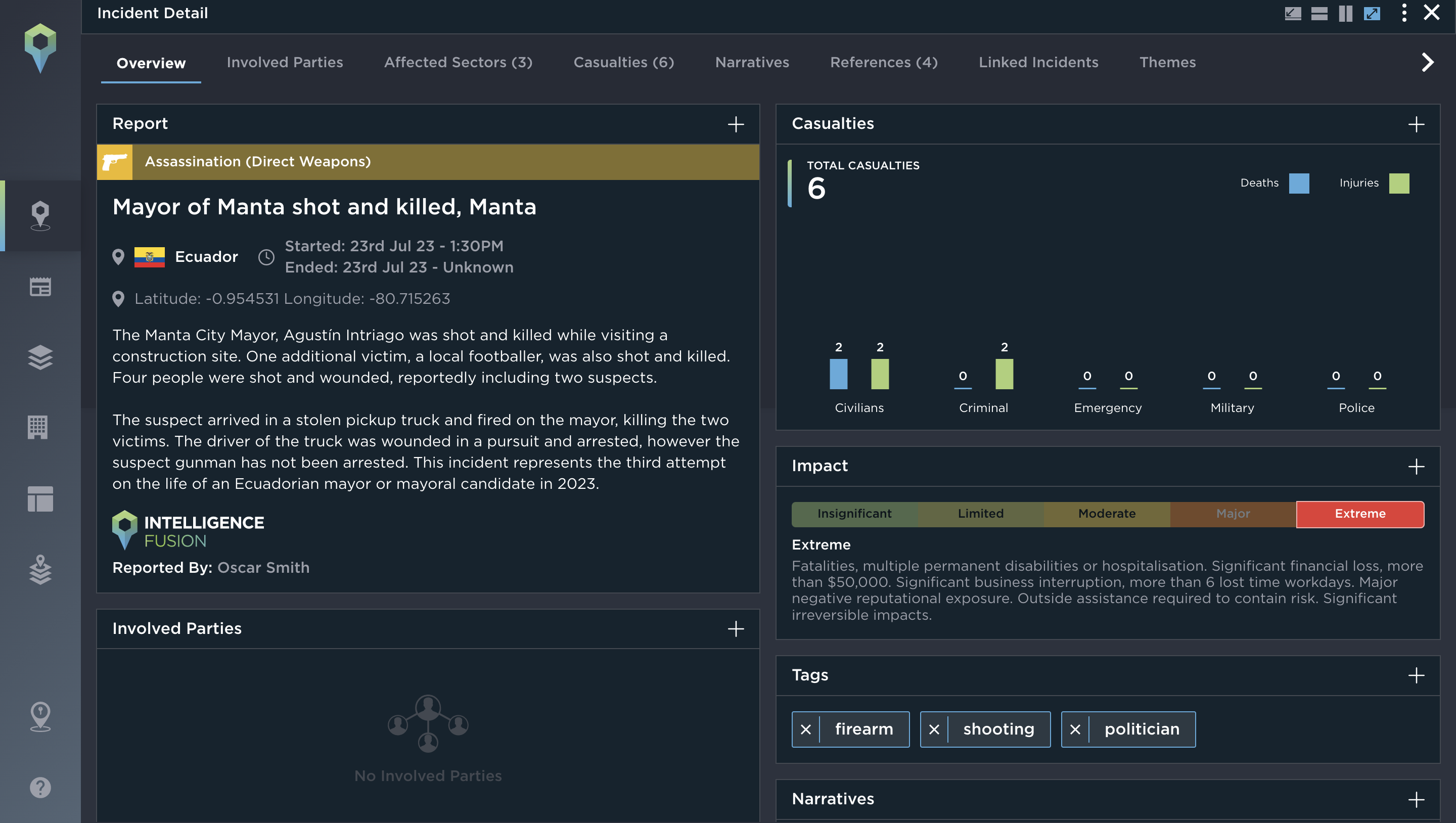 Augustin Intriago, Mayor of Manta, was shot and killed while visiting a construction site less than three weeks before Villavicencio was assassinated [image source: Intelligence Fusion]
Ecuador's economic problems
Gang membership has also been fuelled by a difficult economic situation in the country, with financial hardship reportedly pushing people into criminality. Other than insecurity, the economy is also likely to be an important issue in the election. 
As with many Latin American countries, Ecuador's economy has been badly hit by the COVID-19 pandemic, and now reportedly less than four of every 10 'economically active' people had adequate employment – or a job that provided benefits and more than the minimum wage of $450 per month – in the second quarter of 2023.  
The combination of insecurity and economic difficulty led to around 1.4 million Ecuadoreans leaving the country in 2022. 22,156 Ecuadorians entered Mexico without proper documentation in 2022, up from 1,384 in 2021. 
This has had a knock-on effect elsewhere. Agricultural production has fallen by 8% in the country, with the Ministry of Agriculture and Livestock stating that the increase in migration has had the greatest impact on agricultural production. 
It has also led to an increase in violence linked to civil unrest. In June 2022, violent protests erupted across the country, but particularly in the capital, Quito, over fuel subsidies, after diesel prices almost doubled in the space of two years. Protesters blocked roads into the capital, leading to fears of food shortages. The protest movement was begun by the Confederation of Indigenous Nationalities of Ecuador (Conaie), and indigenous rights are another issue that could prove key in the coming election.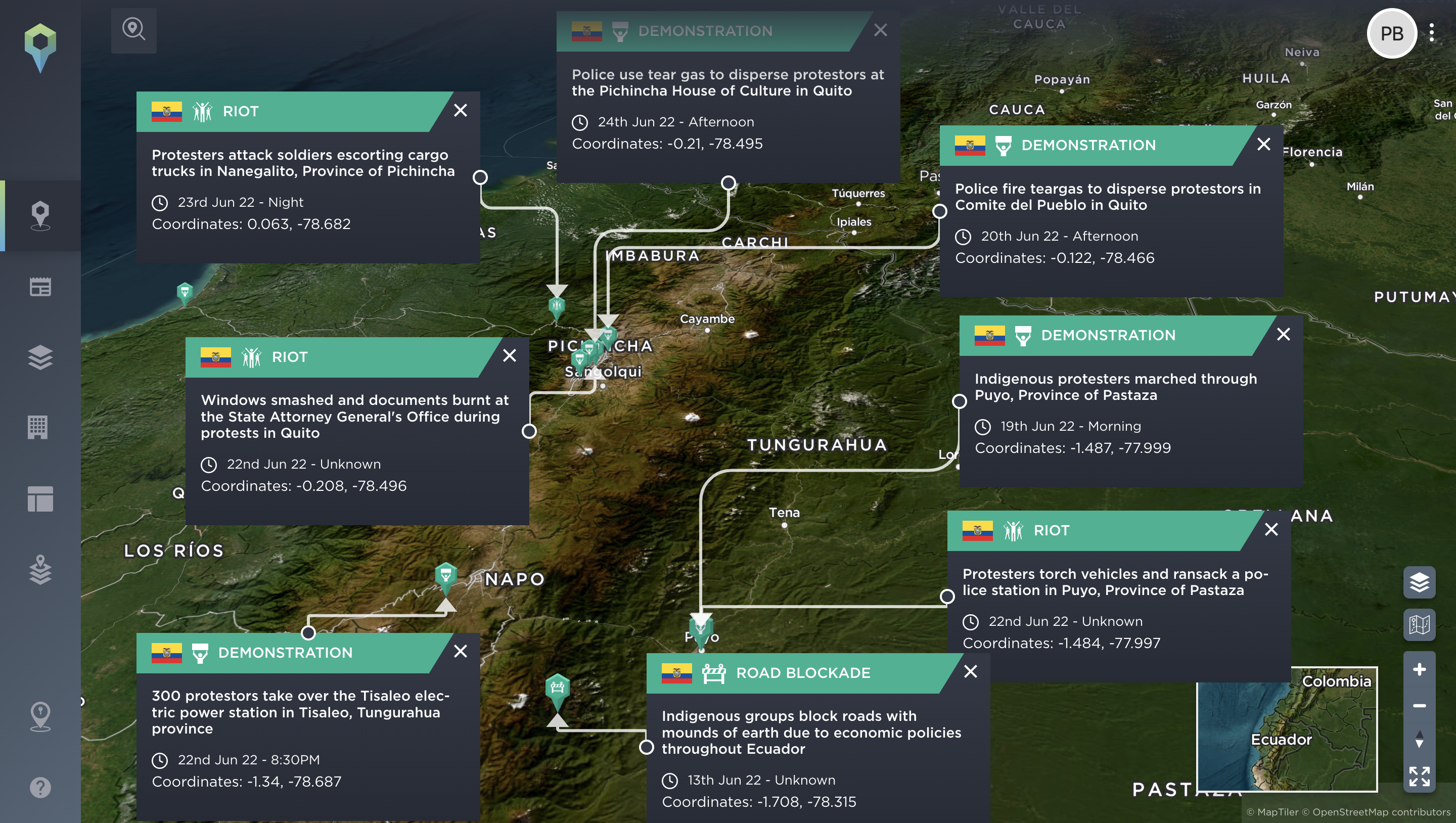 Protests over fuel prices led to road blockades, violence and clashes with security services in 2022 [image source: Intelligence Fusion]
Also of key interest is the future of oil and mining in the country – coinciding with the elections on 20th August are two referendums aiming to ban oil extraction from the Yasuni nature reserve of the Amazon rainforest, and to ban mining projects from the Choco Andina reserve in the south of the country. The Yasuni is reportedly home to 40% of Ecuador's oil reserves – state owned oil company Petroecuador has said that a vote to ban oil extraction would cost the country $13.8 billion over the next two decades. Six gold mining concessions would have to be closed should mining be outlawed in Choco Andino. President Lasso had attempted to speed up the granting of extraction permits before the end of his term by issuing a decree to allow environmental consultations for mining and oil projects, but this was suspended by the country's constitutional court in early August. The decree had been challenged by Conaie in May. 
---
According to a July poll, only three candidates were polling at or above 10 percent: Luisa Gonzalez, a leftist member of exiled former-President Rafael Correa's Citizen Revolution Movement party; Yaku Perez, an indigenous environmental activist; and Otto Sonnenholzner, former Vice President to Lenin Moreno, running as a centrist option. What impact Fernando Villavicencio's murder might have on the polls is unknown – businessman Jan Topic, running a hardline anti-gang platform in the mould of El Salvador's Nayib Bukele, may benefit but so far neither his approach, nor any candidate from the right, has gained much traction. Topic has also reportedly received death threats from gangs.
Despite multiple declarations of States of Emergency in the past year the security situation has continued to deteriorate, and the uptick in political violence is concerning. Further incidents of political violence, whether intimidation or assassination attempts, are not unlikely. What any of the candidates can achieve to reverse the slide in the space of less than two years is also questionable.
We will continue to monitor the situation in Ecuador, providing timely and reliable intelligence and incident mapping to our clients as part of our threat intelligence platform, which you can learn more about here.
If you'd like to take a closer look at the platform, and discuss how we can work with you to help secure your operations, book some time with a member of the team below.