The surging violent crime rate in Ecuador: gang killings, drug trafficking and Mexican cartels
Following soaring gang violence linked to drug trafficking and production in Latin America, Intelligence Fusion have put together a crime and safety report for Ecuador.
Following recent success in lowering crime rates, violence in Ecuador spiralled out of control in 2021, with little improvement in 2022.
On 18th October, 2021, Ecuadorian President Guillermo Lasso declared a state of emergency across the country to crack down on the consumption and trafficking of drugs, which had led to a significant spike in crime rates, particularly in major cities, as well as high rates of prison violence. Weeks before the declaration, 119 inmates were killed and dozens more wounded in clashes between rival gangs inside the Litoral Penitentiary in Guayaquil. The state of emergency was to last 60 days but was reduced to 30-days and would involve increased presence of military and police forces in the streets to attempt to bring down the levels of crime.
However, in mid-November, President Lasso extended the state of emergency by another 30 days in nine of the 24 provinces of the country, including the province of Guayas where the city of Guayaquil is located, in which authorities say drug trafficking is linked to 70% of violent deaths. Whilst the authorities said that crime rates went down during the state of emergencies, 2022 has started more violent than 2021, with Zone 8 – which includes Guayaquil, Duran and Samborondon – seeing triple the cases of violent deaths compared to the same period of 2021.
Why the surge in Ecuador's violent crime rate?
Ecuador had been a success story in recent years in regard to lowering intentional homicide rates, being able to have rates decrease between 2010 and 2018 according to the latest data by the United Nations Office on Drugs and Crime (UNDOC). The success story came to a halt in 2021 where the rates of violence spiked due to fighting between gangs for control of the Latin American drug trade. The year saw 210 tonnes of cocaine seized by Ecuadorian Police, 96 of which were seized in Guayaquil.
Ecuador is located in between the two largest producers of cocaine – Colombia and Peru – making it ideal for drug traffickers to use to ship cocaine from, and for precursor chemicals and other illicit goods to come through back to those two countries. The fact that Ecuador uses the U.S. Dollar as a currency has also provided criminals an opportunity for money laundering. Drugs flowing from Colombia follow several trafficking routes including to various points along Ecuador's coast where fishing boats, low-profile vessels and planes at clandestine airstrips are used to move the drugs up the coast towards Central America and the United States. This has led to several seizures off the coast of Costa Rica where drugs are often left attached to GPS buoys for the next group in the drug supply chain to pick up and take them further north.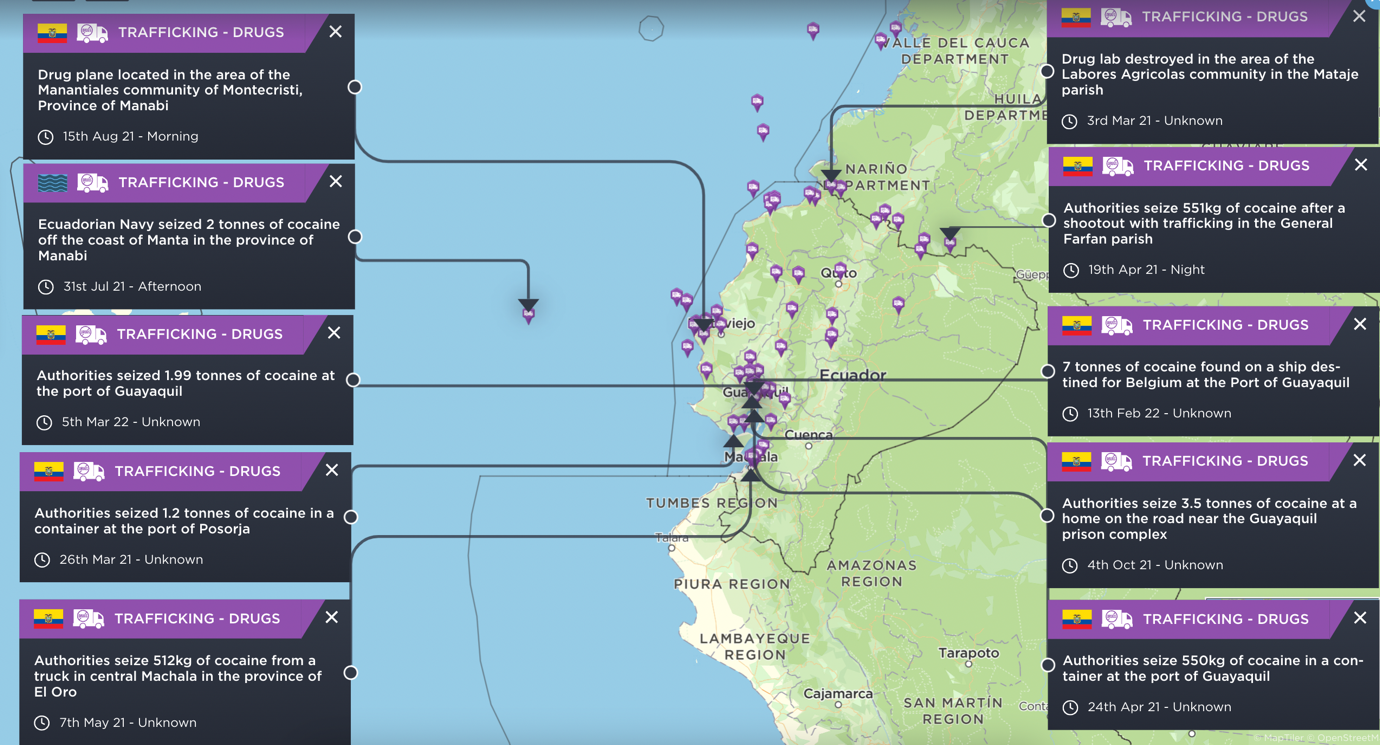 Significant drug seizures in Ecuador and off the coast of the country since January 2021 [image source: Intelligence Fusion]
Other routes take the cocaine to the largest port in the country, Guayaquil, where the drugs are loaded onto container ships heading for North America, Europe, and Asia among others. This has led to levels of corruption amongst dock workers and customs officials to forge paperwork and load the drugs onto containers loaded with legal goods.
The importance of the port of Guayaquil for the shipping of large quantities of drugs has led to fighting between drug gangs for control of territory, and similar fighting has taken place for control of drug routes from the coast. The trafficking of drugs has also led to maritime crime where criminals hijack fishing vessels or board containerships underway to smuggle the drugs onboard.
Mexican Cartels in Ecuador
The high rates of violence between gangs in Ecuador has been linked to the involvement of foreign criminal groups, primarily from Mexican cartels, including the Sinaloa Cartel and the Jalisco New Generation Cartel. Reporting suggests these Mexican cartels have aligned themselves with Ecuadorian gangs to control the flow of cocaine through Ecuador and its ports and airstrips, creating a proxy conflict. Those involved in Ecuador would be the Choneros, reportedly backed by the Sinaloa Cartel, and its rival gangs such as the Chone Killers, Lobos, and Lagartos among others, backed by the Jalisco New Generation Cartel. With the levels of violence seen in Mexico due to cartel violence, authorities are worried that the situation in Ecuador will get significantly worse.
The extent to which Mexican cartels control or support local Ecuadorian gangs is not entirely clear, but several incidents over the years have given snippets of information. Most recently in 2021, the Washington Post reported that Mexican cartels were using local gangs to provide protection for drug shipments. In November 2021, Brayan Rodrigues of Mexico was arrested in Quito and was waiting to be extradited to the U.S. where he was wanted reportedly for involvement with the Sinaloa Cartel. In 2020, a Mexican national was arrested during drug raids in the province of Manabi, and was identified as Miguel Angel Merida Ortega, an alleged member of the Jalisco New Generation Cartel who was sent to Ecuador to facilitate the shipment of drugs to Mexico.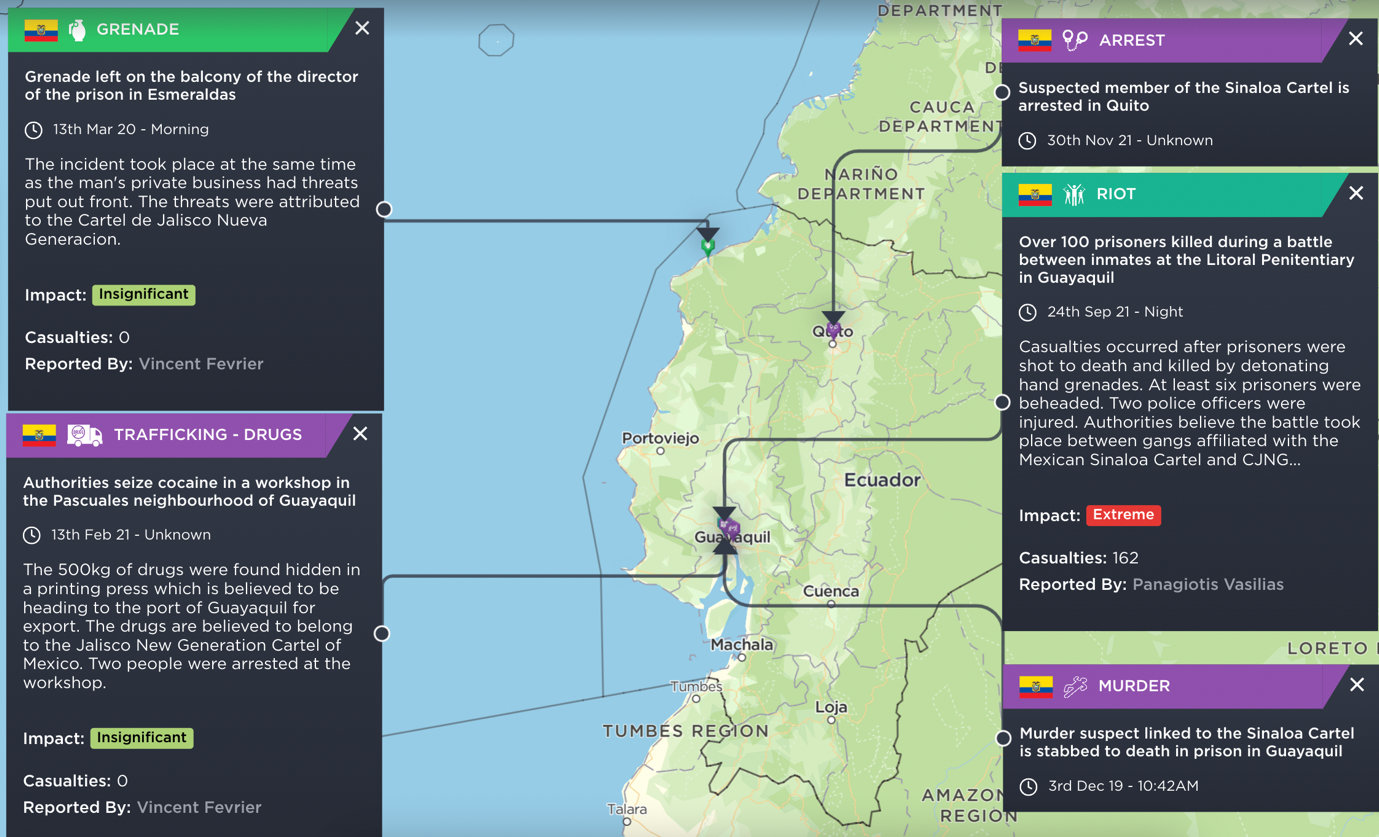 Incidents linked to Mexican cartels in Ecuador [image source: Intelligence Fusion]
During the trial of Sinaloa Cartel leader Joaquin 'El Chapo' Guzman in 2018, information came out about an Ecuadorian Army captain, Telmo Castro, who had facilitated the shipment of cocaine from Esmeraldas to Quito to Guayaquil. Castro had been arrested in 2013, but later re-arrested in 2018 and killed in prison in 2019. Among other incidents have been drug seizures varying in quantity, that Ecuadorian authorities have said were linked to Mexican cartels, or during Mexican nationals were arrested with the shipment.
To a lesser extent, Ecuador has seen criminals involved in the drug trade from other countries be active in the country. Most recently, on the 22nd January 2022, an Albanian national name Ergys Dashi was shot and killed in Guayaquil. The victim was said to be linked to the cocaine trade according to Albanian media. The presence of European criminals in countries like Ecuador, but also Colombia, shows the extent of the links that local groups have.
Is Ecuador safe? 2022 and Commercial Impacts
In the first 33 days of 2022, Zone 8 – Guayaquil, Duran and Samborondon – saw 100 homicides take place, whilst the country saw approximately 270 violent crimes. The year has begun more violent than the same period in 2021, with Guayaquil's crime rate seeing triple the rate of violence, while the overall crime rate in Ecuador is double that of the same period last year. Additionally, violence in prisons continues, and has led to three branches of the armed forces deploying soldiers to the Litoral Penitentiary in Guayaquil to guard the prison, due to ongoing prison violence and fighting between rival gangs, involving pistols, rifles, explosives, and bladed weapons.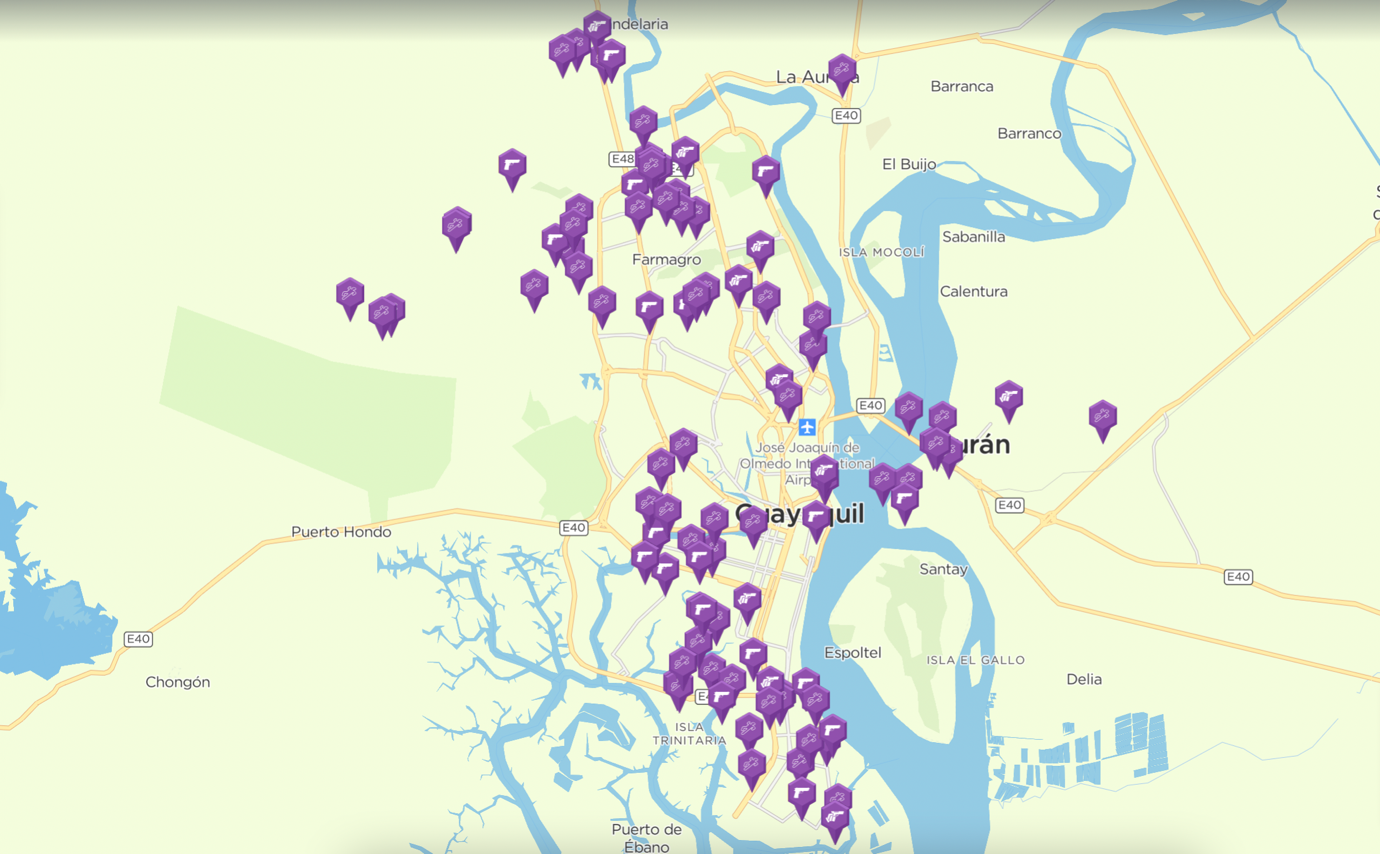 Violent crime in Zone 8 (Guayaquil, Duran and Samborondon) since January 2022 [image source: Intelligence Fusion]
Whilst Guayaquil is the epicentre of the violence in Ecuador, additional security threats are faced, including on the northern border with Colombia, where historically, Colombian armed groups have operated drug operations and camps to get away from Colombian authorities. The border provinces saw significant violence in 2018, which included a car bomb detonated outside a police station in San Lorenzo, Province of Esmeraldas, by FARC dissidents, injuring 28 people. Such acts of violence have not since taken place, but attacks on authorities, high rates of homicides, kidnappings, and arrests of Colombian nationals trafficking weapons and drugs are all continuing to be reported.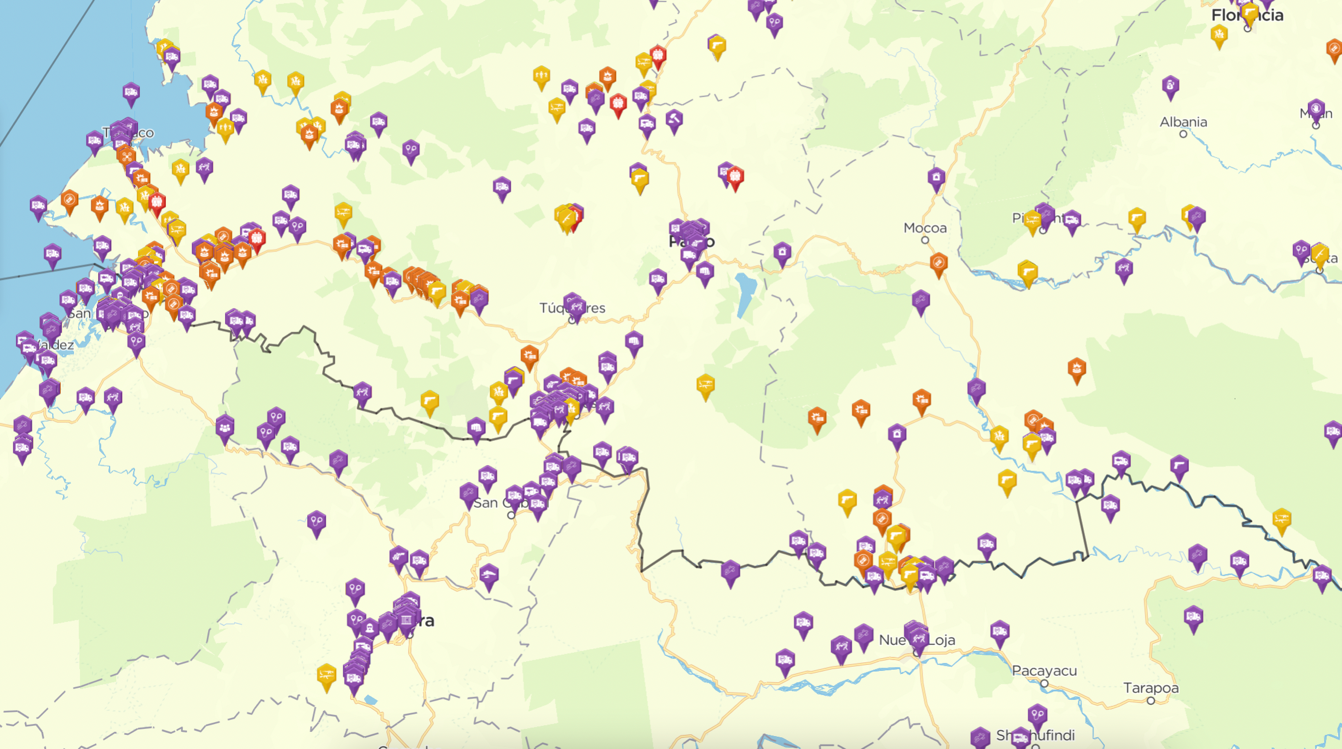 Incidents of conflict and criminality on both sides of the Ecuador-Colombia border since January 2018. Violence on the Colombian side is driven by the activities of armed groups such as FARC dissidents and the ELN and has spilt over into Ecuador. [image source: Intelligence Fusion]
Despite the actions taken by the government in late 2021 and early 2022, the violence has continued and there is no sign of it decreasing in the short term. While the U.S. State Department only warns to not travel to Carchi, Sucumbios and parts of Esmeraldas provinces, the U.K. Foreign Commonwealth Office has warned travellers of the possibility of robberies, muggings, carjacking, and express kidnappings in cities like Quito and Guayaquil, which may impact foreigners. Precautionary measures should be taken, such as avoiding overt signs of wealth, and avoiding certain areas of the city that have been particularly violent in 2022, such as southern Guayaquil.
Regarding business disruptions, some businesses have been targeted with explosives, by either having them detonated or left outside the business. The method is common by extortionists and drug traffickers in countries of the region. Thus far, businesses impacted have been local and reportedly motivated by the refusal of paying extortion money or allowing their business to be used by drug traffickers.
Foreign companies may particularly be affected at the ports, especially that of Guayaquil, where drugs are hidden in shipments of legal goods being exported across the world. A significant target for drug traffickers is containers loaded with fruits. Seizures of drugs from the containers can result in delays in the shipment, increasing costs for exporters and importers. If drugs are found and reported to authorities by the company whose goods the drugs are hidden in, it may result in threats by criminal groups, not just in Ecuador but also North America and Europe, due to the seizure of their product.
Finally, this year is also the second of the Covid-19 pandemic, which has impacted economies globally and provided criminal elements increased opportunities to capitalise on people and businesses to recruit or grow their criminal enterprises. With the amount of cocaine flowing through Ecuador from Colombia and Peru, this means economic opportunities for criminals and an attractive opportunity for the youth of the country, in turn leading to more violence.
---
If you'd like to take a closer look at the data that supports our analysis, schedule a demonstration of our threat intelligence platform. Providing timely, accurate incident data to security teams across the world, we can help you to better protect your people, assets and operations in times of uncertainty.