Threats to the Oil and Gas Industry in the Gulf of Mexico
Threat intelligence company Intelligence Fusion explores three of the main operational threats to the Oil and Gas industry's activity in the Gulf of Mexico.
The Gulf of Mexico is an ocean basin surrounded by the United States, Mexico, and Cuba, with connections to the Atlantic Ocean and the Caribbean Sea via the Florida Straits and the Yucatan Channel. The Gulf of Mexico is known for its importance in the oil and gas industry for its significant offshore production. The U.S. Energy Information Administration has stated that oil production in the Gulf accounts for 15% of total U.S. crude oil production, while offshore natural gas production in the Gulf accounts for 5% of total U.S. dry production. Platforms are primarily located off the coasts of Texas, Louisiana and Mississippi, and supporting facilities are also located in coastal cities in those states.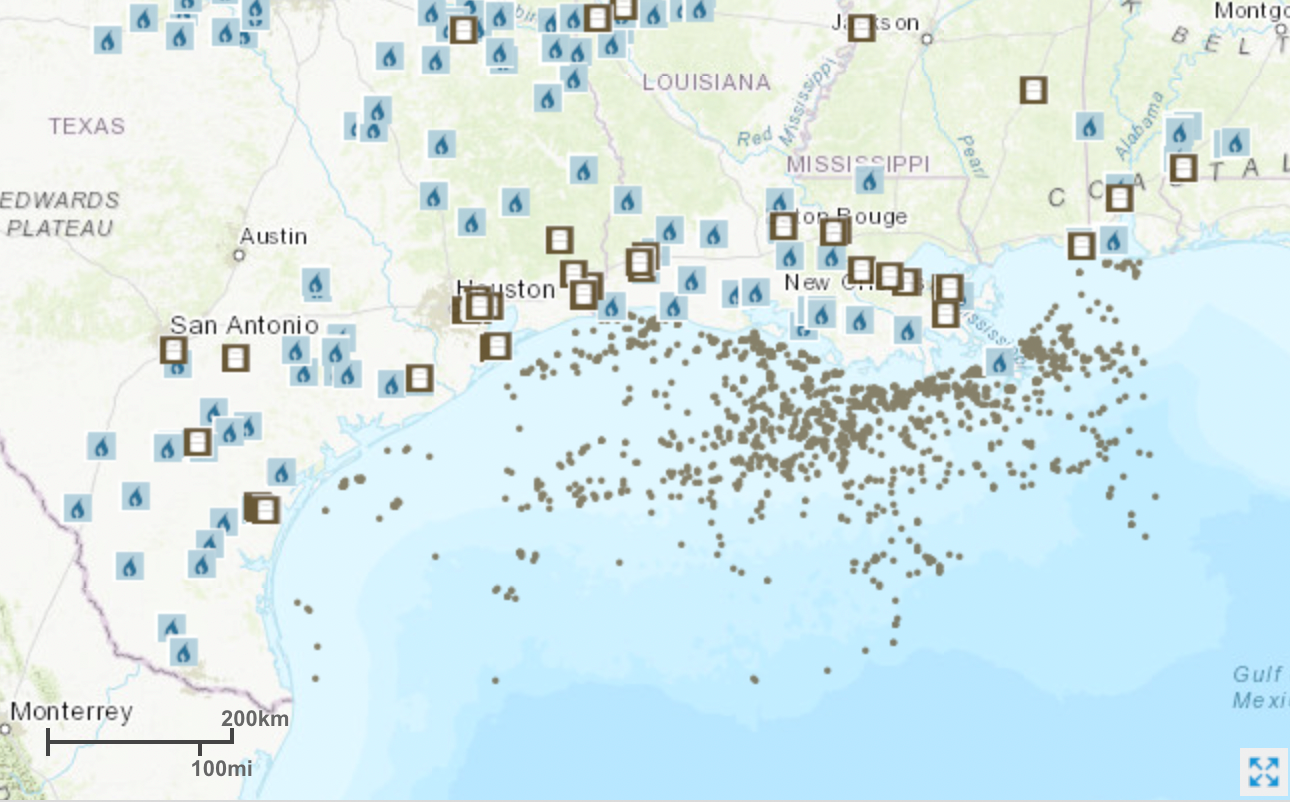 Map depicting oil and gas platforms (brown dots) active in Federal Waters in the Gulf of Mexico, along with petroleum refineries (squares with barrels) and natural gas processing plants (squares with blue flame). [Source: U.S. Energy Information Administration]
While the United States is the largest oil and gas producer in the Gulf, Mexico also has significant assets and investments in deep water and shallow water drilling to help support its onshore drilling assets.
The Gulf of Mexico is a highly competitive region with dominant players including Shell, BP, Chevron, Exxon Mobil and Delfin LNG. Over the medium term, the Gulf of Mexico's oil and gas market is expected to continue to thrive due to high resources; however, raising concerns around fossil fuels and ESG compliance alongside volatile oil and gas prices may begin to impede growth in the near future. But, today, in 2023, the significant number of assets in the Gulf of Mexico and their associated onshore operations face several threats, often due to location and the security situation in the nearby country. 
We will use open-source data and the Intelligence Fusion platform, along with expert analyst insight, to review three of the current operational threats oil and gas companies in this region face.  
Extreme Weather Events
One of the most significant threats faced by the oil and gas industry in the Gulf of Mexico is extreme weather events, most importantly, hurricanes. The Atlantic hurricane season starts in June and goes through to November. Hurricanes are fuelled by a number of factors, including sea surface temperatures, which can be heavily impacted by climate change.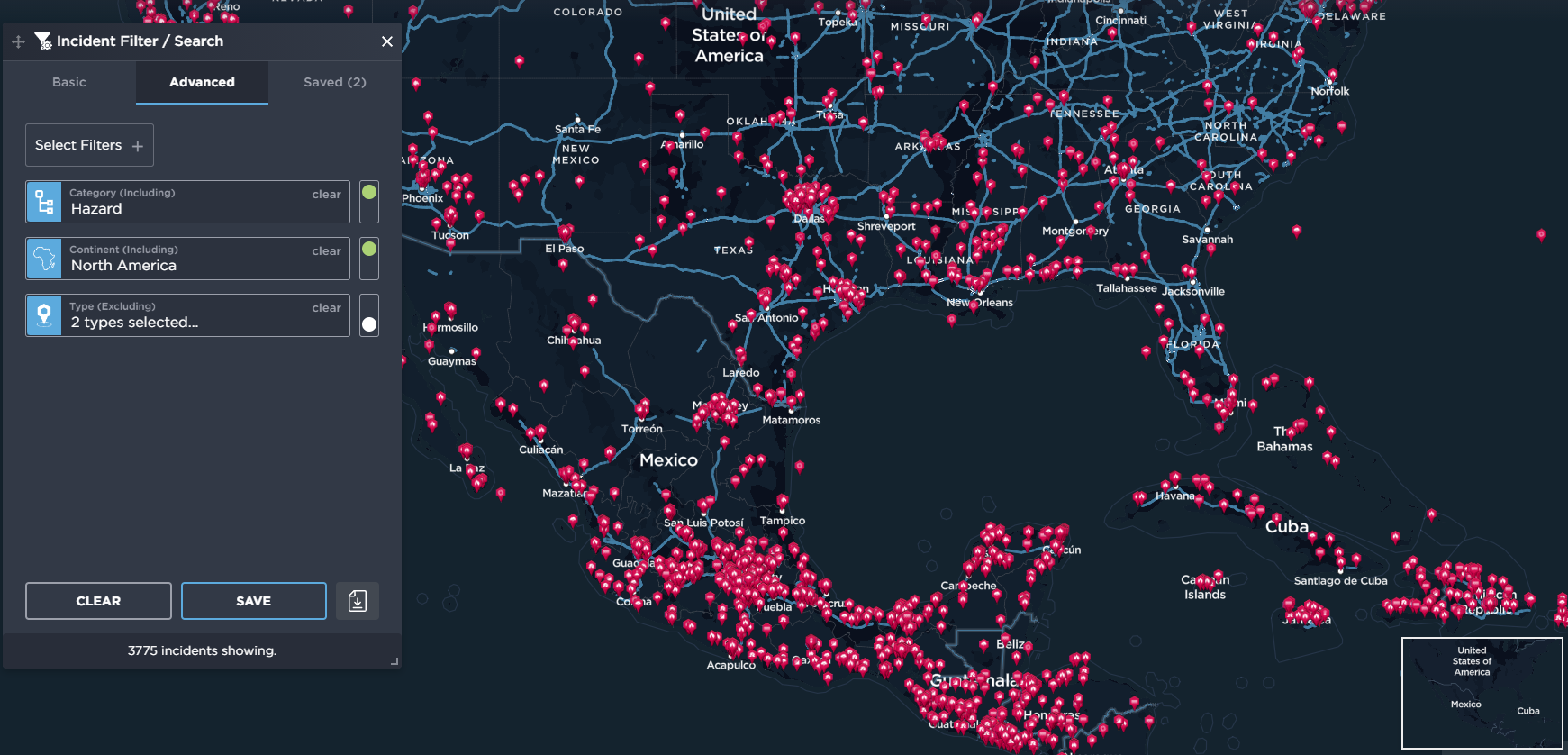 Map of hazards in North America that Intelligence Fusion has recorded, minus incidents of disease relating to Covid-19. Incidents above were found using the extensive filtering options on the Intelligence Fusion platform, allowing you to search for hazards in North America, but excluding major and minor disease incident types. [Source: Intelligence Fusion Platform]
The 2020 hurricane season was record-breaking, with 31 named storms, 14 hurricanes, 7 major hurricanes and 11 of the named storms striking the U.S. coastline. The season is estimated to have cost over USD 51 billion in damages.  
In recent years activity seems to have settled slightly, although the risk is still high. 2022 saw 14 named tropical systems, including 8 hurricanes, with 2 major hurricanes. NOAA predict a near-normal 2023 Atlantic hurricane season.  
However, 2020 and 2021 were record-breaking years. With 2020 taking the number one spot, followed by 2005 in second place and 2021 ranking as the third most active hurricane season. We can expect more of these volatile weather patterns due to climate change. 
With thousands of oil and gas platforms located in the Gulf of Mexico, these platforms are often at risk due to their locations and the paths of hurricanes often striking the coasts of Texas, Louisiana, and Mississippi. Whilst platforms can resist significant wind speeds and high swells, precaution often leads oil and gas companies to shut down operations and evacuate personnel prior to significant hurricanes. The downtime of the platform and the time it takes to restart operations post-hurricane costs company's significant amounts of money.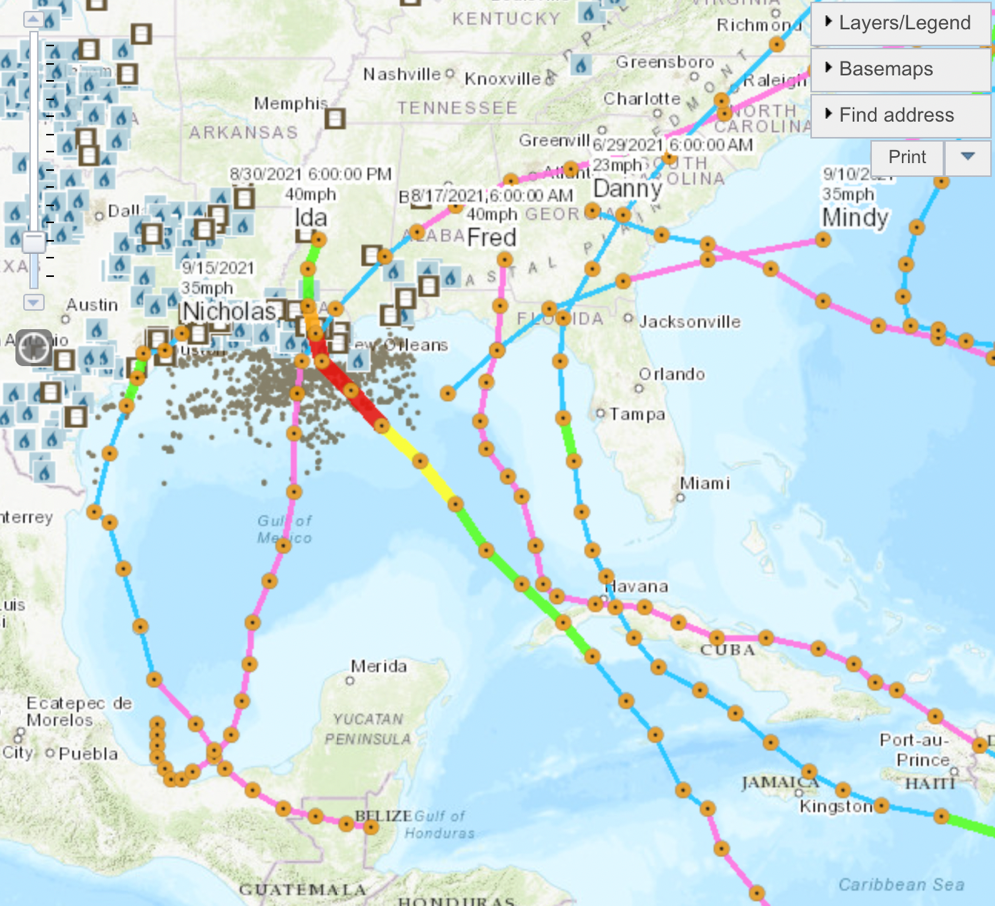 Paths of recent hurricanes in 2021 through the Gulf of Mexico. At least 2 hurricanes, Claudette and Ida went through the middle of the cluster of platforms south of Louisiana. [Source: US Energy Information Administration]
In August-September 2021, Hurricane Ida struck Louisiana going through the Gulf of Mexico after having first come through northern South America and the Caribbean, becoming the second-most damaging and intense hurricane in the state since Hurricane Katrina in 2005. Oil and gas production in the Gulf of Mexico was significantly impacted during the hurricane, with 288 platforms evacuated prior to the storm. Post-hurricane, the industry struggled to restart operations due to damage to onshore terminals and base sites, issues with bringing workers back offshore, and some damage on some platforms.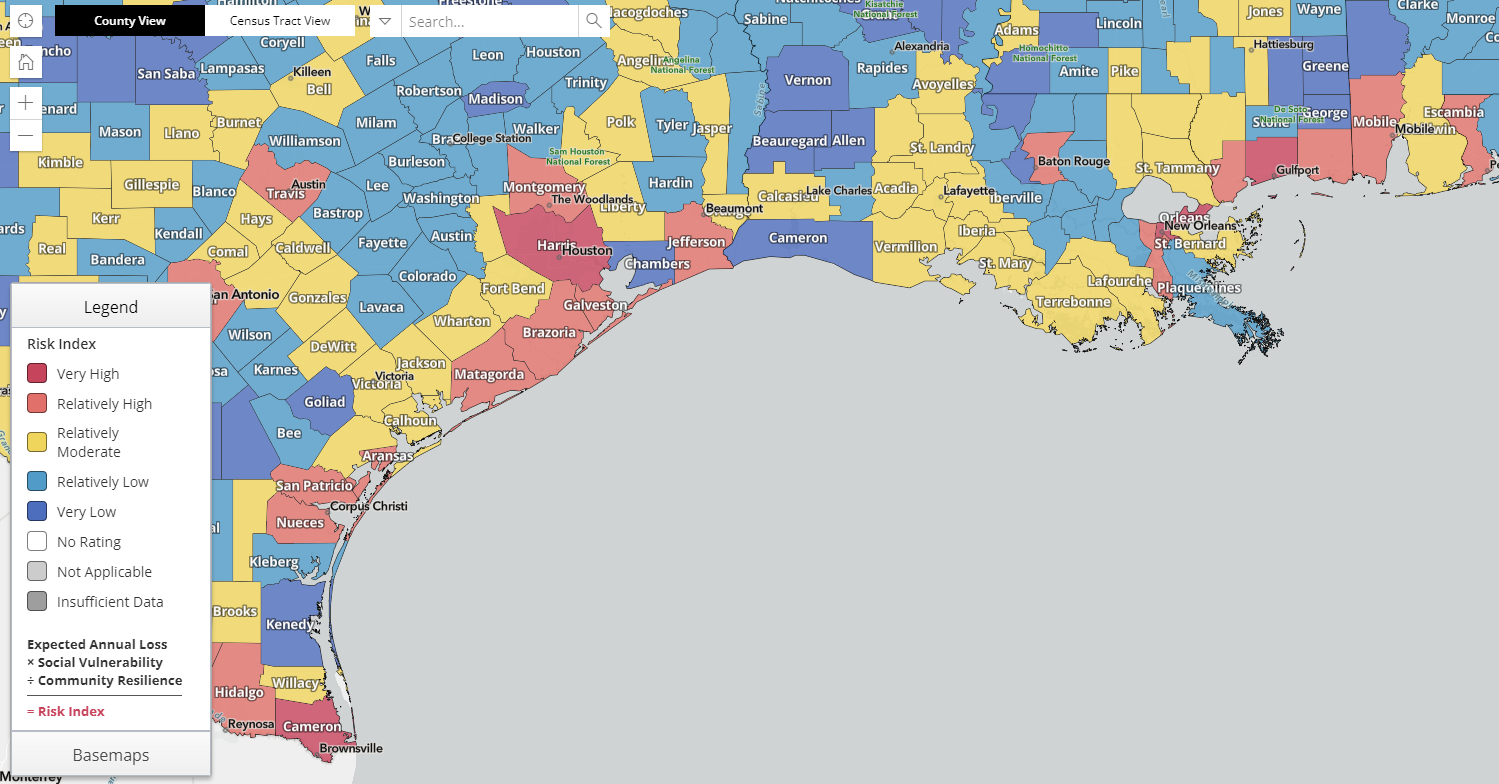 Map representing the National Risk Index which is calculated by the Federal Emergency Management Agency (FEMA). The index looks at the risk of a variety of hazards to each county. The risk in several counties like Harris and Jefferson counties in Texas, Orleans Parish in Louisiana, or Mobile and Jackson counties in Mississippi ranges from Relatively High to Very High. These same counties contain significant amounts of onshore oil and gas infrastructure. [Source: FEMA.gov]
Hurricanes such as Ida also showcase the threat to onshore infrastructure around the Gulf of Mexico. A downed transmission line in the Mississippi River due to Ida, led to limited access to four refineries west of New Orleans, while Port Fourchon, Louisiana, which is a logistics hub for the industry, was left without power and water due to damage. Without the vital onshore infrastructure, the output of offshore assets is significantly impacted. With climate change playing a role in stronger storms and longer periods of extreme weather, mitigating the risks and impacts of these events becomes costly for companies operating in the industry.
Maritime Criminality Off Mexico
The threat to oil and gas infrastructure in Mexico has been known for some time, particularly on land. Cartels have been involved in fuel trafficking and fuel theft via illegal pipeline taps for years, particularly in the states of central Mexico where there are a high number of pipelines and several refineries. The activities of criminal elements have been costly to the state-owned company PEMEX, and the activities have also cost the lives of both workers and law enforcement who have attempted to stop them.
The threat to offshore oil and gas platforms and assets, however, has been severely underreported by authorities and the company. While only a few dozen attacks have been reported, some reports suggest the number to be in the hundreds. A spate of robberies and attacks on oil assets in the Bay of Campeche in April 2020 led to the U.S. Maritime Administration to issue an alert days later about the maritime threat in the Bay. Months later, in June 2020, The U.S. State Department issued a warning about the threat posed by pirates for maritime vessels and oil installations in the southern Gulf of Mexico. In July 2021, the International Transport Workers Federation (ITF) in Mexico called for authorities to do more to stop criminal acts at sea, as well as demanding technology to be used to monitor ships and platforms. And in 2023, local reporting indicates that the Gulf of Mexico continues to see a sustained threat from maritime crime and piracy, with 6 thefts said to have occurred from platforms in the Bay of Campeche within 2023 so far.
In addition, new oil discoveries in the region increase opportunities for businesses and therefore increases the chances of criminal attacks.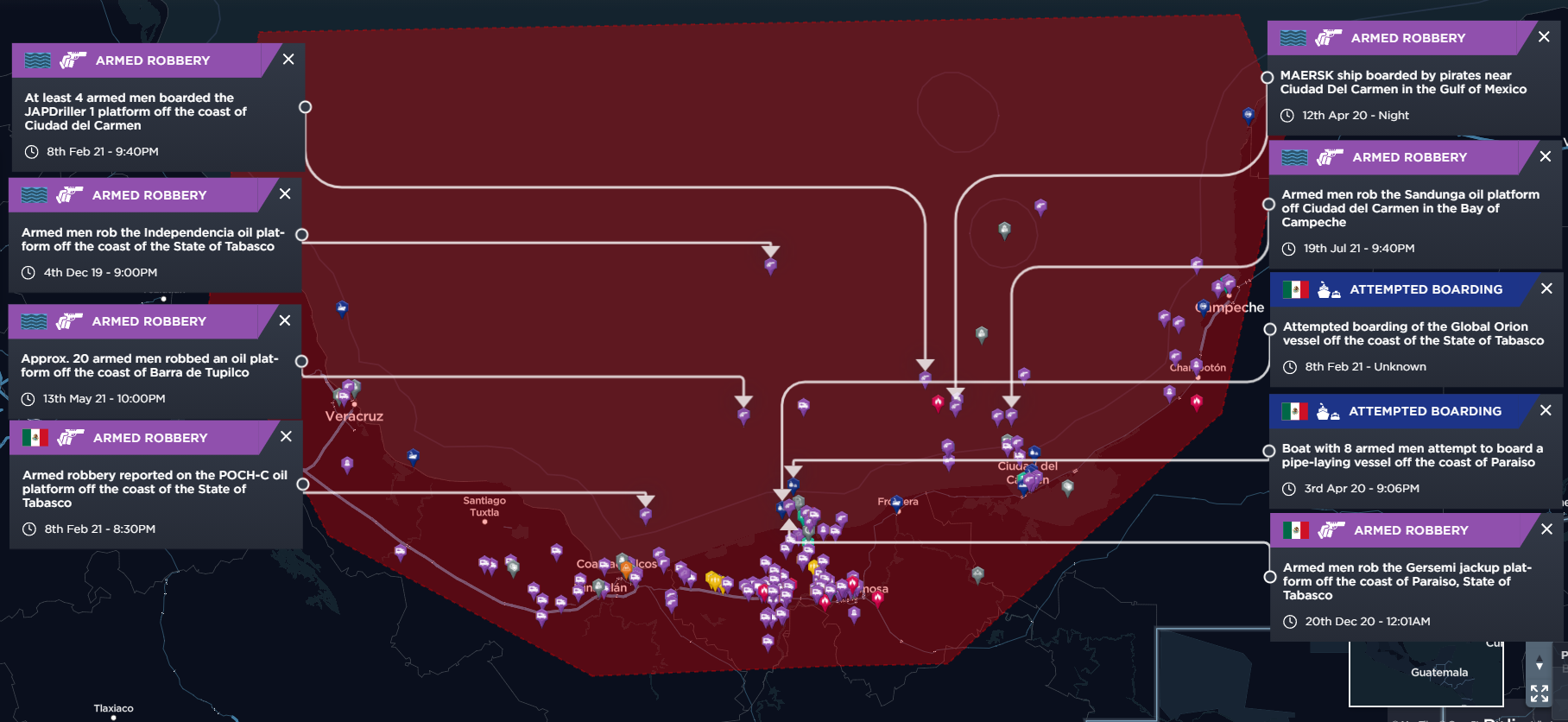 Selection of incidents targeting the oil and gas industry in the Bay of Campeche. Incidents primarily occur off the coast of the states of Campeche, Tabasco, and Veracruz. Incident are shown using the 'Draw Area' function on the Intelligence Fusion platform, allowing you to draw polygons of any shape and size to pull out incidents in certain locations. [Source: Intelligence Fusion Platform]
In July 2022, 4 armed robbers boarded a drilling platform at around 34nm West of Dos Bocas Port. After an alert was sounded, the robbers fled with stolen properties. In addition, in August 2022, there was an attempted boarding of a ship off the coast of the State of Tabasco, south of the Hokchi oil field. A group of armed men in two speedboats approached the Antares offshore supply vessel. The Antares activated their fire hoses to prevent the suspects from boarding. The Antares also put out a radio communication for assistance. These threats can have a catastrophic impact on businesses operating in the area if effective risk mitigation strategies are not implemented and continuously reviewed.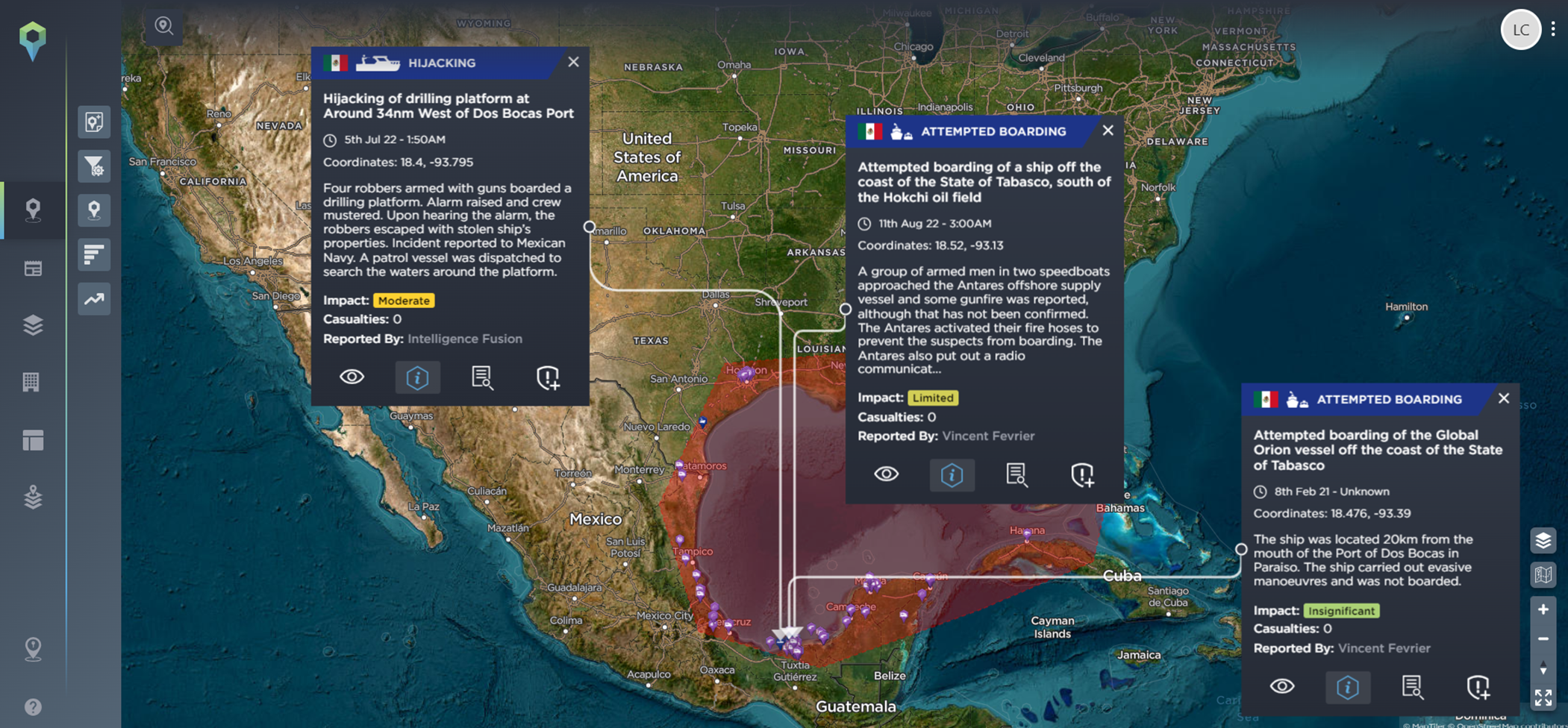 [Source: Intelligence Fusion Platform]
Some examples of armed attacks mapped on the Intelligence Fusion platform in 2022 [Source: Intelligence Fusion Platform]
For the time being, while attacks have involved firearms and gunfire at times, it appears that criminals have been content with only stealing personal belongings and equipment from offshore supply ships, drilling and production platforms, and other assets rather than kidnapping crew for ransom like we've seen in other maritime regions of the world. We've also seen the theft of oil from infrastructure offshore in recent times. Additionally, the attacks on oil infrastructure in the Bay of Campeche have led some to believe that there are also insider threats and that individuals within PEMEX or former PEMEX employees have helped criminal elements conduct these attacks. This comes from the suspects seeming to know how long it takes for the authorities to respond to distress calls and for how quickly the suspects are able to dismantle some of the equipment onboard platforms.
An example of this kind of insider threat is from June 2023, where 2 PEMEX employees were arrested for theft at Olmeca Refinery, Paraiso, Tabasco state. This example shows how vigilant companies operating in this space must be. Authorities had been investigating PEMEX after reports of material and machinery theft at the site over a number of months.
While the threat has primarily impacted PEMEX and some multinational contractors, Mexico's ambitions to boost production to stem the loses of recent years may see an increase in foreign companies operating in and around Mexico's coast, which in turn would lead to greater scrutiny on the threat of maritime criminality. The United States may also look to stem the problem before it reaches U.S. waters.
For more information about how pirates are targeting oil rigs in the Gulf of Mexico, check out this video.
Reputational and Other Threats
Some of the best fishing the Gulf of Mexico has to offer can be found around offshore oil platforms. However, oil spills have caused significant economic harm to the Gulf's fishing industry, and it has raised consumer concerns about the safety of seafood. One of the most notable examples of this was when the Deepwater Horizon oil rig, belonging to BP plc., exploded in 2010 off the coast of Louisiana. It led to 11 deaths, 17 injuries, and an 87-day oil spill which led to approximately 134 million gallons of oil spilt in the Gulf of Mexico. The environmental impact was significant, as well as the economic impact on local industries relying on the Gulf of Mexico. The incident also led to the largest corporate settlement in U.S. history. The incident came at a great cost financially but also reputationally for the company and has impacted their ability to gain future projects in the Gulf of Mexico, although it has been reported that they have recently commenced oil production at a newly operated facility in the region for the first time since 2008.
A recent oil spill in the Gulf of Mexico which, as of the 12th of July, stretched approximately 400 km2, casts doubt over the safety of PEMEX. A couple of weeks prior to this incident, PEMEX Nohoch-A platform in the Campeche Sound reported a fire which left 2 dead, 8 injured and 1 worker missing.
It is also thought that many oil spills go unreported; a review of the same area in June 2023 made it possible to identify another spill with an approximate extension of 270 km2.
The environmental impacts of the oil and gas industry have led to great scrutiny from environmental organisations and other social justice groups and can lead to significant levels of activism targeting companies. Protests outside headquarters, shareholders meetings, financial institutions funding the projects, and local community meetings have previously been reported.
In May 2023, Greenpeace urged the protection of newly discovered reefs in the Gulf of Mexico. No direct action has been taken by the group yet, but Canadian company TC Energy and Mexico's Federal Electricity Commission (CFE) are planning to build the 715-km Puerta al Sureste gas pipeline, which will carry gas from Veracruz to Tabasco. Greenpeace has warned that this puts already protected reef ecosystems in "serious danger" while also compromising those that do not yet have protection. The organization have appealed to Mexico's Agency for Security, Energy and the Environment (ASEA) to halt the project.
However, some activists also take direct action to attempt to stop activities by companies.
In 2019, 12 activists from Greenpeace were arrested after they used ropes to dangle from the Fred Hartman Bridge, blocking the Houston Ship Channel and stopping tanker ship traffic to and from five major oil refineries and chemical and oil export terminals for 18 hours.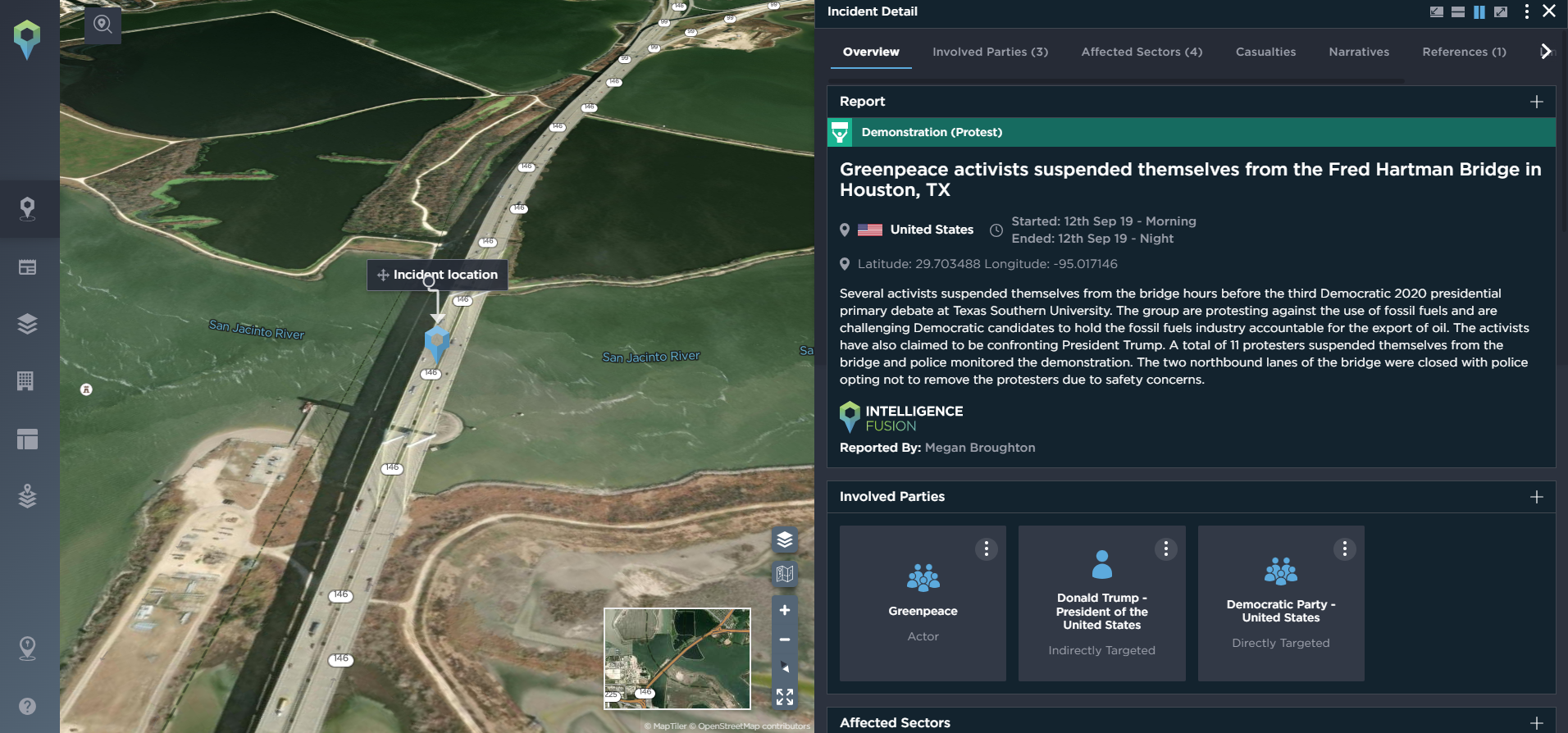 [Source: Intelligence Fusion Platform]
Recent years have shown environmental activists becoming more active, and with the use of social media, infractions and the impacts of oil and gas companies can be shared to a wider audience and amplified, in turn damaging the reputation of companies.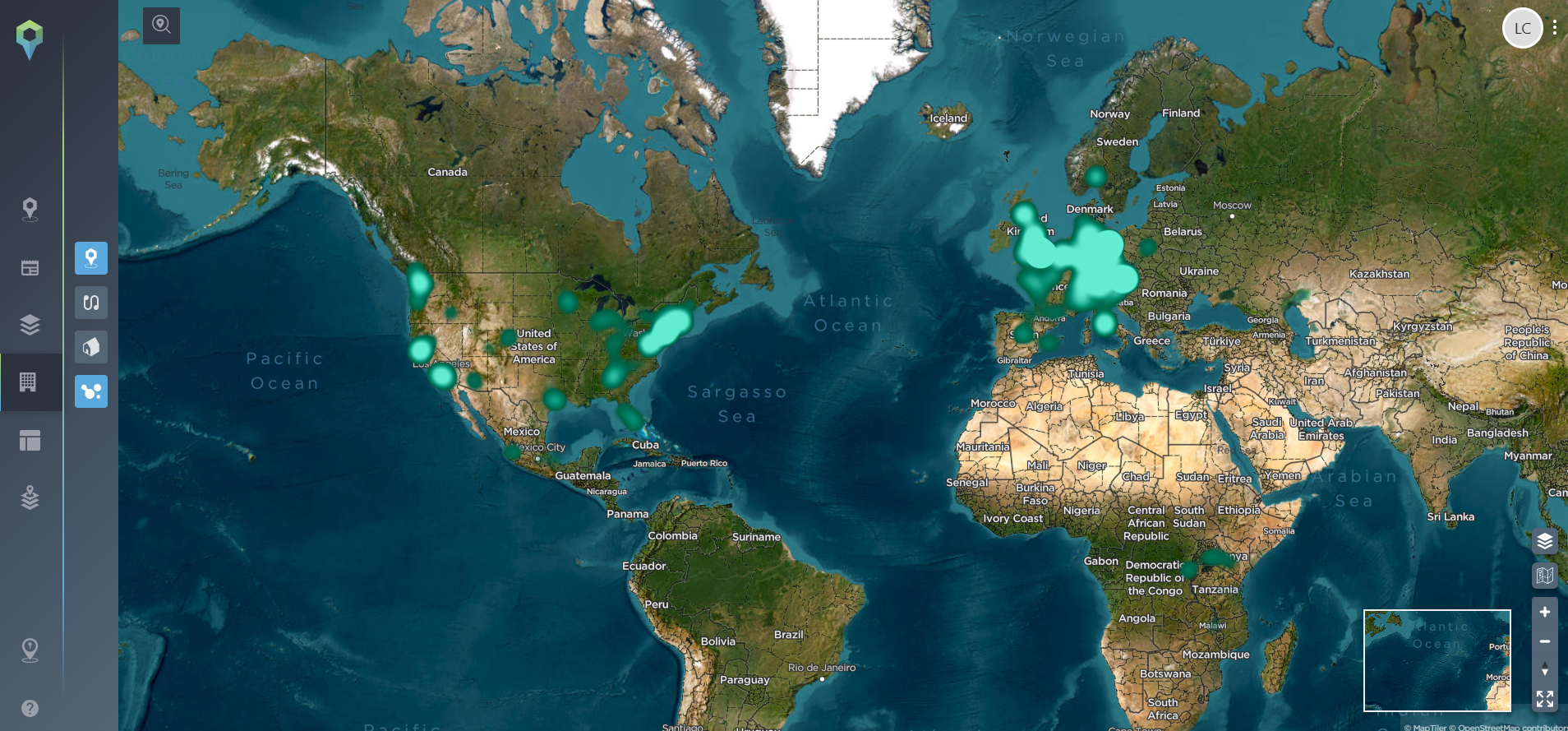 Heat map showing activism hot spots [Source: Intelligence Fusion Platform]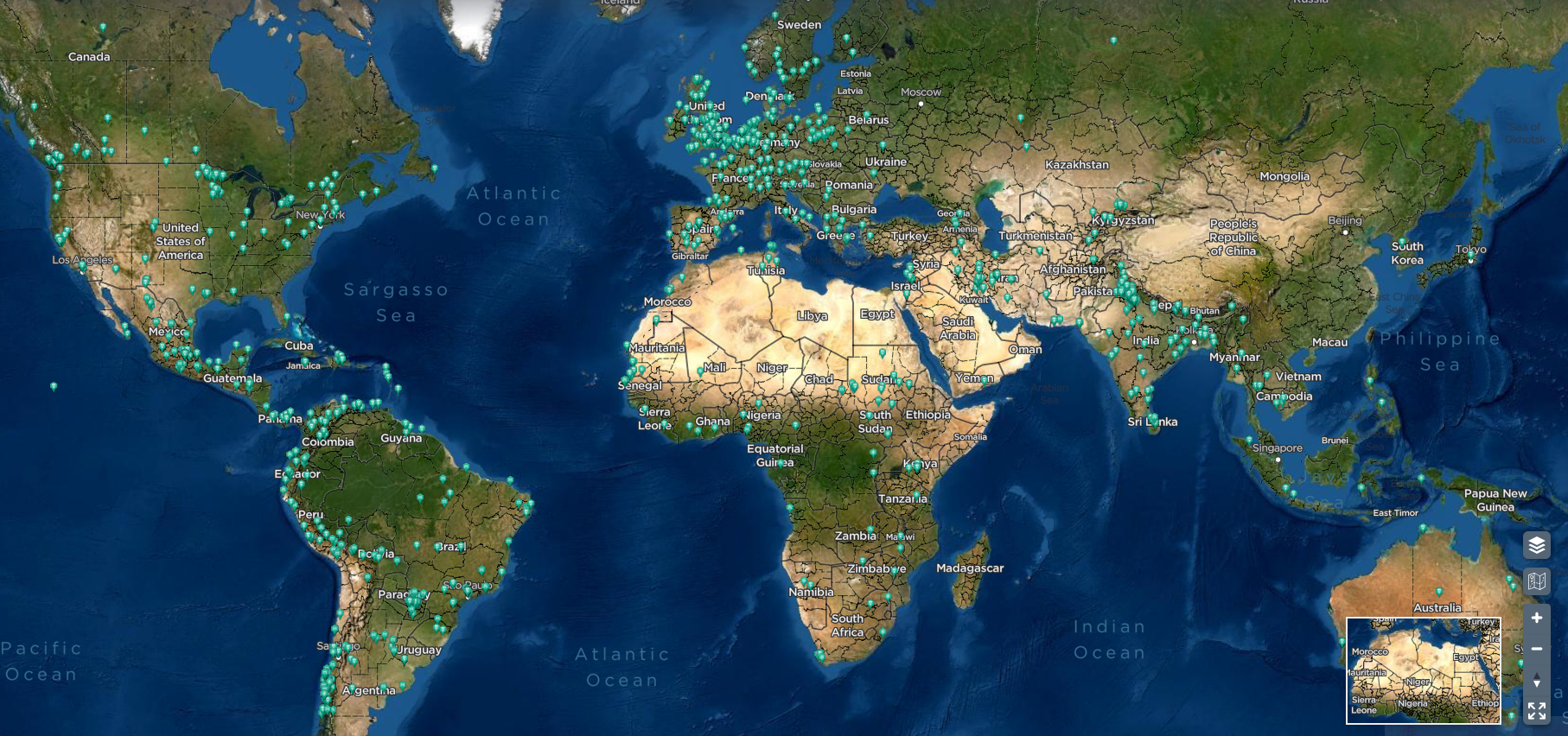 Map showcasing protest activity by environmental activists across the world, recorded by Intelligence Fusion. North America has had protests recorded due to specific oil and gas projects like the Line 3 project in Minnesota or the Bayou Bridge Pipeline project in Louisiana, including both direct action activities targeting the construction works, as well as protests at financial institutions funding these projects. [Source: Intelligence Fusion Platform]
Additionally, a lack of timely action by governments in responding to the climate crisis has the potential to lead groups to take more direct action in stopping oil and gas activities. Actors such as Extinction Rebellion and Just Stop Oil have protested in several European countries over the past few years, which included some actions directly blocking oil refinery access from both land and waterways. These types of activities could increase around the Gulf of Mexico, leading to delays and increased operational costs to companies in the region. 
Another threat which is increasingly impacting oil and gas company's reputations in terms of achieving forecast output are strikes and demonstrations by employees. Better social conditions and unfair dismissal are among the reasons for the strikes, but the impact of these can be hugely damaging to operations. Below are some examples of recent strikes:
With ever-changing threats, it is important for oil and gas companies to be up-to-date on the current and future challenges they may be facing in order to mitigate those risks. As a threat intelligence solution, Intelligence Fusion provides timely, accurate, geolocated and actionable threat data which allows you to understand the criminal, environmental, political, and social trends in the country or countries you operate in. Our platform is fully customisable in order to meet the needs of the modern operation centre and your business, and we can even build out an entirely bespoke platform for your company thanks to our in-house development team. Through our methodology, we aim to fully understand your operations in order to gather the incidents tailored to your intelligence needs. This allows you to better protect your people, assets and reputation.
If you're interested in learning more or seeing the platform in action, click here to arrange a demo with a member of our team.