5 Biggest Threats to Energy Companies in 2023
Within this complex industry, we review the biggest threats impacting energy companies according to OSINT data and expert analysis.
Energy companies, particularly those within the oil and gas industry, are currently facing more threats than ever before. Environmental activism sparked by accelerating climate change, limited natural resources, and increased severe weather conditions have increased pressure and urgency. This, alongside increased geopolitical tensions, criminality and espionage, creates a complicated landscape in which to do business. Companies operating in this industry must be aware of the threat landscape to effectively plan ahead and protect their employees and assets.  
Some of the main threats reported in the oil and gas industry over the last couple of years are discussed below. They offer guidance and can be reviewed to gain valuable insight supporting future security plans.  
Physical infrastructure attacks
Activities carried out by the oil and gas industry present lucrative opportunities to criminals who wish to infiltrate operations, conducting illegal activity stealing assets and equipment for monetary gain. In addition, attacks are carried out by activists attempting to cause disruption and damage to equipment in order to halt operations and cost companies' money and time. Threat intelligence can warn security professionals about planned protests, allowing them to prepare and protect their people and assets in advance. Historical data also provides an accurate picture of the threat landscape and the other kinds of physical infrastructure attacks that should be considered in a security audit.  
Example case: In January 2023, Greenpeace activists boarded the White Marlin vessel in the Atlantic Ocean, North of the Canary Islands.  
The targeted vessel is used in the production, storage and offloading of Shell oil. Activists used three boats to approach the vessel and climbed up to the deck using ropes. Reports suggested that activists were occupying the ship's cargo, a Shell oil and gas platform, used to 'enable Shell to unlock eight new wells in the Penguins North Sea oil and gas field'. Without access to the platform, production was likely halted and delayed.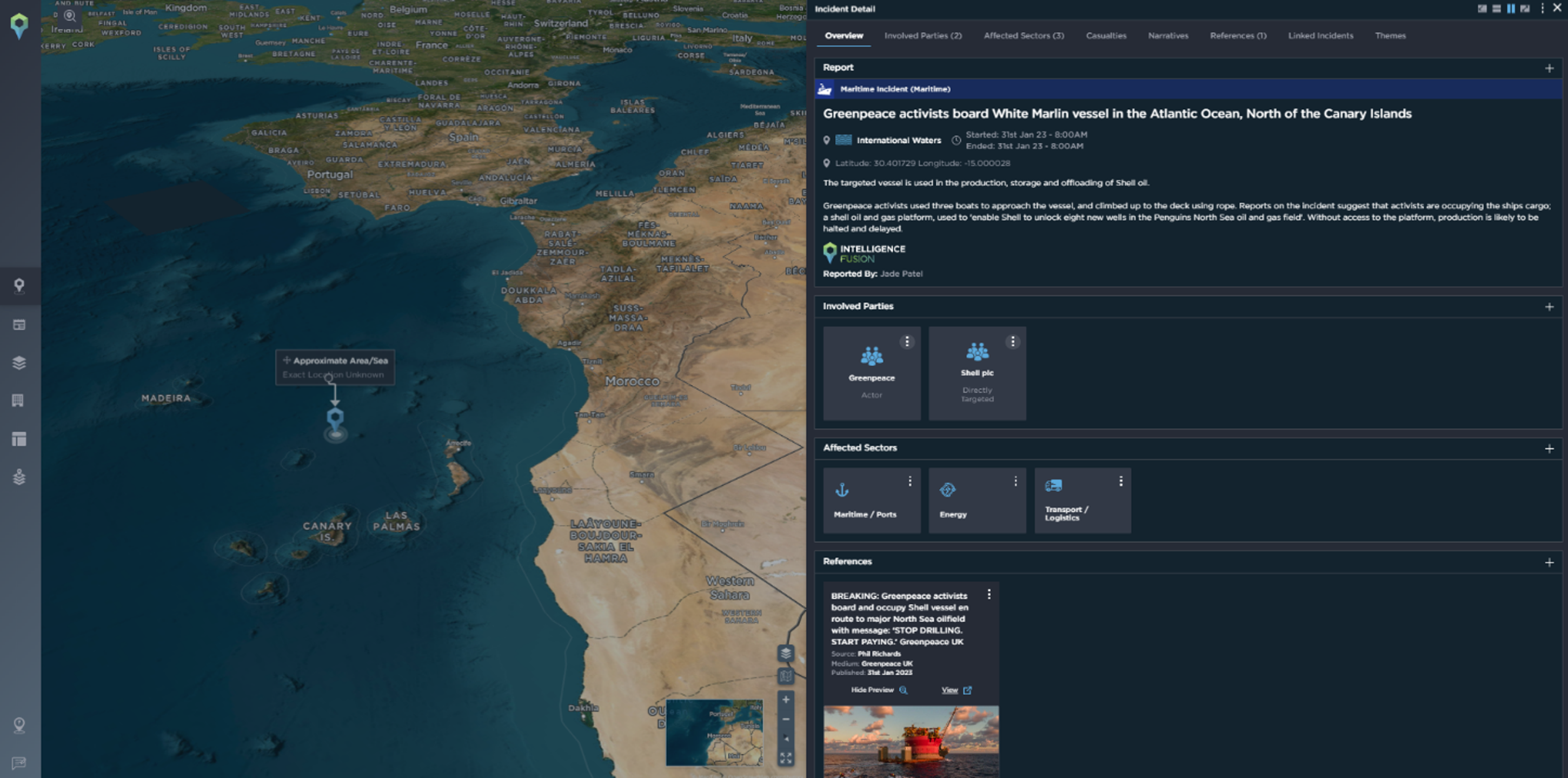 Attack on a vessel in the Atlantic Ocean [Image source: Intelligence Fusion]
Insider threats
Like many industries, oil and gas companies face security threats from within their own companies. Disgruntled employees or spies from competitor organizations who want to cause harm or gain financial perks for sharing trade secrets, accessing sensitive data or sabotaging operations can cause huge reputational damage. Having an awareness of insider threats happening elsewhere in the industry allows companies to be better prepared. 
Example case: In April 2023, a Russian woman was arrested for corporate espionage at one of Sweden's largest oil refineries – Preemraff oil, in Gothenburg.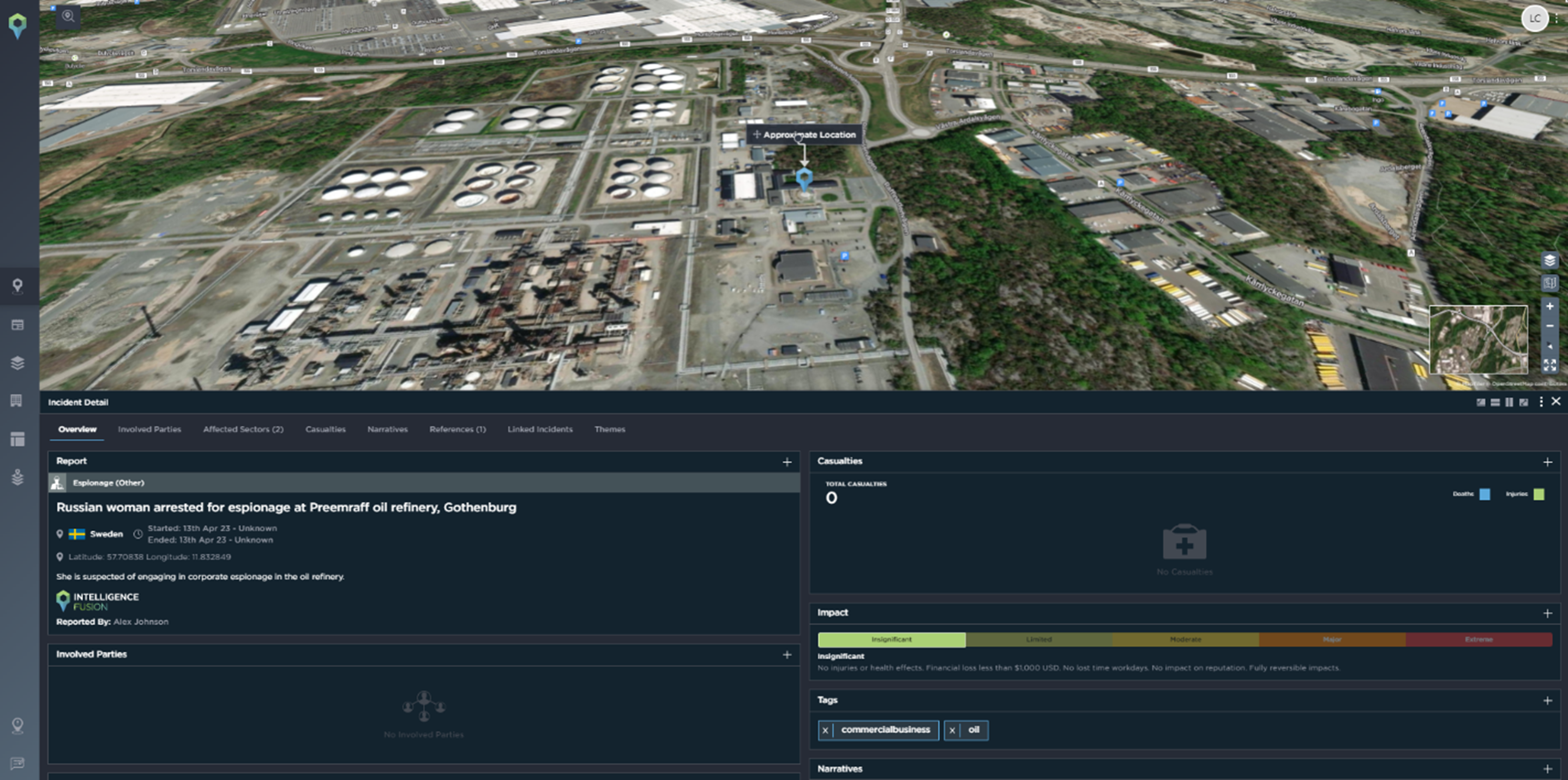 Corporate espionage at one of Sweden's largest oil refineries [Image source: Intelligence Fusion]
Geopolitical risks
Often operating in areas of the world where tension is high, oil and gas companies are open to more vulnerabilities than other industries. Piracy, terrorism and other politically motivated attacks can cause major disruption and pose a security threat to life. Having up-to-date intelligence regarding any developing situation allows companies to prepare to the best of their ability and protect their employees. Active alerts that update security professionals on real-time developments enable them to make decisions with confidence and accuracy.    
Example case: In April 2021, an insurgent attack took place in Palma, Mozambique, adjacent to Total's Afungi liquefied natural gas complex. ISIS claimed the attack, which caused extreme disruption and loss of life. There were 57 civilian casualties and 21 military casualties.   
This caused mass delays and financial losses for Total as they were not able to access their site. The fighting continued for 4 days, and disruption continued for a further 7 days. Palma falls within a 25-kilometre "special security area" that the French oil major had requested from the government after suspending work at the site prior to the attack due to security issues. The conflict put Total's $60 billion gas project in jeopardy.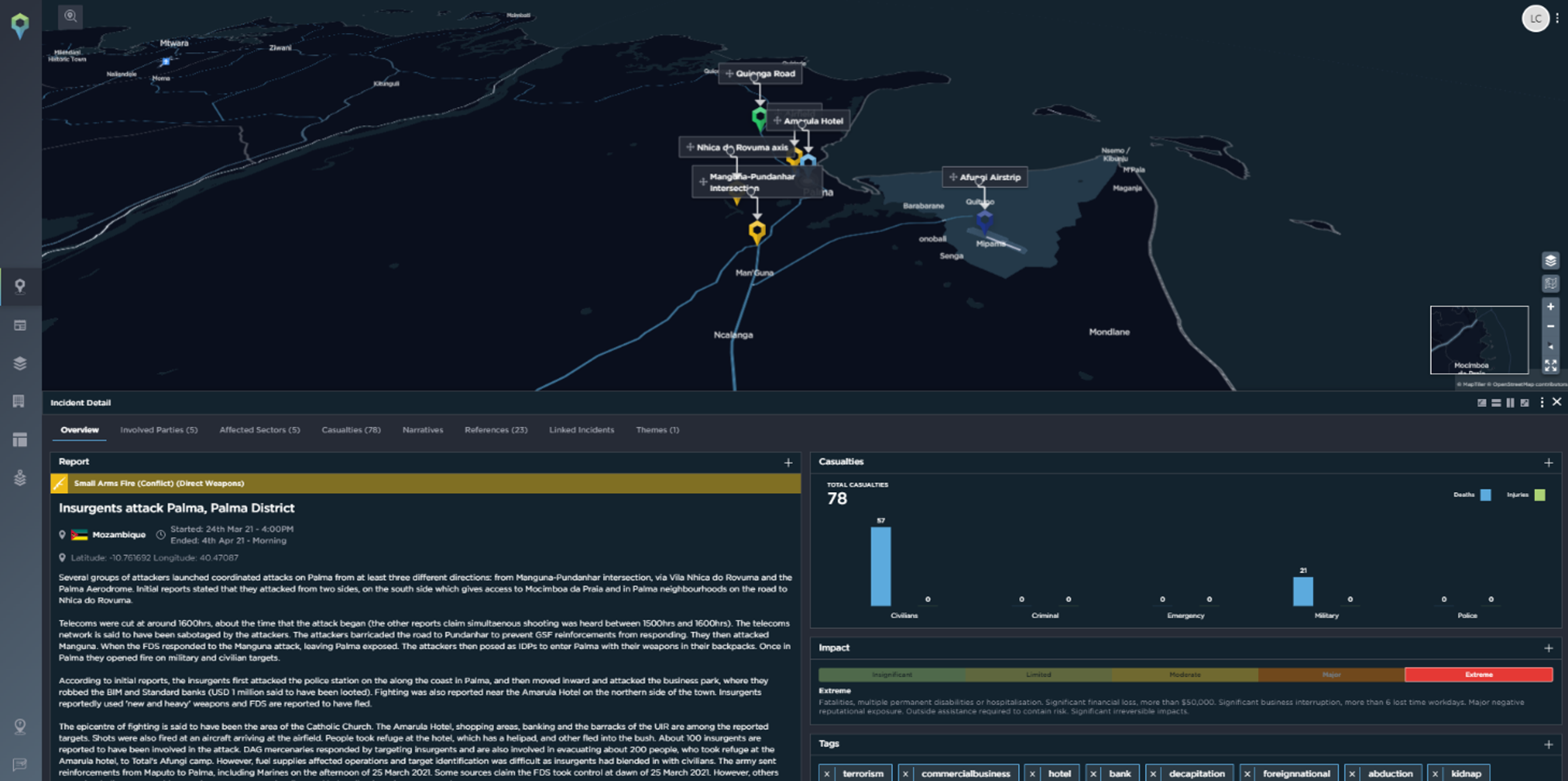 insurgent attack in Palma, Mozambique [Image source: Intelligence Fusion]
Natural Hazards
Extreme weather and natural disasters are affecting all industries, the rapid movement of storms and unpredictability means it is essential businesses are kept up to date on anything that will impact their business or supply chain.    
Example case: In July 2021, a mud volcano erupted close to an offshore oil drilling platform in the Umid gas field, Caspian Sea, which is the second largest natural gas field in Azerbaijan. This caused mass panic as it was initially assumed by locals that the offshore facility had exploded. Intelligence Fusion quickly established that it was a natural explosion, there were no casualties, and the fire was quickly extinguished.   
The news about the explosion in the Caspian Sea came only days after a gas leak from an underwater pipeline started a blaze on the ocean surface in the Gulf of Mexico near Pemex' Ku Maloob Zaap oil development.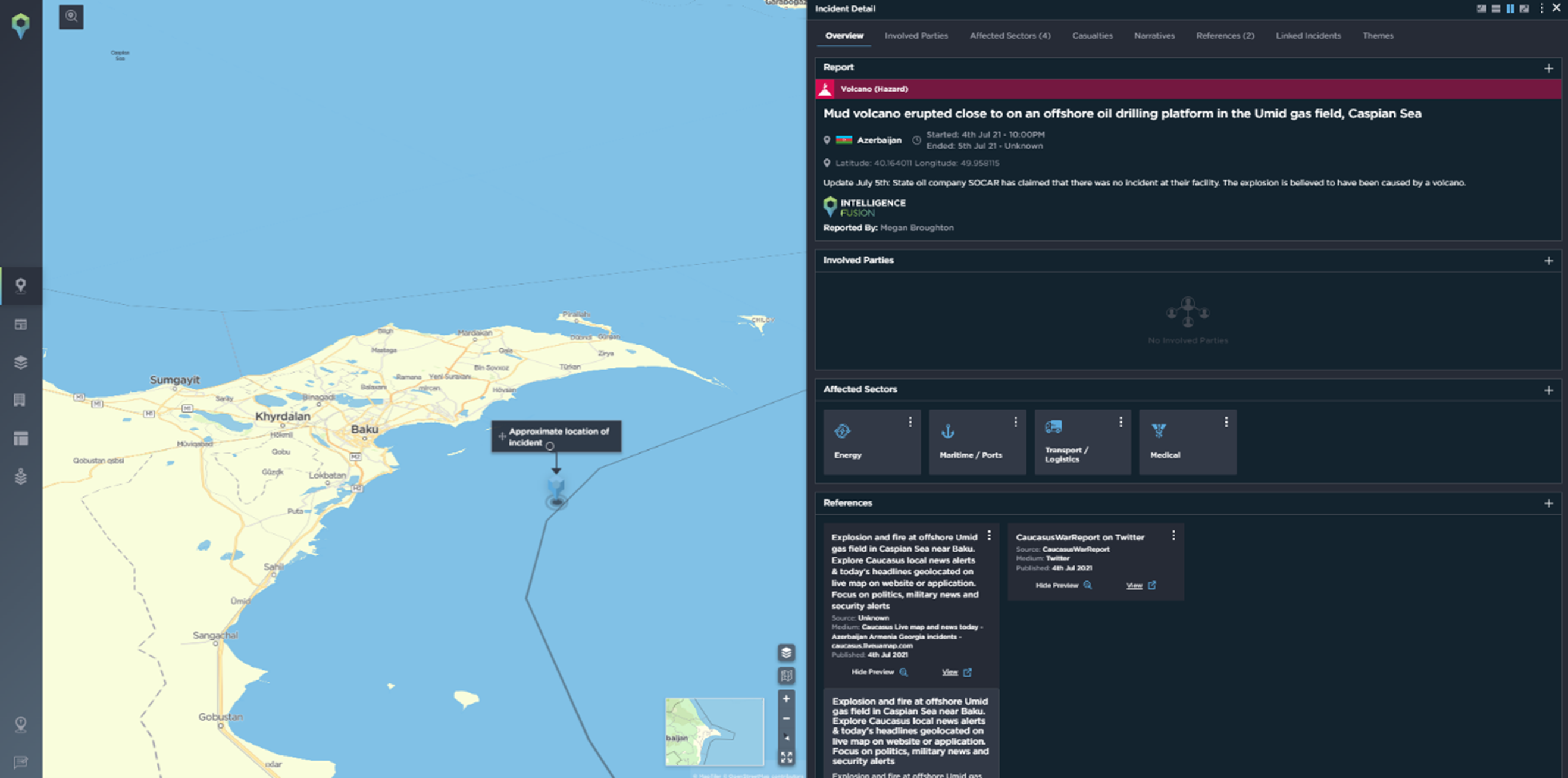 Mud volcano eruption [Image source: Intelligence Fusion]
Supply chain disruptions
There are many types of incidents that can occur and cause disruption to supply chains. Anything from conflict breaking out to worker strikes can impact operations. Having knowledge of emerging risks along the supply chain helps business leaders to mitigate financial losses and dramatically improve employee safety. This could be quite a manual and time-consuming task, but using threat intelligence software allows security professionals to prioritize incidents that will impact their organizations, making better use of resources.     
Example case: In March 2023, a man was arrested in Zintan, Libya, for disrupting the oil supply. The suspect was said to be a member of an armed group that repeatedly closed the valve of the pipeline from the Sharara field to the Al-Zawiya refinery.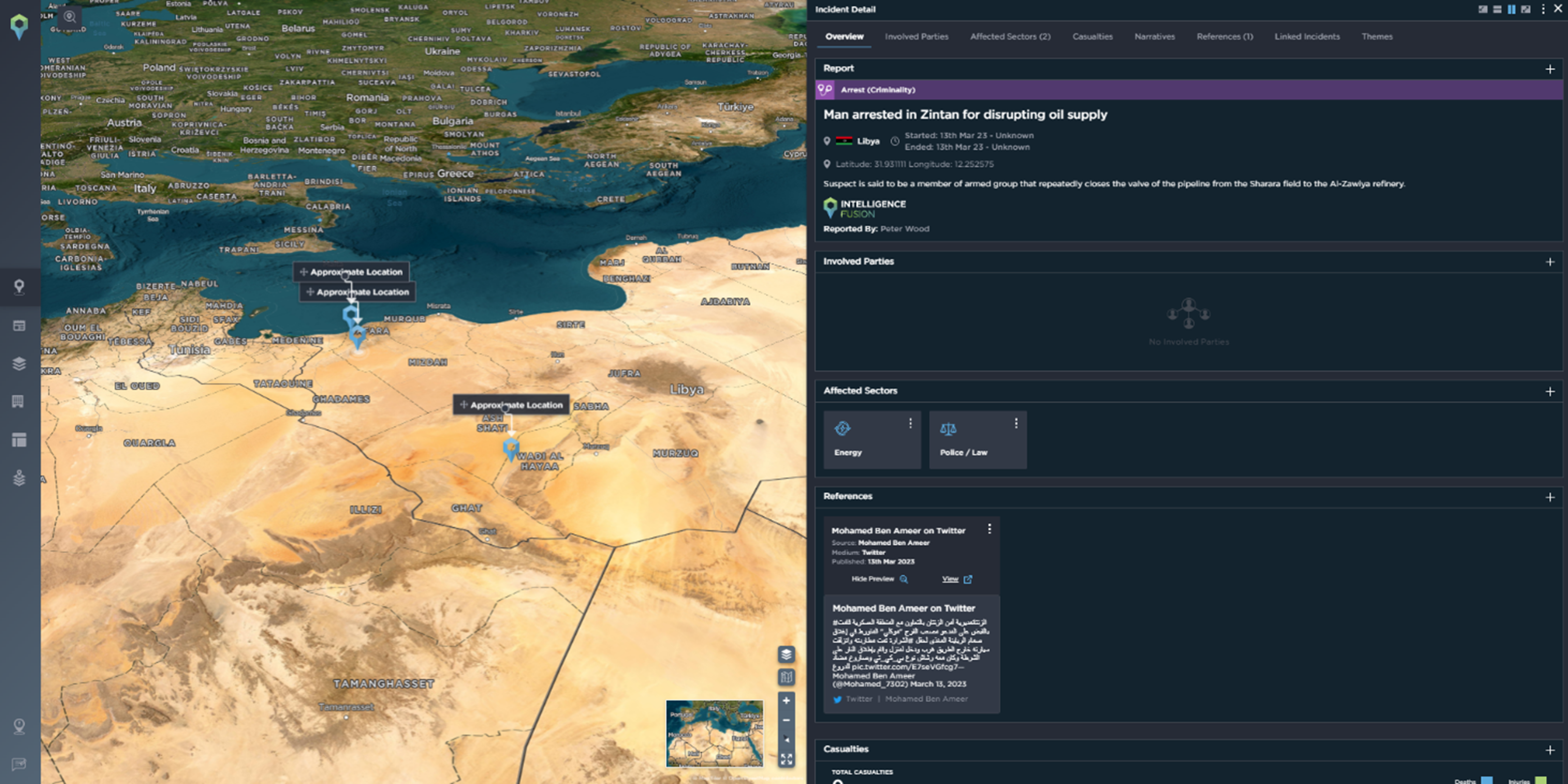 Oil supply tampering [Image source: Intelligence Fusion]
Oil and gas companies must prioritize physical security threats to protect their business. The examples provided above showcase the wide-ranging categories of threats, all of which have had a significant impact on operations within the industry and the wider supply chain. Criminality, hazards, direct weapons, maritime incidents and insider threats are just a few of the categories Intelligence Fusion report to improve awareness and security within this industry.  
Our team of expert analysts work 24 hours per day, reviewing the global threat landscape and verifying all incidents before mapping them on our threat intelligence platform and alerting clients. Subscribers to our platform can follow incidents from start to finish, using Intelligence Fusion as an extension of their security team for enhanced performance.