What are the threats mining companies face while operating in West Africa?
The mineral rich region of West Africa is home to numerous mining operations, but is also home to widespread instability. In this article we explore how armed insurgencies, political turbulence and community concerns are all posing a risk to mining operations in West Africa.
West Africa is a mineral rich region, drawing mining companies into the area to conduct exploratory projects and carry out operations.

 

Insurgency and community unrest pose threats to the mining operations and employees.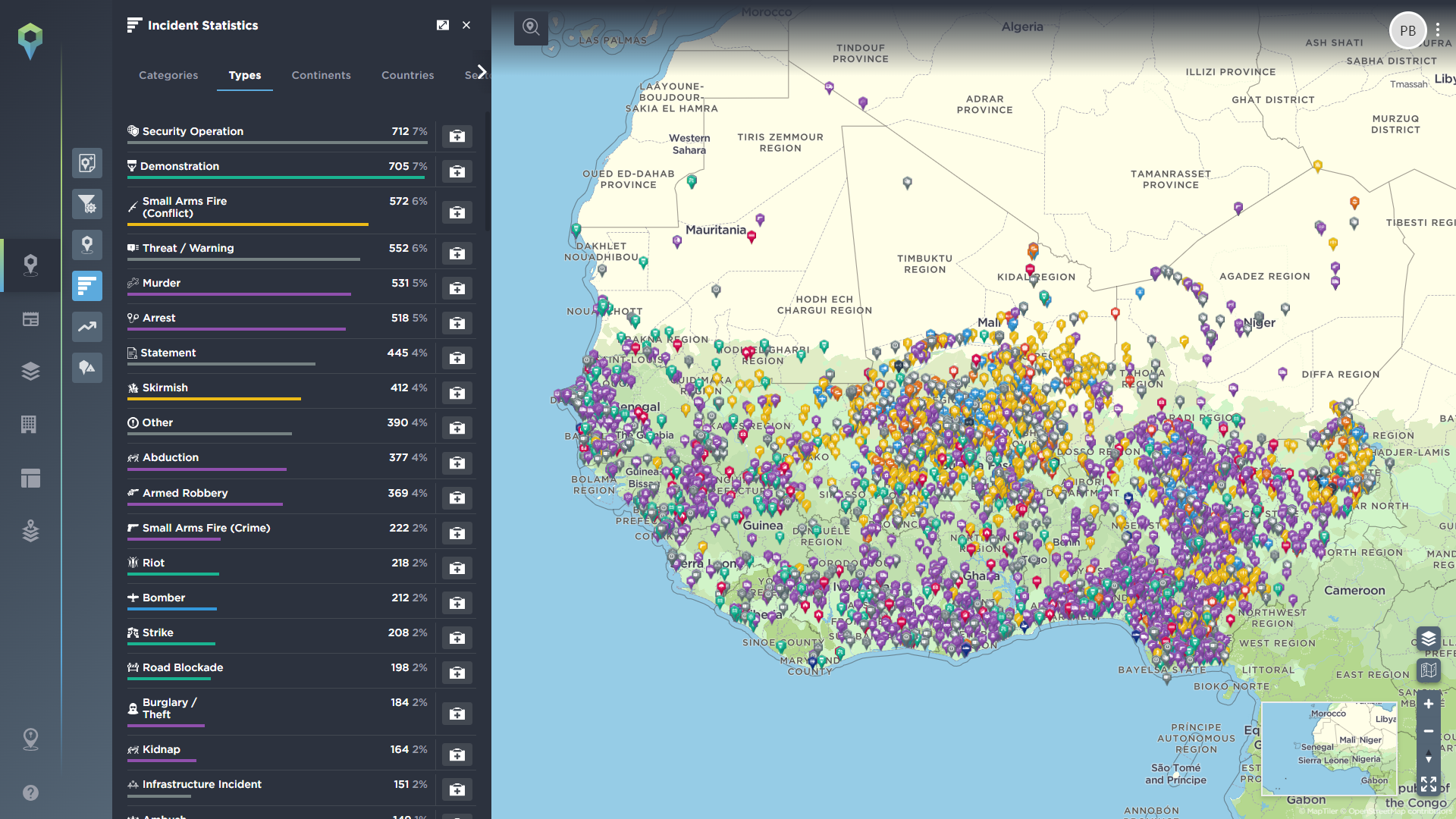 Threat intelligence data in West Africa mapped on the Intelligence Fusion platform. Image shows the 10,000 most recent incidents mapped in the region with statistics showing the most common incident types [image source: Intelligence Fusion]
Mining companies face a variety of threats, mostly relating to the region's turbulent political and civil climate as they look to access the large mineral deposits located in West Africa. The volatile political situation can result in coups and contribute further to the instability within the region, with the most recent occurring in Niger in July 2023. Alongside this, the region also faces the ongoing threat of insurgent groups and local militias that in the past have targeted employees, mining assets and supply chains. Numerous groups operate within the region, including Boko Haram, JNIM (Jama'a Nusrat ul-Islam wa al-Muslimin), the CMA (The Coordination of Azawad Movements) and IS affiliated groups such as Al Shabaab and Al Sunnah. Insurgent groups are known to capitalise on political turbulence in the region, manipulating communities to their advantage that may be disillusioned with the political situation, or filling the role of the state in areas that it has failed to reach.
As can be expected, insurgent tactics vary, with groups utilising IEDs (Improvised Explosive Devices) and light weapons to carry out ambushes and attacks in rural areas. Militant groups also frequently target civilians, often kidnapping and abducting civilians during raids on villages and convoys.
Whilst mining companies can face attacks against their assets, it is important to mention that convoys transporting their products, food supply and equipment are also key targets. Companies are required to take measures to ensure that their supply chain is not inhibited by these groups that operate in and around their site. There have been reports of trucks transporting minerals to ports for export being targeted and diverted. During this time, the staff involved in the convoy along with the goods are both at risk, and casualties may be reported during these ambushes.
Threats from insurgencies in West Africa
Mining assets and convoys are the most crucial targets for insurgents; as evidenced by several attacks involving convoys reported in the region. In September 2021, Mali experienced the death of five gendarmes, and four wounded after coming under attack by the al-Qaeda affiliated group JNIM, whilst escorting mining company employees between Sebabougou and Kwala, approximately 188 kilometres from Bamako. The convoy was transporting equipment that was bound for Morila Gold Mine. The attack highlights that even with security forces personnel protecting convoys, militant groups possess the capacity to carry out attacks against convoys.  
Main transportation routes used by mining companies are vulnerable to attacks. In some areas, vegetation and areas of higher ground can provide hiding spots and vantage points for the militant groups to launch their attacks from, while they may also provide militants with a predictable target that affords these groups an opportunity to deploy more complex and well-planned attacks. On the 12th of September 2021 a vehicle travelling from Boungou gold mine in Burkina Faso was destroyed by a roadside bomb, killing six people and wounding seven, one of several attacks on the route to have impacted the mine in recent years.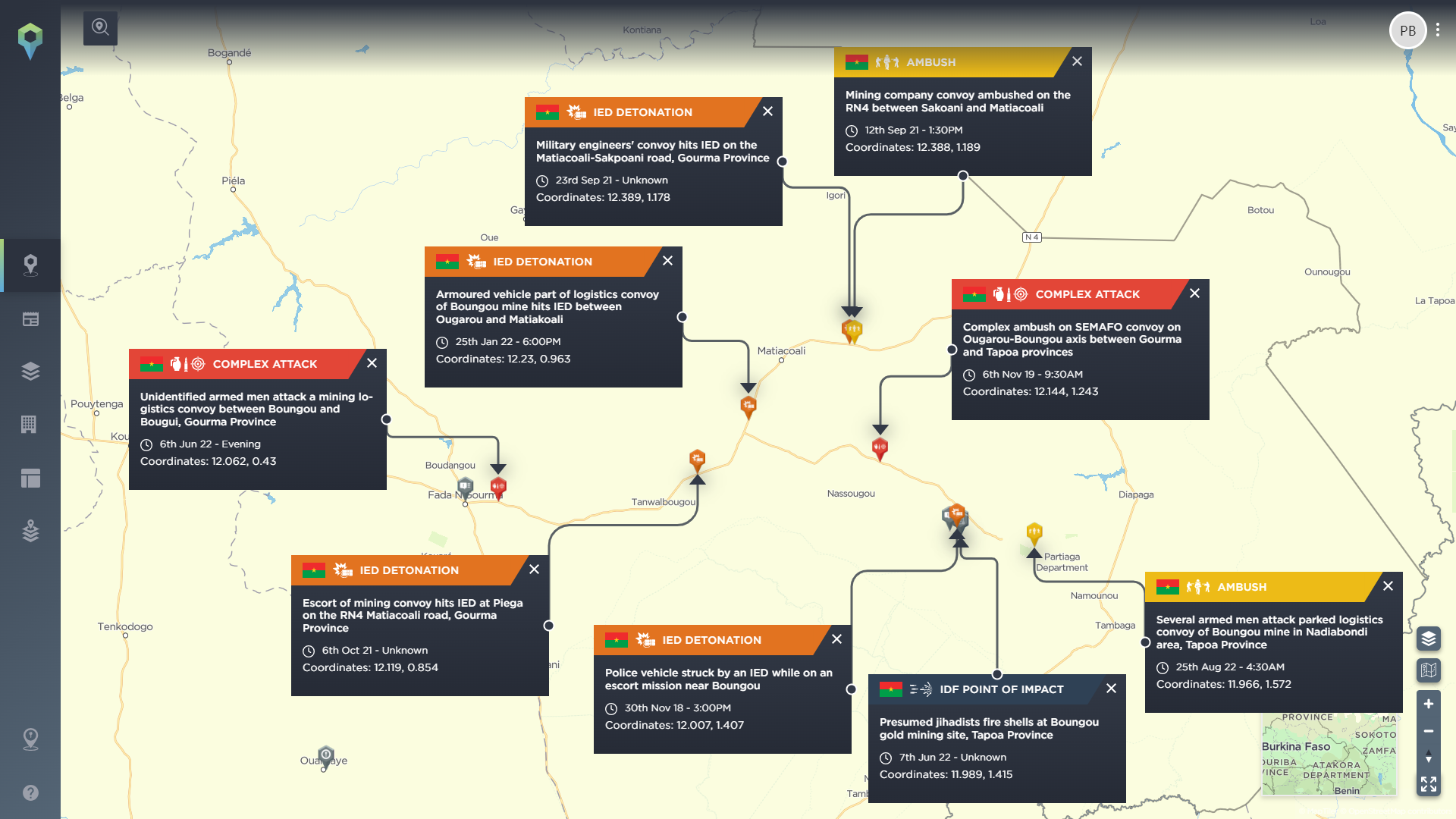 Attacks carried out by insurgents targeting convoys to the Boungou gold mine in Burkina Faso [image source: Intelligence Fusion]
Since 2019, al-Qaeda and IS-affiliated groups have reportedly been using another attack methodology in Burkina Faso, namely extortion. This includes employees of mines being reportedly coerced by the groups into paying "protection tax", claiming that they will protect them from potential attacks from surrounding communities. Furthermore, insurgents will reportedly force gold miners to exclusively sell the gold to the groups. Research suggests this is due to gold mining extortion being one of the main sources of incomes for these groups.  
The image below shows multiple insurgent attacks against mines, including the attack in November 2021, in Inata, Burkina Faso, where a military outpost near a gold mine was attacked. Inata is situated in the tri-border region (the borders of Mali, Burkina Faso and Niger) of the country, which has been facing ongoing battles with armed groups for several years. Reports indicated that approximately 49 military personnel were killed in the attack. The scale of the attack, once again, highlights the capacity of militants to mount attacks on well defended targets.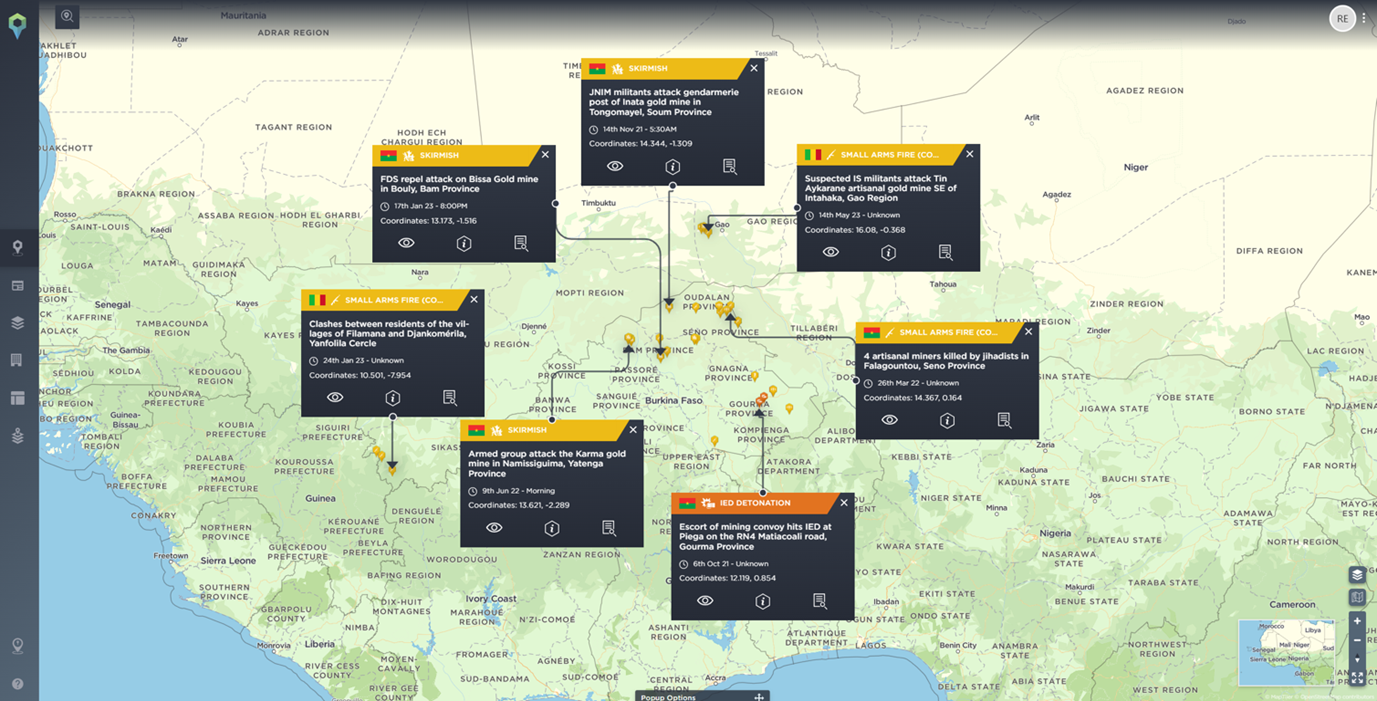 Selected incidents of attacks on mining in Mali and Burkina Faso [image source: Intelligence Fusion]
Furthermore, insurgent groups are likely to carry out attacks on mining villages which are situated in proximity to the mining site itself. This tactic was used on the 14th of March 2022, where approximately 13 gendarmes were killed in Taparko, Namentenga province. Another instance of this occurred on the 30th of March 2022, where approximately 20 civilians were killed.  
A more recent attack occurred in Intahaka, Gao region in Mali, on the 14th of May 2023, when IS militants reportedly attacked the artisanal gold mine, retreating when JNIM militants arrived. The militants killed two civilians and looted stores within the area. This incident highlights how gold mining can get caught up in clashes between rival militant groups, too.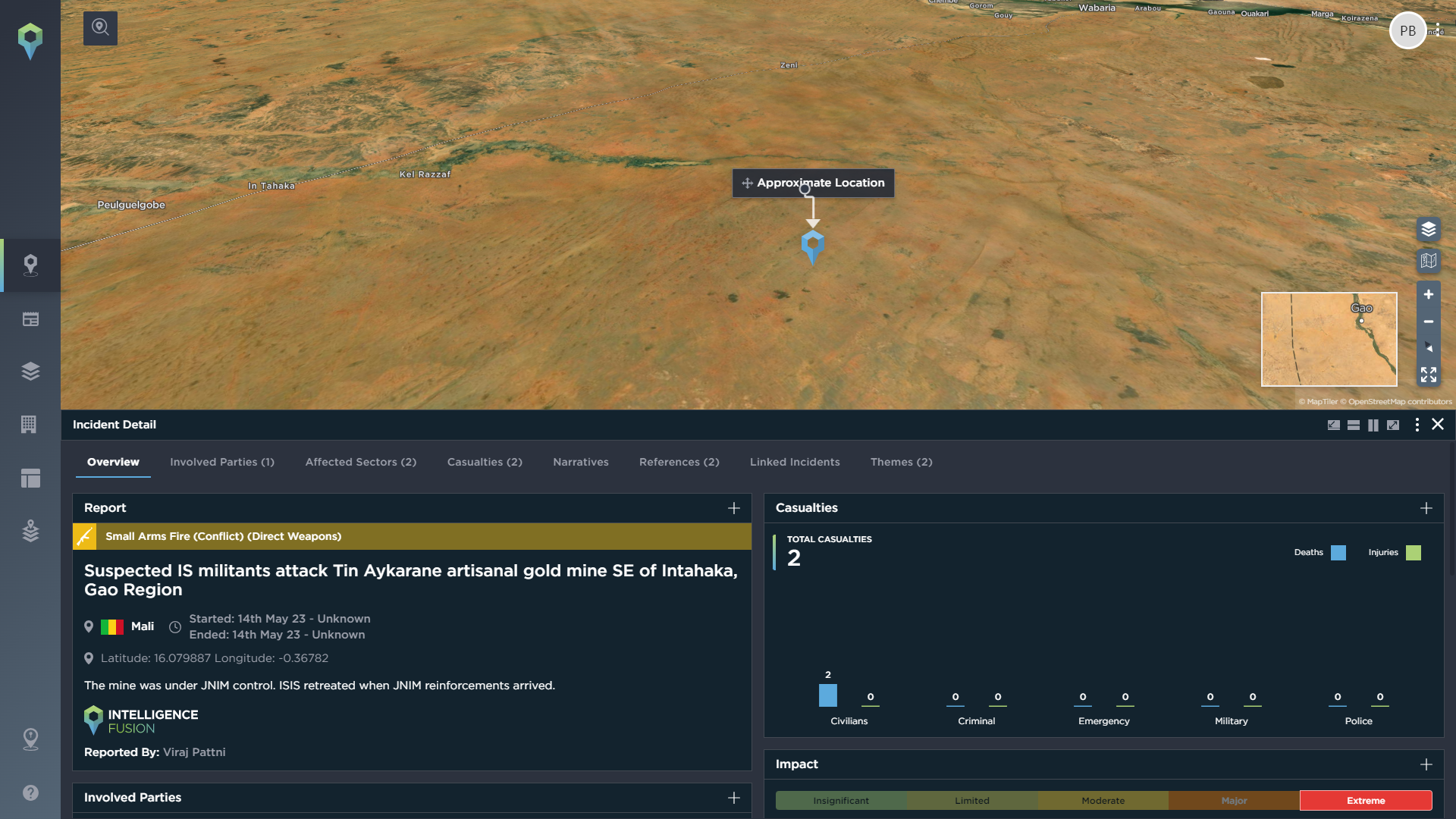 Islamic State militants attacked an artisanal gold mine controlled by Al-Qaeda aligned JNIM in Mali [image source: Intelligence Fusion]
Threats to mining operations from local communities
Mining operations can be impacted by the threat of community unrest and protest, by local communities claiming damages to the environment, their crops and water quality.  The granting of permits for the exploration of minerals in certain areas of inhabited land and forests can lead to tension between mining companies and the local communities. As seen in Ghana, a grant was licensed by the government in 2021 allowing the search for lithium, resulting in tension over the impact on the communities' livelihoods.  
Social license to operate is key for mining companies to successfully carry out their operations, so tracking community tensions and working to address local concerns is vitally important. If tensions are left unaddressed then more serious incidents can occur such as protest or rioting targeting company assets or operations, in worst case scenarios potentially making operations untenable.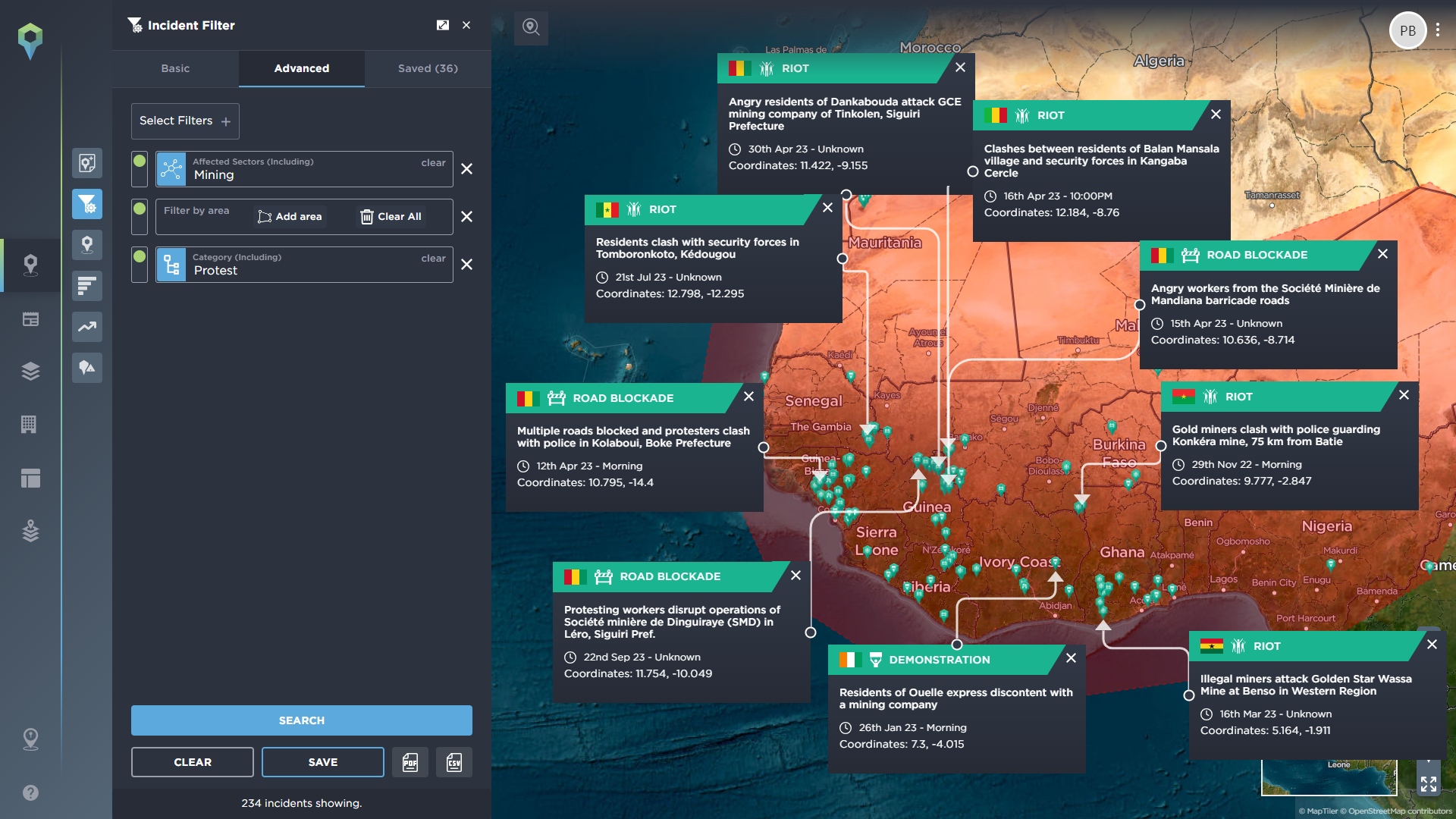 Local community protests impacting mining operations in West Africa [image source: Intelligence Fusion]
To combat the ongoing threat of insurgency against mining companies, businesses have had to adapt their security measures within the region. Companies are resorting to flying their employees directly to the mining site to avoid the threat of ambushes that may occur on main roads.  
Furthermore, companies are beginning to increase the security escort that travels with the convoy. The escort may consist of both private companies and state security forces that have been hired to by the company to secure the convoy. 
As part of the countermeasure, in Burkina Faso, the government previously announced that it would deploy armed civilians around mining sites to help in the fight against the insurgent threat. However, increasing the company's security results in higher security costs, if the company cannot afford to do so there is a likelihood that it will have to close the mine and withdraw from the country. An example of this is that in 2021, Golden Rim Resources, Babonga project had already been placed on hold for three years. The project is in Burkina Faso and is located close to the Niger border. The company reportedly paid $10,000 a month to Burkina's ministry of security for protection, stating that if the security situation does not improve the project will have to be abandoned.  
Being able to accurately monitor ongoing and historic threats is an essential part of any security operation. Whether it's real-time information on developing incidents, visualising areas of particularly regular insecurity or identifying dangerous routes, a heightened level of situational awareness allows security teams to make informed decisions, and understand how and where best to allocate resources. 
---
To combat threats experienced in West Africa, mining companies have implemented their own security measures as mentioned above. However, whilst these measures can lower the likelihood of an attack, they cannot completely discount it. The combination of external factors such as; a coup, civil unrest and insurgents can exponentially increase the risk to mining companies entering and/or operating within the region. Whilst the companies have security services, there is still a likelihood that militant groups will mount attacks, as they have the capacity to carry out large scale attacks against these providers, as seen above.  
A comprehensive threat intelligence solution allows you to prepare for how and where these attacks may take place, using a number of different filtering and data visualisation tools to identify past patterns of activity to anticipate how future attacks may play out. Combining this with continuous monitoring of the activities of threat actors or incidents surrounding particular assets or areas of interest gives your team the capacity to make informed judgements of the capabilities of particular groups and their current levels of activity, and any other developing threats to your operations, so they can provide accurate threat assessments and put mitigation or response plans in place. 
Intelligence Fusion has been providing detailed coverage of West Africa to our clients for years, with an exhaustive data set of historical and ongoing incidents, as part of our 24/7 operations centre. If you'd like to learn more about how we can work with you to help secure your mining operations in the region, book some time to speak with a member of our team today.