Panama Protests: Balancing Profits and Environmental Concerns – The Controversial Mining Contract
Recent events have caused a wave of social unrest in Panama, the likes of which have not been seen since the 1980s during the reign of dictator Manuel Noriega.
In today's world, where businesses often operate in volatile landscapes or have assets, people and supply chains connected to them, leveraging threat intelligence to anticipate disruption is invaluable. 
Panama, renowned for its critical minerals and rare earth metals, has become an attractive destination for mining companies. However, the profits reaped by global corporations from local resources often come at the expense of environmental degradation and community unrest, presenting a multifaceted threat. The unfolding events in Panama throughout October and November have cast a spotlight on issues directly linked to climate change. With the upcoming COP28 conference in November, it shows how vital ESG (Environmental, Social, and Governance) principles are, especially for businesses in mining and energy sectors. To delve deeper into mining ESG risks and understand what needs monitoring and why, click here. 
On October the 20th, the Panamanian government signed a 20-year contract with First Quantum Minerals, a Canadian mining company, granting them rights to operate the largest copper mine in Central America. Additionally, the contract offered a potential extension of two more decades if they wished to proceed. 
This decision triggered an ongoing series of protests across the nation, with the epicentre in Panama City causing significant disruptions to travel and business operations. The local population is deeply concerned about the environmental repercussions of mining activities, which threaten to encroach on more of the surrounding jungle, contaminate local drinking water, and damage biodiversity. 
Lilian Guevara, the director of CIAM, expressed, "The country is not just rejecting the contract but also denouncing this detrimental form of unsustainable economic development." She went on to emphasise, "Mining, and this project in particular, is grossly disproportionate for a small tropical nation with high biodiversity and a heavy reliance on vulnerable ecosystems in the face of climate change." 
The government has stood by the First Quantum contract, asserting that the mine would contribute a substantial $375 million annually to the state. Copper is a vital component in electric car batteries, and it is projected to witness rising global demand as the energy transition gains momentum. 
As the region houses many rare earths essential for a low-carbon transformation, mining could promise economic prosperity. However, if the local population remains at odds with such decisions, it could breed more trouble for mining companies, exposing them to potential criminal activities from disgruntled locals, thereby increasing the likelihood of attacks against mines, including cargo transportation, staff, and operational sabotage attempts. 
Nonetheless, on the day the contract was signed, demonstrators surged into the streets of Panama to oppose the agreement, erecting blockades in the capital and other cities. Some even obstructed the Pan-American highway, the connection between Panama and the rest of Central America. 
On the 23rd, 22 individuals were arrested for setting a state vehicle ablaze in Pacora during the protests. As the days rolled on, road blockades continued to disrupt normal life, coupled with violent acts of vandalism and arson. Social media platforms were flooded with videos depicting large groups brandishing banners, setting tires on fire, and hurling projectiles at buildings. Tear gas was deployed in response, and additional security forces were dispatched to manage the crowds.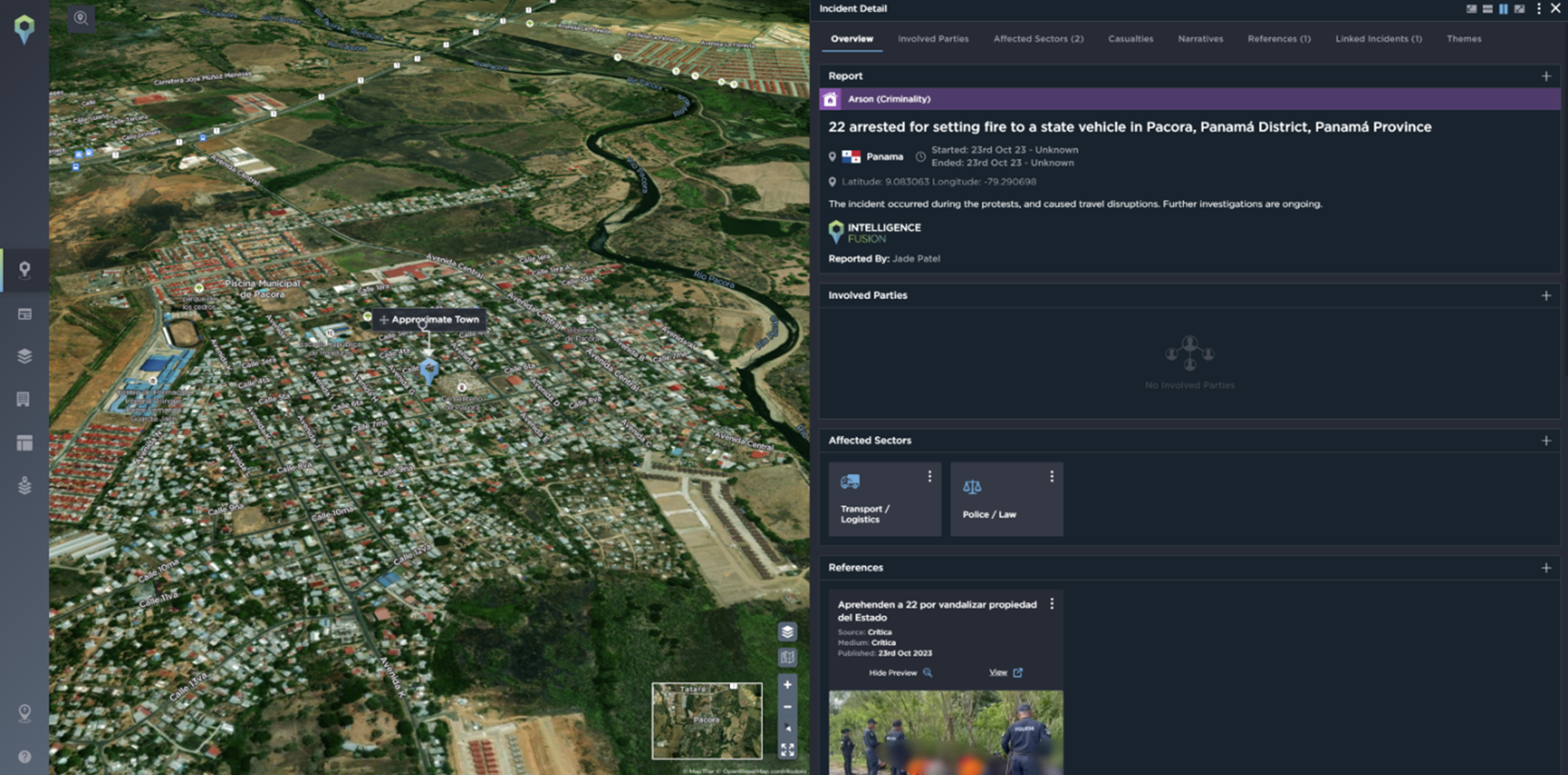 22 arrested for setting fire to a state vehicle [Image source: Intelligence Fusion]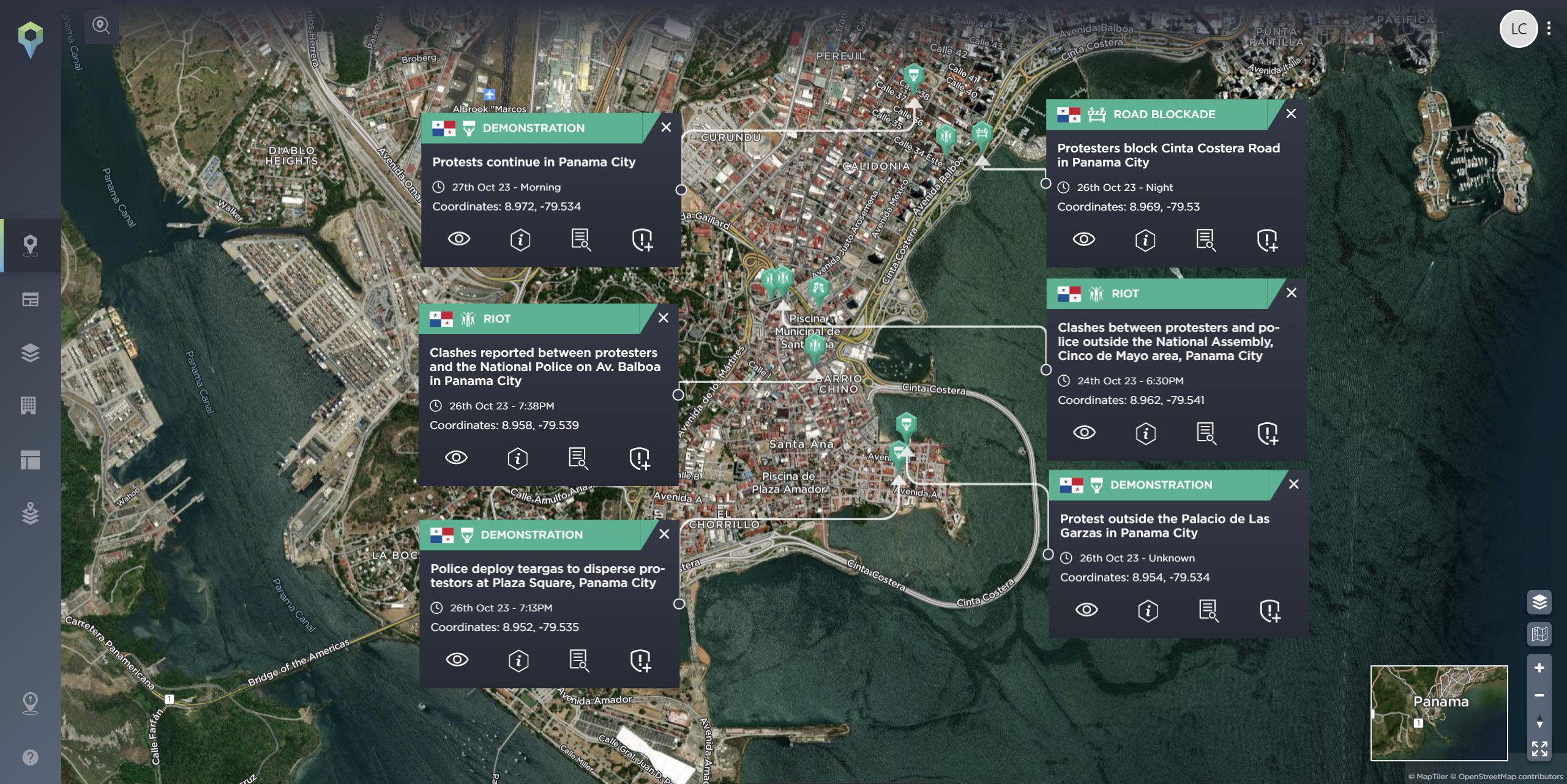 Social unrest [Image source: Intelligence Fusion]
These protests, marked by their scale and disruptive nature, led to traffic standstills across the nation, affecting supply chains, public transportation and the wider economy. They soon expanded to encompass a range of grievances, including the burden of rising living costs, corruption, and the heavy-handed response of the police to the unrest.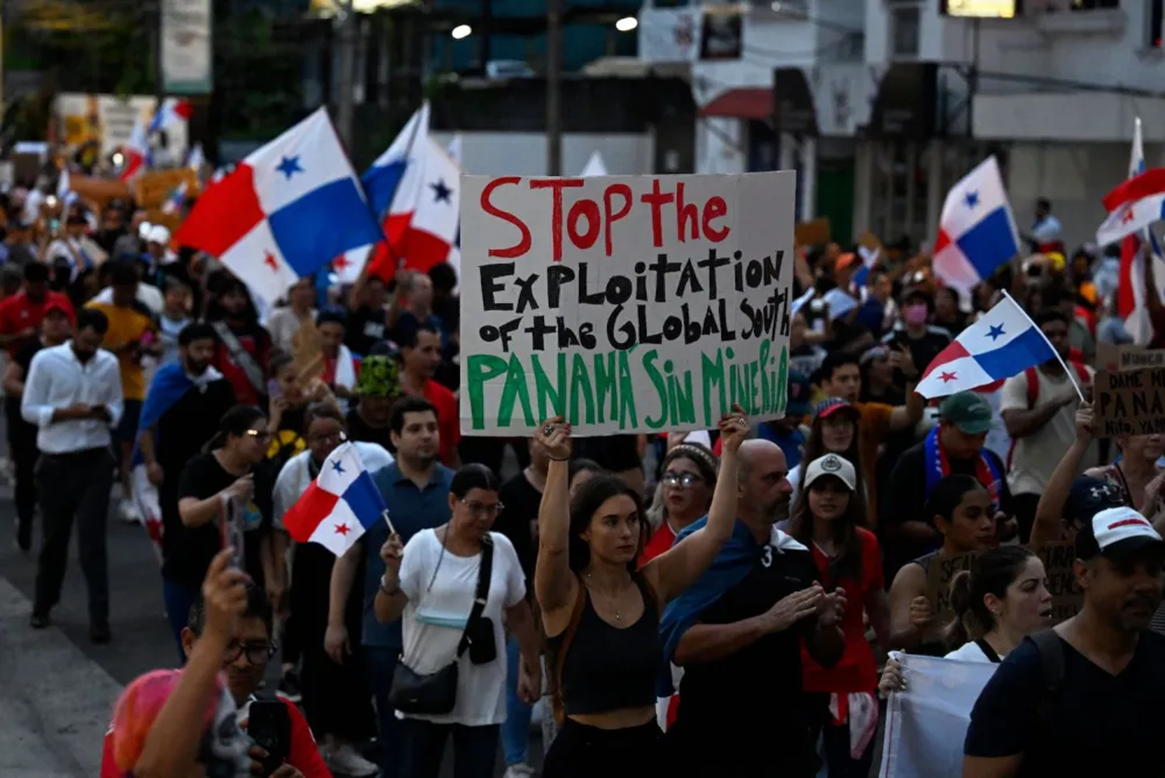 Protesters in Panama [Image source: Foreign Policy]
Numerous businesses have felt the impact of current events. Protesters causing roadblocks have led to fuel and food shortages, disrupting deliveries to Colón Island and various other parts of the country. A power generation company dependent on fossil fuels has warned about potential controlled power outages to manage the electricity supply.
Furthermore, several hospitality establishments have been forced to shut down due to food shortages, and supermarkets are implementing product rationing. Fishermen are reporting losses as they face challenges in selling their products.
Across the nation, there are widespread reports of significant losses in perishable goods, such as fruits and vegetables, which are unable to reach markets and supermarkets.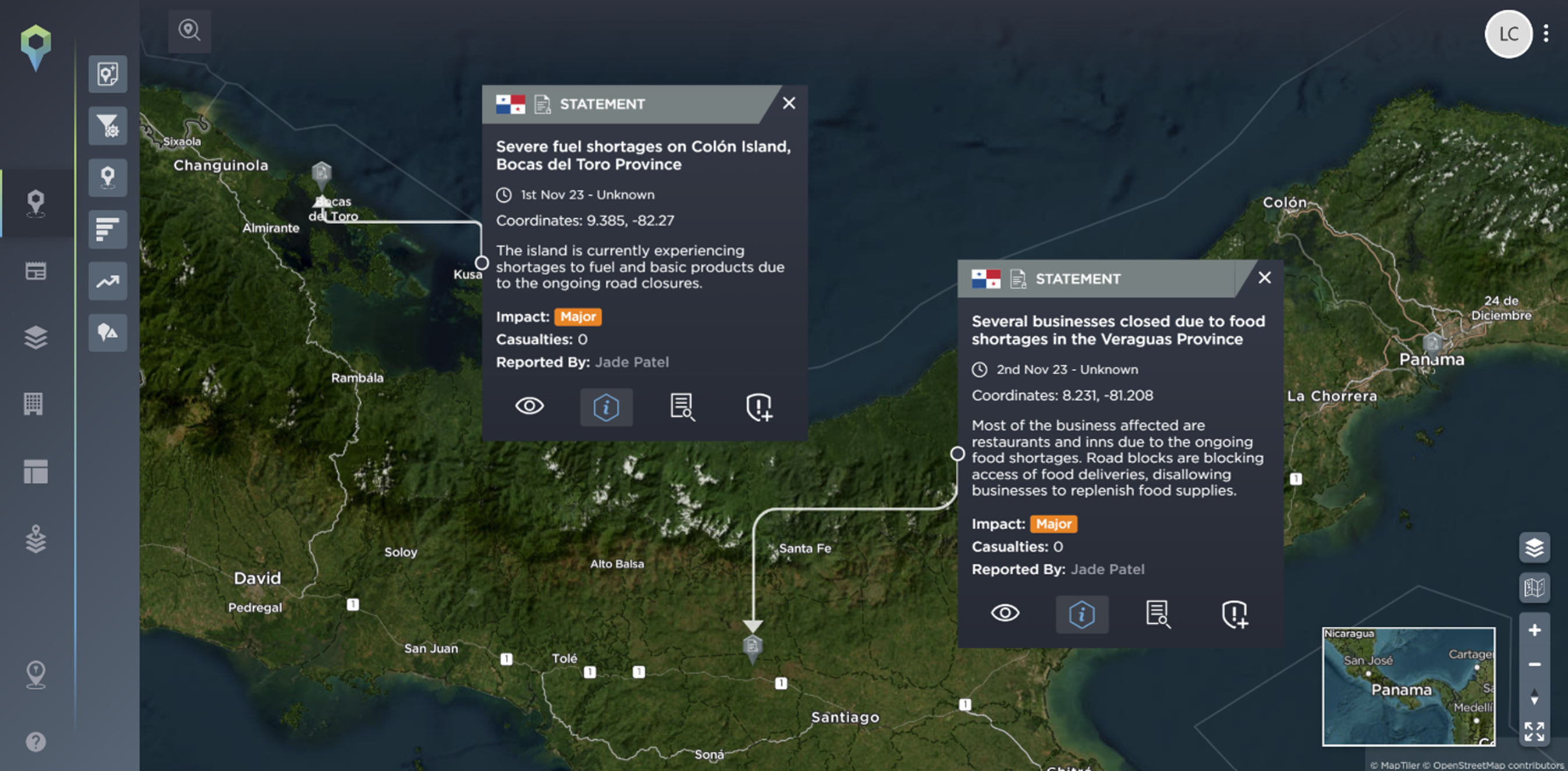 Fuel and food shortages [Image source: Intelligence Fusion]
On October the 27th, the Panamanian National Operations Center submitted a request for inter-institutional support to the Red Cross Society of Panama to provide assistance, especially for health services. On the 31st, the health system in Panama issued a yellow alert due to medical staff announcing staggered work stoppage in order to protest over the mining contract.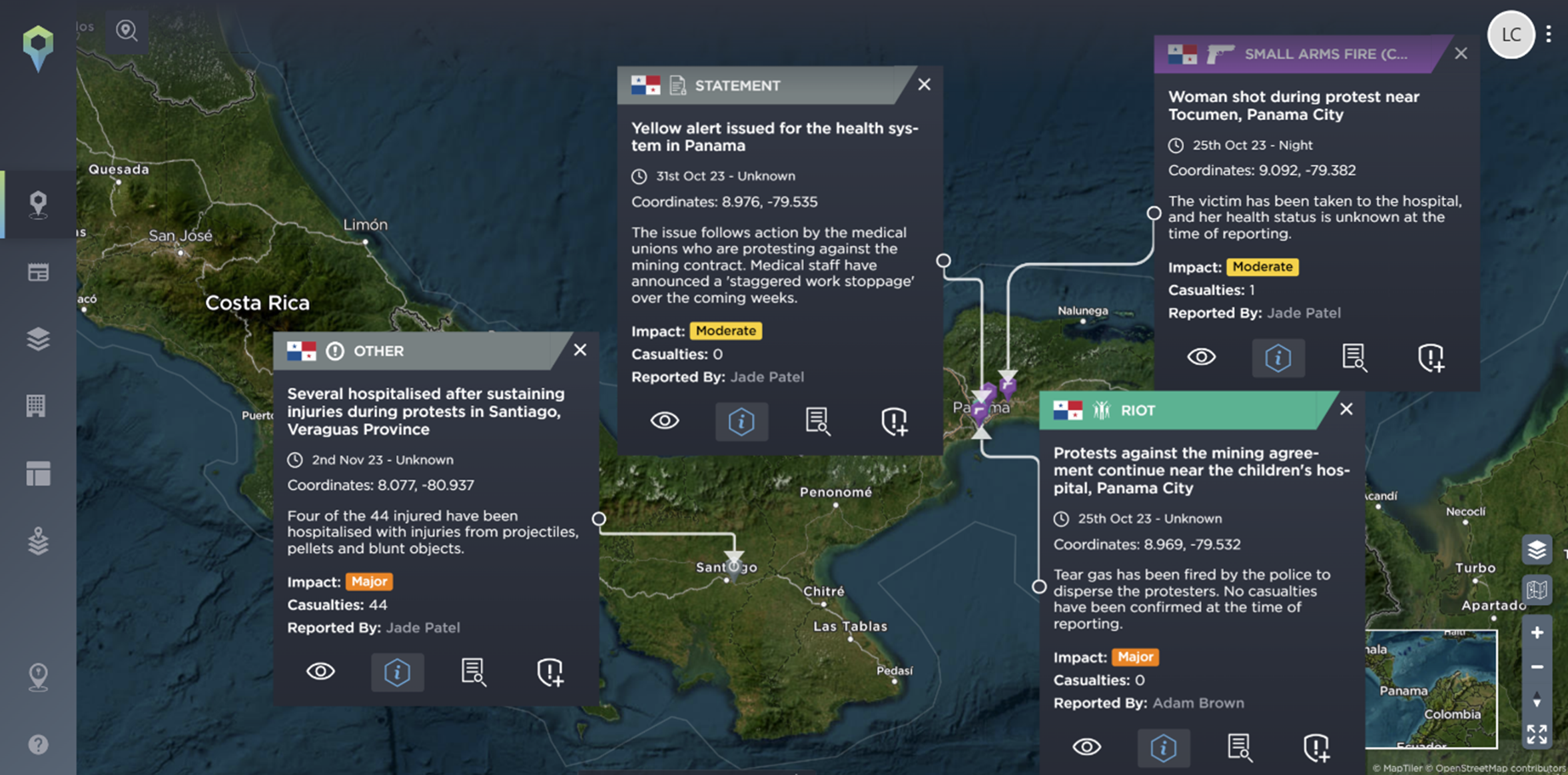 A few incidents affecting hospitals in the local area [Image source: Intelligence Fusion]
Also, on the 27th, President Laurentino Cortizo declared a moratorium on metal mining, yet disruptions have persisted.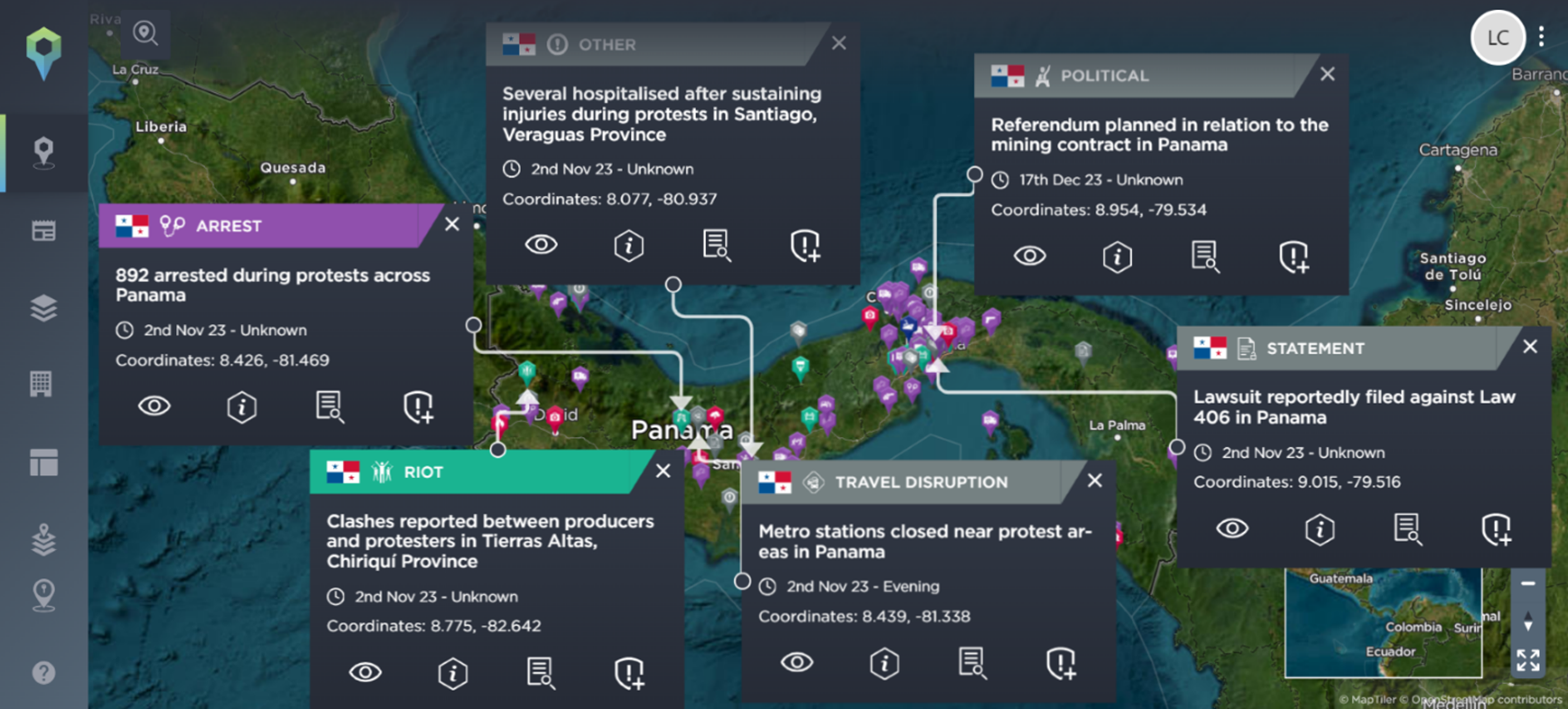 On-going disruption after the 27th October [Image source: Intelligence Fusion]
After weeks of disorder, on November the 3rd, Panama's parliament approved a moratorium on new metal mining contracts. While this does not impact the already-signed First Quantum deal, it halts the review of 103 mining concessions and the renewal of 15 other existing contracts, according to Panama's CIAM environmental advocacy centre, an NGO.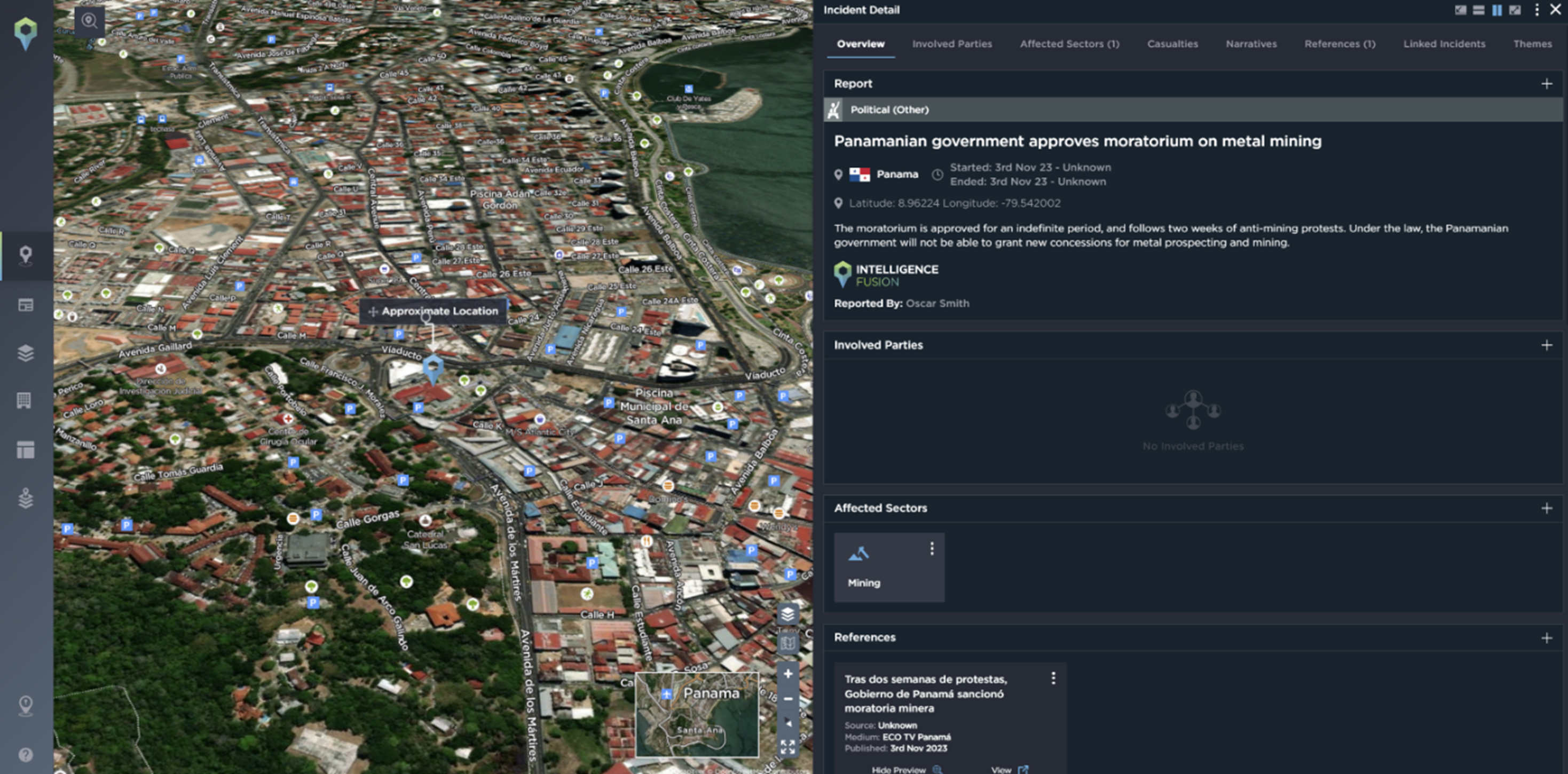 Panama's parliament approved a moratorium on new metal mining contracts [Image source: Intelligence Fusion]
But with unrest still actively reported, these events raise questions about the future of mining as the world shifts towards renewables and the demand for essential materials like copper and lithium for battery production intensifies.
The recent events in Panama underscore the critical role of community engagement for mining companies, emphasising the need to appease local communities; otherwise, consistent and disruptive threats can surface. To explore how threat intelligence can enhance community engagement strategies, download our free guide here.