Power and Consequences: What is the Reality of Lithium Mining in South America?
Lithium is vital for modern technology and renewable energy. South America is at the heart of its global production. In this blog, we explore the pivotal role of the "Lithium Triangle" – Argentina, Bolivia, and Chile – and the environmental and economic consequences that come with it.
Introduction: What is lithium mining, and how is lithium used?
56% of the world's lithium supply is sourced from South America (1).
South America supplies more than half of the global lithium supply, concentrated in the Andes region, notably from Argentina, Bolivia, and Chile. Rich in lithium reserves, these three countries form the 'Lithium Triangle' (2).
Commercial lithium, referred to as white gold, can be obtained by either mining at lithium mines or extracting from salt lakes. Lithium salts are found in deposits such as brine, mineral ore, and clay. After extracting pure lithium, the compounds are converted for their desired use. Mined lithium can be turned into lithium hydroxide or lithium carbonate through further processing, such as heating and filtration. Lithium mined from salt lakes can be transformed into lithium carbonate by evaporating the salt water and then into lithium hydroxide by processing or converting the lithium carbonate (3). The overall process requires high volumes of water and can take between 12-18 months.
Lithium hydroxide is more expensive to mine and is widely used in the electronics industry due to providing rechargeable power. Mobile phones, laptops, vehicles, and aircraft rely on this form of lithium, with lithium-ion batteries commonly used to power electric vehicles. In contrast, lithium carbonate is used predominately in the manufacturing industry to create ceramics and tiles.
The demand for lithium is unprecedented and has been noted as a crucial factor in the transition to renewables. This blog aims to underpin the importance and consequences of lithium mining within South America, along with the international influence on the commercial industry and supply chain.
The Lithium Triangle
In South America, lithium is sourced from mines located within the Atacama Desert. These mines are positioned across borders where the salt lakes are located, with the largest areas being Salar de Uyuni in Bolivia, Salar de Atacama in Chile, and Salar del Hombre Muerto in Argentina.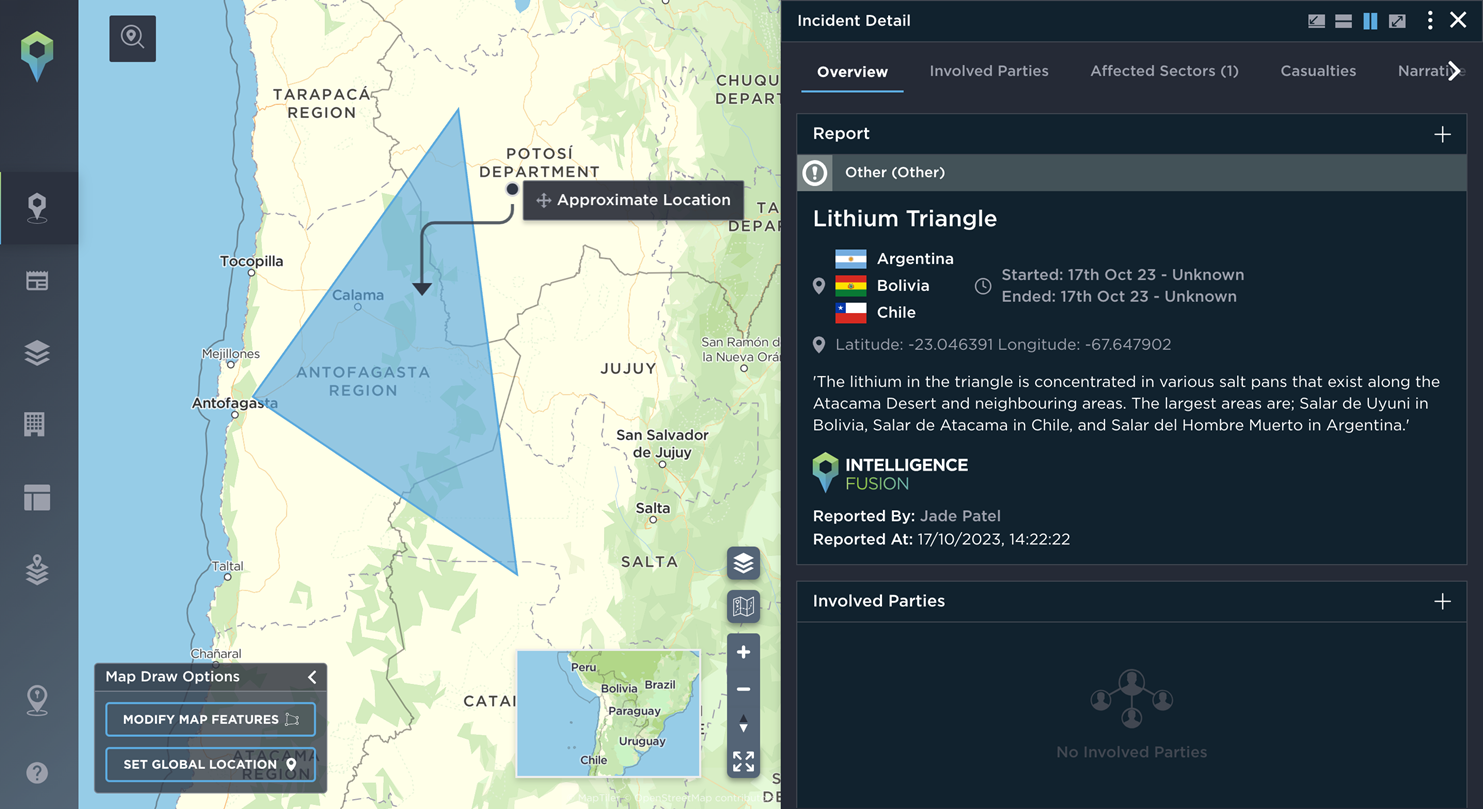 Screenshot of the Lithium Triangle [Image source: Intelligence Fusion]
Despite having the lowest lithium resources, Chile is currently regarded as the largest lithium producer in South America. In 2022, the country contributed 39,000 metric tons of lithium, equating to 30% of global lithium produced that year (4).
Argentina is regarded as the second largest producer and is seeing an increase in lithium production. The Argentine government are investing in 30 mining projects over the next 10 years, alongside the 38 ongoing lithium mining projects, to aid in boosting the country's economy (5).
Bolivia remains the least active due to the salt flats not being suited for standard mineral extraction and is yet to achieve large-scale lithium production. However, the country is home to the highest amount of lithium reserves. YLB (a state-owned Bolivian mining company) is in the process of signing contracts with international investors to boost production, forecasting lithium stocks to outweigh both Argentina and Chile in the coming years, even surpassing Chile.
Consequences
Whilst lithium is financially prosperous, wetlands in Argentina, Bolivia and Chile are under enormous threat. Approximately 21 million litres of water are consumed by lithium mining daily, resulting in persistent droughts, agricultural depletion, and, notably, a decline in wildlife. The extraction of raw materials is adding to the environmental burden, causing soil degradation, food chain issues and biodiversity loss. A depletion in agricultural opportunity is likely to have a knock-on effect on food availability, trade and increase poor health.
Those residing in the Lithium Triangle, specifically the indigenous communities, are seemingly the most impacted; however, regional farmers and those in rural areas are also likely to be a victim of environmental changes. Fears of water pollution, unusable land for rearing livestock and growing vegetation are escalating.
In response, over the past decade, Argentina and Chile have seen an increase in environmental activism, as well as sabotage of mines within the Lithium Triangle. In 2019, indigenous communities blocked access to the Atacama salt flats in Chile by creating roadblocks, alongside hosting nationwide rallies against the environmental impacts of lithium mining in their territory (6). This action caused the mine to be inoperable for several days. Within two years of this event, Chile declared a water crisis after crucial waterways began to dry up, placing reliance on water deliveries to several communities and creating further protest activity (7).
Most recently, throughout 2023, Argentina has experienced an increase in conflicts around water consumption, notably from a compilation of activists known as the 'Environmental Defenders'. They regularly protest against the country's future mining ventures, amplifying the challenges caused by the degrading environment. In August 2023, native populations also hosted mass protests across Argentina against the increase of mining activities in their territories (8).
Conversely, in March 2023, a demonstration was held in favour of lithium mining within Bolivia, where activists blocked roads in a bid to pressure the government (9). However, a boost in mining activities is likely to have a polarising effect and could see an increase in environmental protesters, similar to Argentina and Chile.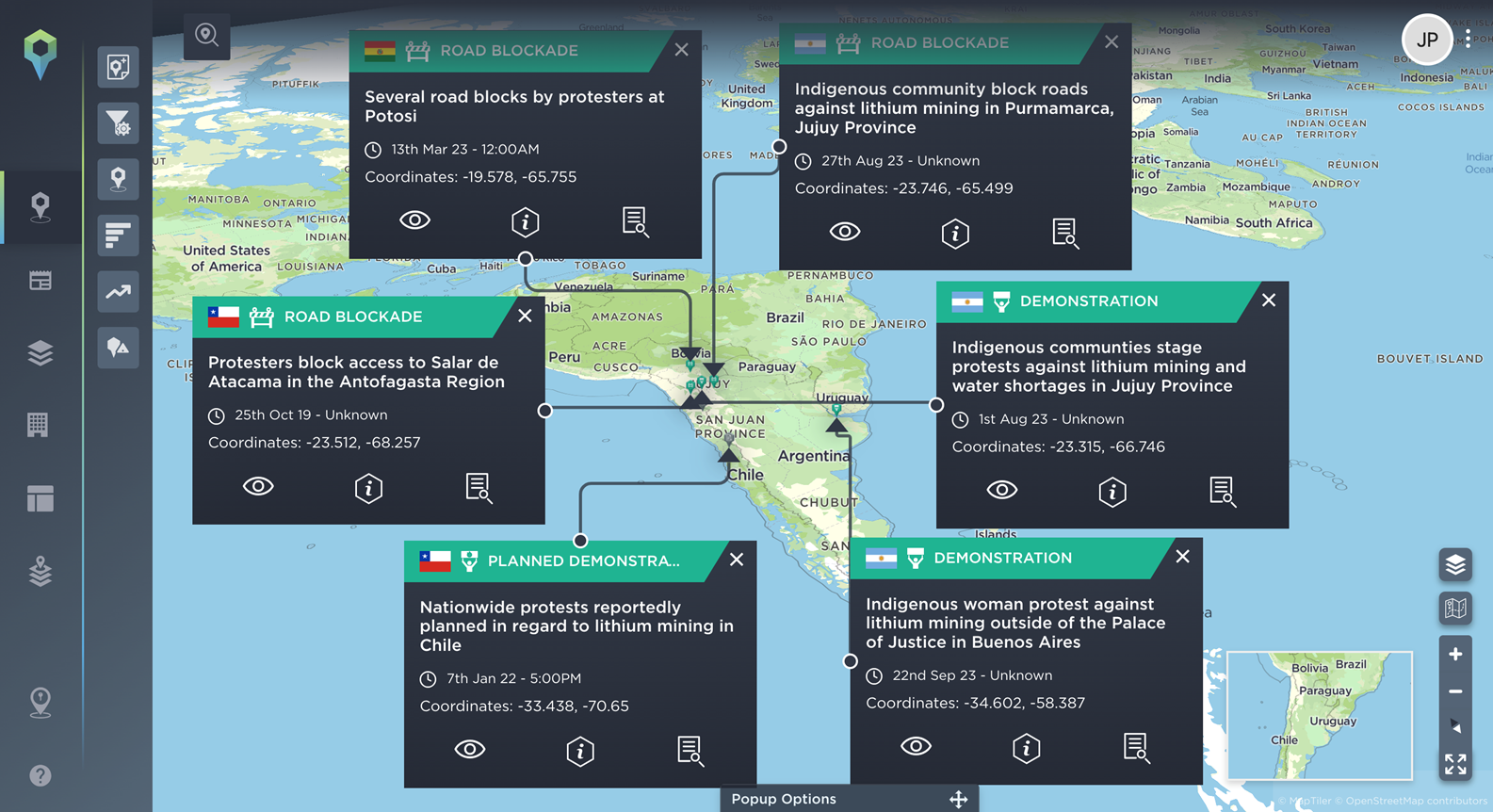 Screenshot of Protests Against Lithium Mining [Image source: Intelligence Fusion]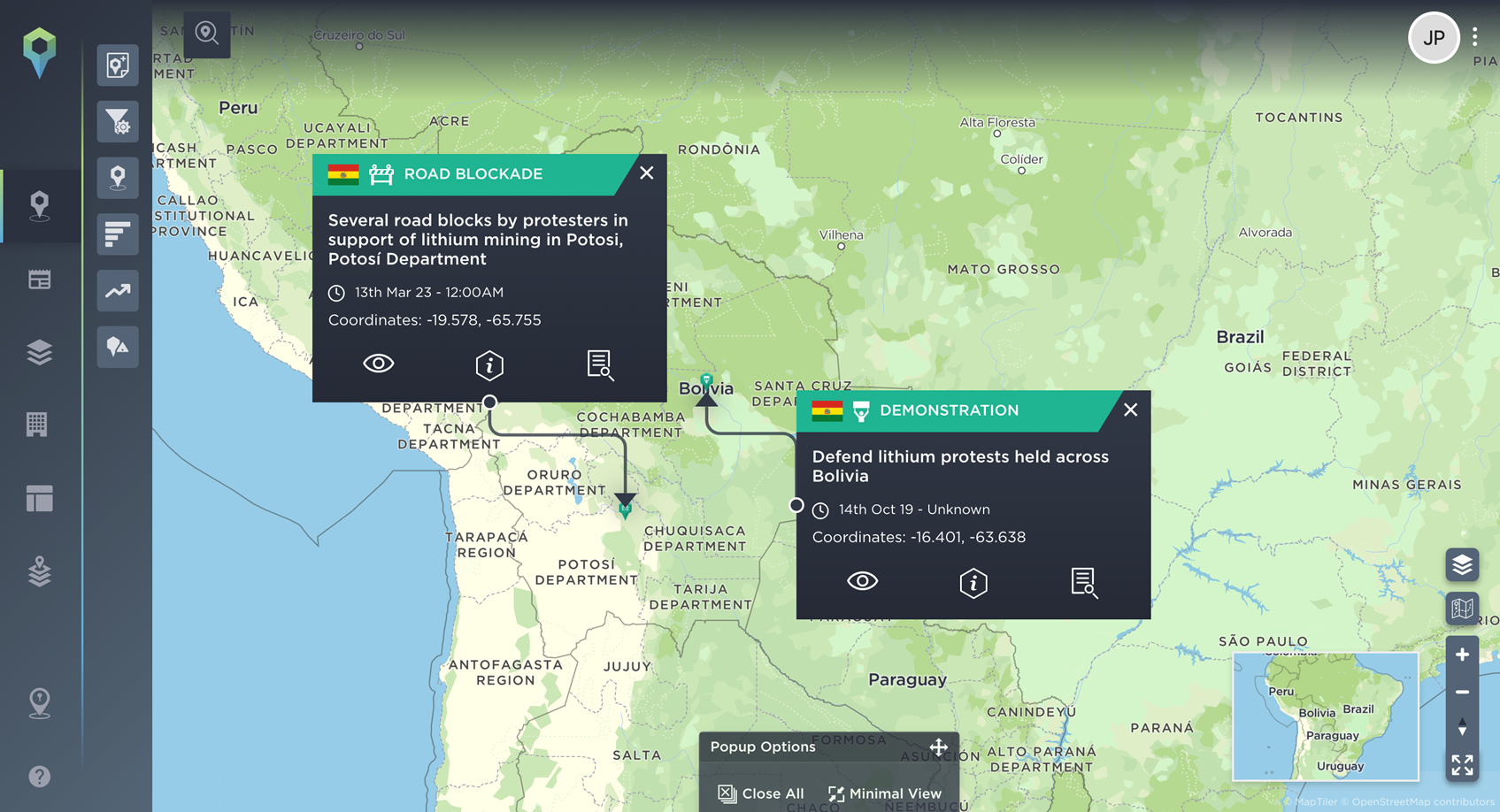 Screenshot of Protests in Support of Lithium Mining [Image source: Intelligence Fusion]
Business Considerations
The Lithium Triangle is boosting South America's lithium production, aiding with meeting global demands. For South America, lithium resources are a promising economic avenue, but producers will likely face a variety of challenges, including infrastructure demands, environmental regulations, reliable water management and an increase in social concerns. Whilst the mining of lithium will continue, producers may be tasked with adhering to environmental conducts and finding alternative methods to preserve the local area.
It is likely that lithium demand will increase as technology advances continue, creating further business opportunities and intercontinental trade. With this demand, the lithium industry is likely to become a more competitive trade and may lead to international rivalries, although it could, on the other hand, create opportunities for new partnerships. The availability of lithium is unlikely to deplete; however, with ongoing disputes against mining operations, supply chain security could be jeopardised for periods.
What does this mean for the future?
Moving forward, lithium demand is expected to significantly increase and become a driving factor of clean energy systems. Over the past decade, lithium has not only doubled in price but has been an essential component in the advancements of electrical technology. The global expansion for lithium demand is likely to complement the region's economy, especially in the Lithium Triangle, and offer a variety of positives, such as employment opportunities and job security.
However, expanding the extraction of lithium is likely to come at the cost of a weakened environment, impacting the traditions and livelihoods of local residents. The futuristic goals for mining in South America are likely to receive pushback from activists and are likely to create inner-country conflicts. Mines are likely to remain a key target for roadblocks and acts of sabotage. Heavy protesting and calls for government action, either for or against mining activities, will most likely continue, causing active threats to mine operators.
---
To discover more about the threats impacting lithium mining in South America and further afield, book a demo of the Intelligence Fusion platform.
We map over 20,000 fully verified incidents each month and have over 1,000,000 historical incidents available on the platform. Prepare and prevent disruption and make

decisions faster, with confidence.