Greece protests: university police become operational
How the planned deployment of university police in Greece could lead to protests, inflame long-held societal tensions, and ignite a potentially violent backlash from far-left extremists.
In August 2019, Greece's then newly-elected, centre-right government repealed a law that prohibited police from entering universities; on 11th February 2021, the Greek Parliament voted to establish a university police force. These two acts, aimed at combating lawlessness and violence on university campuses, have inflamed a highly-sensitive issue within Greek society.
More than a year and a half later, and after a period of uncertainty on when this policy would begin to be enacted, reports now suggest that University Institutions Protection Teams (OPPI) have been deployed in the four major universities in Athens and Thessaloniki on a pilot basis.
Open source reporting indicates that on 5th September 2022, students protested against the deployment of University Police at the Zografou Campus of the University of Athens. Shown in Figure 1, students blocked the entrance of the university and planned to hold another rally the next day. Available reporting has summarised the issue as follows, "the government deems the university police necessary due to what it says is the lawlessness at universities. However, opponents of the force, mainly from left-wing parties, argue it threatens academic freedom established after the end of military rule in the 1970s."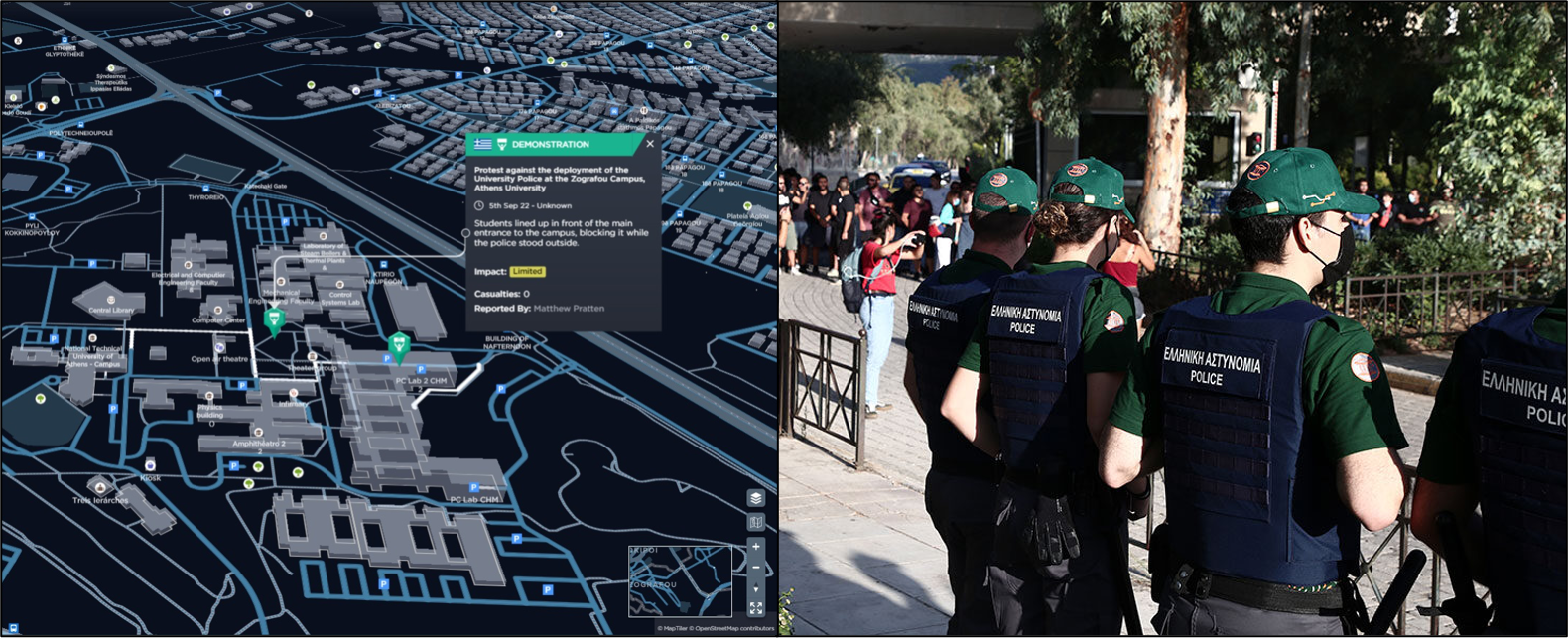 Figure 1: Protest against deployment of university police at the Zografou campus [image source: Intelligence Fusion and Ekathimerini.com]
COMMENT. The current government under Prime Minister Kyriakos Mitsotakis was elected on a campaign to establish a policing capability for universities. Efforts to pass the laws in Parliament to create university police saw numerous protests and clashes occur in Greece, with many opponents and protesters stating it will enable a return to authoritarian rule of universities and stifle freedom of expression.
As shown in Figures 2 and 3 below, open source monitoring of Left Wing Extremism amongst the Education sector in Greece is indeed a significant problem. It is similar to left wing extremist activities which were occurring in previous reporting on efforts to protest against a Court of Appeal case involving imprisoned members of the far-right Golden Dawn Party in Athens. Monitoring in Athens and Thessaloniki frequently feature left wing extremists/anarchists clashing with police. Activity appears to be more spread out across Athens while in Thessaloniki it is concentrated within and around the Aristotle University. Left wing extremism incident statistics indicate multiple occasions of rioting, Molotov cocktail caches and attacks on police along with threats to university staff by left wing extremists/anarchists.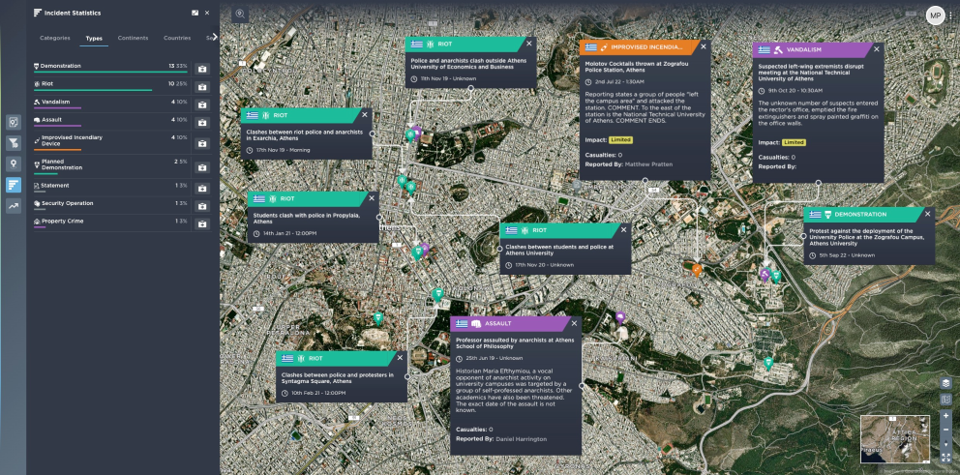 Figure 2: Incidents relating to left-wing extremism and the education sector in Athens [image source: Intelligence Fusion]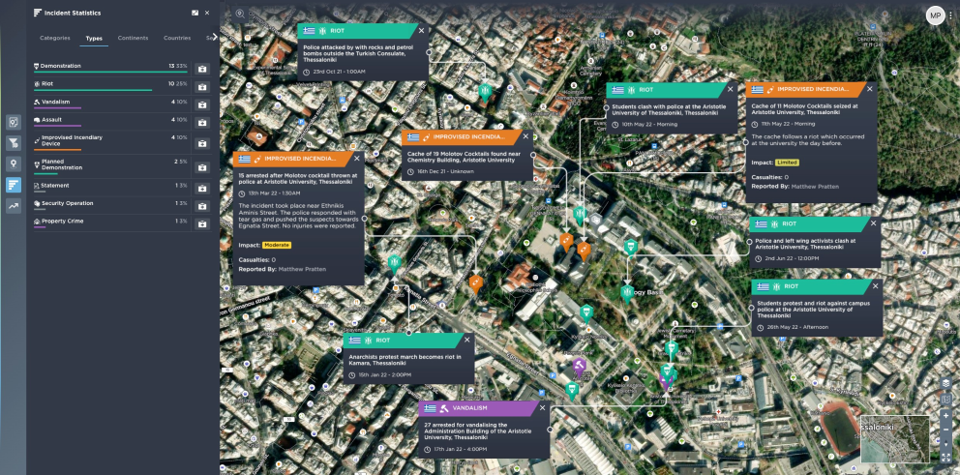 Figure 3: Incidents relating to left-wing extremism and the education sector in Thessaloniki [image source: Intelligence Fusion]
Such activity has been able to flourish due to the fallout of the Polytechnic Uprising in 1973. Extremist and criminal activity is a major problem within Greece's universities, however, on 17th November, 1973, Greek students protesting against the then military junta occupied the National Technical University of Athens; the police and military response to this resulted in significant clashes, resulting in at least 34 students being killed. Legislation following the ousting of the military junta prohibited police from entering university campuses. Despite indications of entrenched lawlessness and extremism shown in Figures 2 and 3, this major event in Greek history has a great symbolic significance, with the laws regarding police access to universities shaping important values for Greek society. The Polytechnic massacre is marked annually on 17th November in Greece and there is also observance of the murder of Alexis Grigoropoulos by police on 6th December, 2008. Anniversaries for both events have seen rioting occur.
Given what created the laws prohibiting police from universities, a large number of people including university staff believe the status quo should remain. Police have been accused of targeting people belonging to left groups and have been condemned for abuse of police powers. Possible abuses by the university police would likely significantly increase support for far-left groups. Resisting against the university police for part of the population means defending fundamental values while many have accused the government of attempting to create a police state. Reports/claims of police brutality and harassment around campuses and across the cities also lead many to believe that the establishment of the university police will result in widespread abuses by the police similar to the murder of Alexis Grigoropoulos. COMMENT ENDS.
While reports indicate significant issues with extremist activity on university campuses, the deployment of university police across Greece will likely be seen as an effort to undermine a fundamental part of Greek identity. As the university police become operational across Greece, protests similar to the 5th September incident are likely to occur.
With the anniversaries of the Polytechnic Uprising (17th November, 2022) and murder of Alexis Grigoropoulos (6th December, 2022) approaching, it is likely that resistance to university police will increase, becoming open and widespread.
Given previous incidents of rioting and caches of Molotov cocktails, it is likely the lead-up to the anniversaries will feature an increasing number of protests against police and increased levels of rioting on 17th November and 6th December, 2022. On these particular dates, widespread unrest featuring the use of Molotov cocktails can be anticipated in Athens and Thessaloniki, especially near university campuses along with major public spaces such as Syntagma Square (Athens) and Aristotelous Square (Thessaloniki).
---
Learn more about the data and the software powering our analysis – our threat intelligence platform tracks, maps and monitors an average of 20,000 incidents a month across the world, supporting our global client base. To find out more, and book some time with a member of our team, click here now.