CEO of threat intelligence company Intelligence Fusion nominated for national business innovation award
Intelligence Fusion CEO Michael McCabe could be celebrating success this month after being nominated for an award showcasing the achievements of military veterans in their second careers.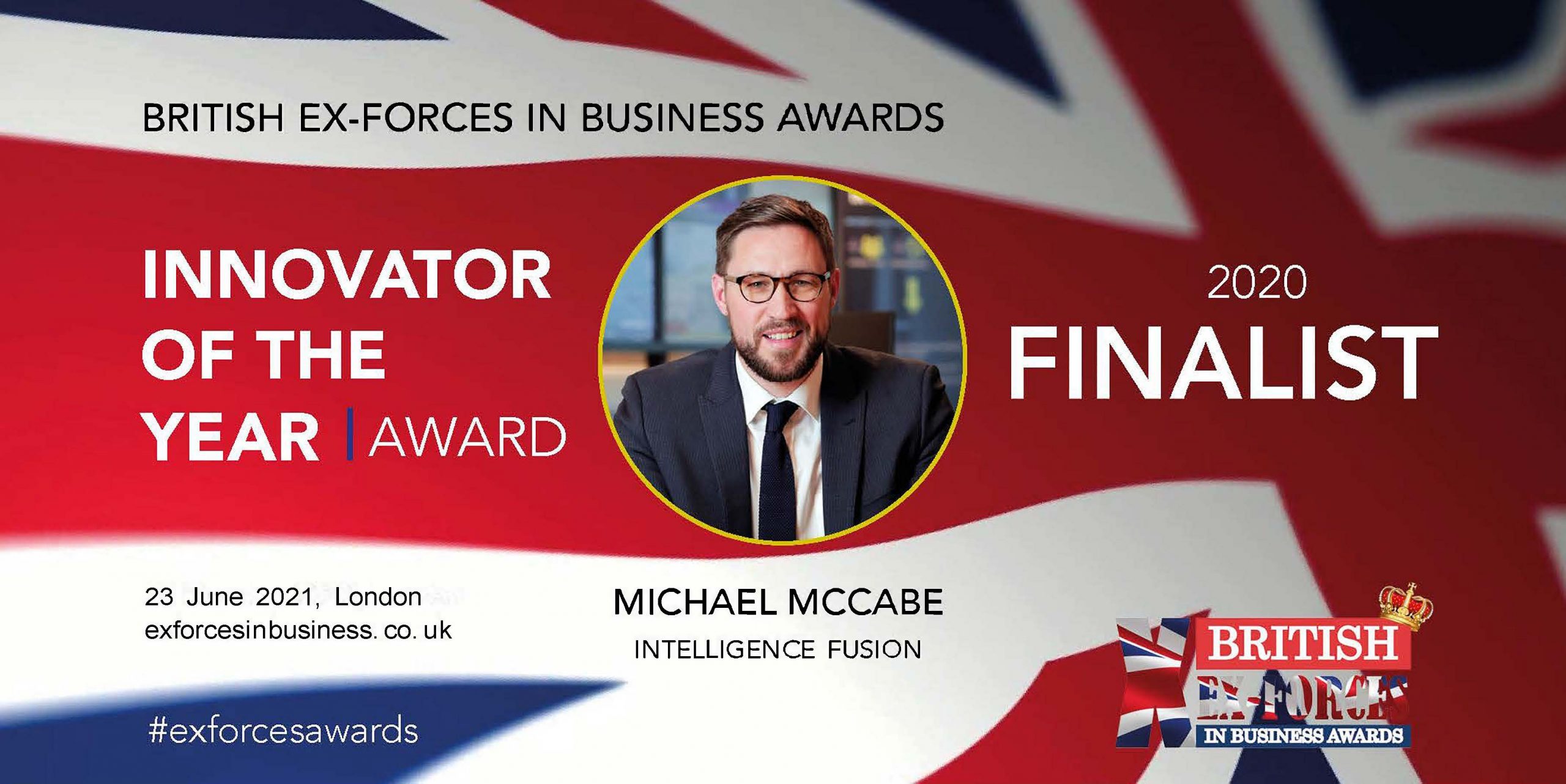 Michael served in the Intelligence Corps in Iraq until leaving the forces in 2009, before taking on roles in the private intelligence and security sector – he then founded Intelligence Fusion in late 2014.
It is the success and rapid growth of Intelligence Fusion, based in the North East of England, that has led to Michael being nominated for the Innovator of the Year award at this year's British Ex-Forces in Business Awards, taking place in a glittering awards ceremony in London on 23rd June.
Michael said: "The level of intelligence and situational awareness that we provide our clients is the sort of data we would require in my experience in the British Army. Coming out of the military and into the private sector I was amazed that this sort of information just wasn't commonly used in the security planning of private businesses – this is where I got the idea to create Intelligence Fusion, to provide that military-grade intelligence to the private sector, broken down and presented in a way that's easy to understand and take action on.
"The threat intelligence sector is quite a slow-moving industry – the way we've positioned ourselves is to be an agile company that can evolve as quickly as the threat landscape, so for example we've got an in-house development team that allows us to tailor our platform and approach on a per-client basis, even creating a bespoke platform for clients if needed, which is something we're currently doing for one of the world's largest oil and gas companies."
Intelligence Fusion provides clients with real-time alerts and historical data, trends and patterns, on incidents ranging from criminality, terrorism and conflict, to protests, travel disruption and hazards such as illness.
The company's groundbreaking threat intelligence platform combines cutting edge technology with human led analysis – disrupting the slow-moving security industry with a platform that means clients can easily visualise accurately geo-located, actionable intelligence that can be acted upon swiftly, while filtering out fake news and misleading information.
Michael added: "It's a real privilege to have been nominated for the Innovator of the Year award. It's great that there's an initiative that highlights the transferable skills that veterans can bring to the world of business – it's the skills and experience I gained in the Intelligence Corps, for example, that have allowed me to set up Intelligence Fusion, which now has 21 full-time employees, with further growth planned."
This is the third year of the British Ex-Forces in Business Awards, the world's largest celebration of military veterans in second careers. By showcasing the military-gained attributes that have enabled their post-service success, the awards aim to demonstrate to employers the business value of hiring veterans. The awards ceremony gathers business leaders, veterans, top employers, current serving officers, politicians, journalists and other stakeholders to highlight the significant value that ex-military servicemen and women add to the UK economy.
Since launching in 2018, the Ex-Forces in Business Awards has become a crucial initiative for promoting a positive narrative nationally of veterans as great assets to employers across all sectors, and has led the way in increasing visibility of business role models for service leavers. Last year's awards showcased the second-career achievements of nearly 300 veterans and reservists at ceremonies in London and Glasgow attended by more than 1,400 business leaders and over 450 employers.
The 2020 finalists were whittled down from a record-breaking 500 nominations, with the winners decided by a judging panel of military veterans headed up by Admiral Sir George Zambellas, former First Sea Lord and now chairman of several companies including Galaxkey. Other judges facing the task of selecting 20 winners from a huge breadth of talent include business leaders from Jaguar Land Rover, Morgan Stanley, Dell, Lloyds Banking Group, Serco, Stagecoach, Thales and Knight Frank.
Admiral Sir George Zambellas commented: "In operational planning, UK military people are comfortable asking 'What's changed?', and then reacting accordingly. Those same honest qualities of analysis and agility are needed now, as we face changed business environments in the COVID-19 era. So, I'm delighted that so many ex-forces men and women, who have chosen a life in business, have the cunning and resilience to succeed. I'm very proud to support them."
Intelligence Fusion boasts a growing global client list that includes one of the world's leading oil and gas companies, the United Nations Department of Safety and Security, Dutch Ministry of Defence and the Metropolitan Police. 
The company secured a further £400,000 in funding to continue its growth at the start of 2021, and has recently created a new Intelligence Manager role to oversee its ever growing 24/7 team of intelligence analysts.
For more information on customised intelligence solutions, get in touch with a member of the Intelligence Fusion team.