The 2021 Myanmar Coup: What happened?
Myanmar hit headlines across the globe this week when its military staged a successful coup and declared a year-long state of emergency, almost a week after Intelligence Fusion warned users of a potential takeover. Regional Analyst, Alex Smith, analyses what happened and what we can expect next.
What happened?
On the morning of the 1st February, the Myanmar military (the Tatmadaw) seized power in a bloodless and not entirely unexpected coup, arresting members of the ruling National League for Democracy (NLD) party that were assembled in Naypyidaw. Similar operations took place across the country, taking members of local governments and NLD officials into custody in a well-coordinated operation which saw the internet cut and state broadcasting interrupted. State Counsellor Aung San Suu Kyi and President Win Myint are now among many officials under house arrest.
The coup follows an embarrassing defeat for the Tatmadaw-backed Union Solidarity and Development Party (USDP) in the November 2020 elections, which saw the NLD take 83% of the vote. The defeat delivered a blow to General Min Aung Hlaing, who harboured political ambitions for his retirement from the military, and led to trumped-up allegations of voter fraud as a justification for the coup and a one-year state of emergency with Myint Swe as acting President.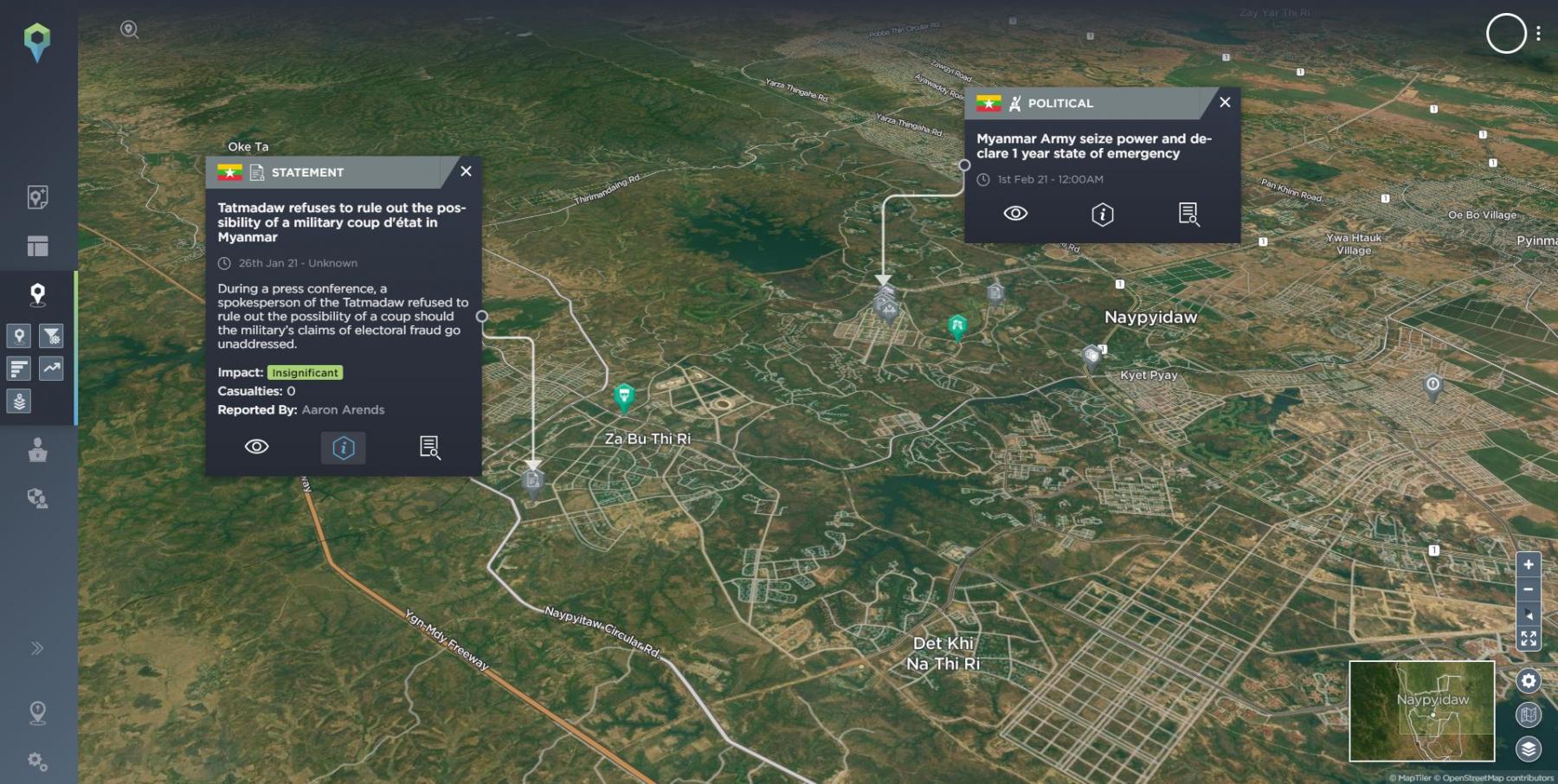 Intelligence Fusion first warns end-users of a potential coup on the 26th January 2021. Less than a week later, the miltary seized control of the country and declared a national state of emergency. [Source: Intelligence Fusion]
What was the international reaction?
Coming only weeks after his inauguration, the coup will be the first test of the new Biden administration and its foreign policy, with sanctions against Tatmadaw figures already being explored. However, it's uncertain what effects such sanctions will have as many key figures in the Myanmar military are already sanctioned due to their actions in Rakhine state. Western companies have only minimal involvement with the Myanmar economy, and four years of neglect under the Trump administration has left U.S. influence in the region at an all-time low. Commentary that the U.S. will be able to lean on regional powers to exert pressure on the new Junta also appears misguided. Neighbouring Thailand, itself a military-backed regime of shaky legitimacy, is unlikely to speak out, and many other ASEAN members have already declared the coup an internal matter.
China may be inconvenienced at the removal of State Counsellor Aung San Suu Kyi, with whom Beijing had a close relationship. The arrival of the more independently-minded Tatmadaw in power is less than optimal for China, who has huge business interests in the country that include natural gas, transportation and power generation projects. It is likely however that Beijing will continue to pursue its agenda with the new regime, and on the 2nd February unsurprisingly blocked a U.N. Security Council statement condemning the coup. The only change that the coup could bring about is a potential increase in support for some of Myanmar's many dissident ethnic groups, both as a means of securing its own infrastructure projects from attack and as a means of hedging against increased Indian influence in Naypyidaw.
While India has voiced concerns over the coup it will likely not join the cries of outrage that are coming from other capitals. India has cultivated a good relationship with the Tatmadaw, with many high level visits and arms sales. Indeed, Myanmar has bucked the trend in southeast Asia in recent years by looking more to India and not China to supply its arms. Indian armed forces and the Tatmadaw have coordinated closely to counter militant groups on their porous border, groups that Delhi has accused Beijing of supporting and arming.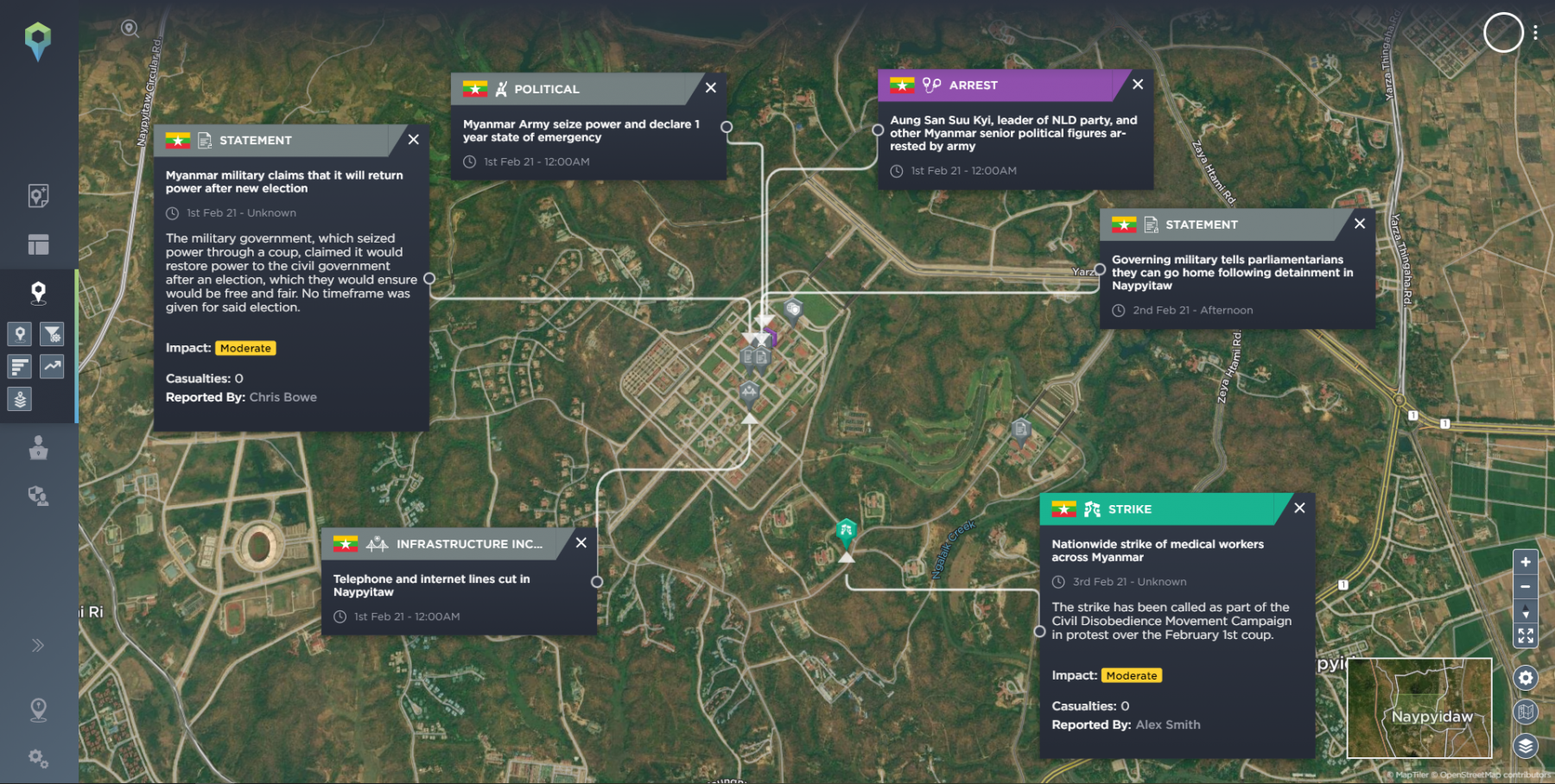 A selection of incidents highlighting a series of events since the 2021 Myanmar military coup. [Source: Intelligence Fusion]
What can we expect next?
How long this new military regime will last is difficult to predict. The Myanmar of today is not the Myanmar that endured decades of military rule and international isolation. The population is far better connected to each other and the world thanks to the internet, and civil disobedience has already begun in protest against the new government. While military intervention will remain highly unlikely and Western influence limited, the Tatmadaw may find that the old methods of repression that allowed them to hold on to power for much of the 20th century are outdated by modern methods of organisation and protest.
Did the military coup in Myanmar catch you off-guard? Our analysts picked up on the possibility of a coup d'état in Myanmar six days before it happened during their monitoring of local media sources.
To take a closer look at the data that helps organisations such as ExxonMobil, Credit Suisse and the United Nations better protect their people, assets and operations, schedule your free trial of Intelligence Fusion.