Adding speed to your threat intelligence feed
Why your threat intelligence feed should combine actionability with speed.
In times of burgeoning economic crisis, worsening social conditions and increasing civil unrest, deadly terrorist attacks and military coups in regions as far apart as Southeast Asia and West Africa – not to mention war in Ukraine and tensions between the West and Russia at their worst point this century – security teams are working in an increasingly unpredictable environment, across the globe. With this all taking place in a world still recovering from the COVID-19 pandemic, security crises are occurring with unprecedented frequency, meaning global security operations centres (GSOCs), risk management teams and security professionals are in need of the right information, at the right time, as soon as possible. A threat intelligence feed that can provide you with actionable insights is crucial – but so is the speed with which this information is put in front of you.
When a crisis hits, every second is vital.
Why is speed so important for risk management and security professionals?
Adding speed to their intelligence feed without being swamped by too much irrelevant and unsubstantiated information has been the key issue for security teams for years now. While it's vital to receive intelligence as quickly as possible, if this intelligence is lost in a sea of other alerts, or has to be verified and analysed before it can be acted on – or worse, turns out to be based on false information or fake news – then this can have a detrimental effect on your ability to monitor and act on risk or threats to your organisation, people or operations. This is why we're so strong on the importance of human-led, actionable intelligence. That being said, a quickly-changing threat landscape with urgent, potentially devastating risks to both business and life, demands a threat intelligence feed that can reach you as quickly as possible.
When a crisis hits, every second is vital. That's why security teams need to be alerted to any and all potential risks as soon as they can be reported. The earlier the GSOC is aware of the threat, the earlier a risk mitigation response can be put into place. A threat intelligence feed that can provide you with near real-time information then, allowing you to identify the threat from its earliest indication, gives you a head start on putting measures in place to deal with the threat, whether that means reducing the disruption to business, or keeping operations and people safe and out of danger.
Is speed alone enough for an effective threat response?
Extra speed means extra time to respond to emerging threats, and putting preparations in place for any potential risk or disruption. But is it the only consideration you should be making when it comes to your threat intelligence feed? While clearly a vital concern for security teams, more is needed for an effective intelligence response than just the speed with which the information reaches you. Accuracy, context and actionability are essential too. Speed is therefore an important tool, but should be viewed as part of a wider, holistic approach to threat intelligence.

Every incident mapped by our analysts has gone through the intelligence cycle
What does this mean exactly? At Intelligence Fusion, we believe that raw information, devoid of context, is not enough to allow you to respond rapidly. Instead, an integrated approach is needed, combining the speed of automated data feeds with the accuracy that comes from expert, human-led intelligence – real time information to allow you to start planning for the potential threat, then the actionable intelligence that allows you to act quickly, in an informed manner, knowing that the intelligence has been verified, evaluated and analysed, along with any additional necessary context. This fusion of intelligence gathering gives you a feed that is optimised for the needs of security professionals – information that arrives at speed, and intelligence that you can take action from, immediately.
How is Intelligence Fusion adding extra speed to its threat intelligence feed?
Intelligence Fusion has built a threat intelligence platform that leads the market when it comes to providing accurate, verified and actionable intelligence that security teams can take immediate action on, as well as a database of now more than 800,000 historical incidents that can be used to identify trends and patterns, and plan accordingly. We're the only platform to have been designed by intelligence analysts – meaning we know the pain points for the analysts themselves, and the features and functionality they need to solve them. And we're always looking for new ways to do this.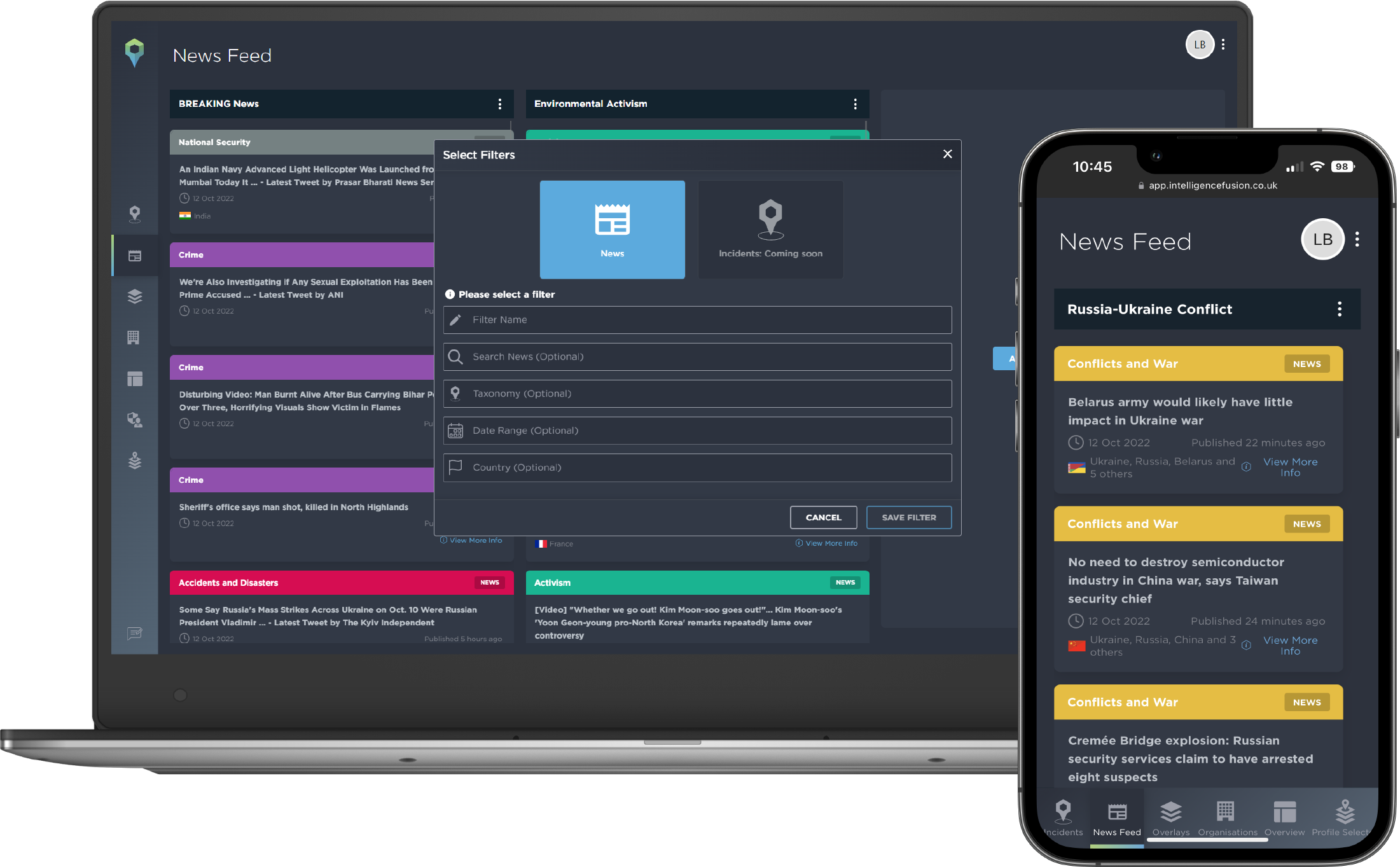 The Intelligence Fusion News UI adds the speed of real time data to our threat intelligence feed
With the importance of speed for intelligence analysts, then, it should be no surprise that we're about to launch a brand new feature to the platform designed to provide just that – the Intelligence Fusion News UI. This new, AI-assisted feature crawls more than 1 million news articles every month – that's 23 articles per minute, one article every three seconds – and sends them to your feed, automatically updating every 30 seconds. Unlike the incidents populating our threat intelligence platform, this is raw information, reaching you as soon as it is reported and picked up by the News UI algorithm. This near real-time supply of information gives you the extra speed you might need – but without running the risk of swamping you with irrelevant reports, potentially leading to you miss something important. That's because the Newsfeed comes with advanced filtering tools that let you specify exactly what you're interested in seeing, from the category and type of incident, to the country and date it was reported – cutting out all of the unnecessary noise that can come from a real-time data feed.
---
The News UI will be an optional paid add-on to the Intelligence Fusion platform, available exclusively to our clients. This means our News UI users will be able to combine the advanced speed of the real-time newsfeed with the granularity, accuracy and actionability of our platform – allowing them to transform their risk management and security analysis capabilities.
If you'd like to learn more about the Intelligence Fusion News UI, or gain access to our industry leading threat intelligence offering, reach out to a member of our team today. We'd be more than happy to discuss how we can meet your security team's needs.