The Wagner Group and its imprint in Africa
A closer look at the activities of Wagner Group in Africa, from the countries it is active in to its reported numbers and alleged atrocities - as well as the Wagner Group's origins, and how it serves to spread the influence and interests of the Russian state.
Who are the Wagner Group?
The Wagner group is a paramilitary organisation similar to a Private Military Company (PMC), except that de jure it does not exist. In fact, it is not registered in Russia nor anywhere else, yet it is inextricably linked to the Russian state, despite the Kremlin strenuously denying this. Founded by Dimitry Utkin and financed by Russian oligarch Yevgeny Prigozhin, the Wagner Group's name is surrounded by rumour. Some believe the name was given to the group after Utkin's callsign "Vagner", others believing it was named after Hitler's favourite composer. 
The group's operations began in 2014 during the annexation of Crimea, where a reported 1000 mercenaries supported separatist militias and later the Russian army fighting in the Luhansk and Donetsk regions. In 2015, Wagner was sent to Syria in support of Bashar al-Assad. To date, the group has operated in Ukraine, Libya, Central African Republic, Mali, Mozambique, Venezuela and Sudan.   
The exact number of Wagner mercenaries is unclear although reports estimate the group is at least 5000 strong. The number of fighters is likely higher and according to the group's Telegram channel "Reverse side of the Medal", they are currently recruiting. Being a member is an attractive proposition with average pay reported to be $4,600 a month, compared to $1,200 for the average Russian soldier. It is therefore likely that we will see the group expand in the future. 
The Wagner group is illegal in Russia as mercenarism is outlawed. Despite this, the Kremlin maintains strong links with the group. For instance, Wagner only operates in countries where the Russian state has foreign policy interests, while the group enjoys many other privileges within and outside of Russia. Wagner operatives receive passports from the Central Migration Office Unit 770-001, a passport desk traditionally linked to Russia's defence ministry. The main training base is located in the town of Molkino in the Krasnodar region and is shared jointly with the Russian army's 10th Separate Special Purpose Brigade – a unit part of Russia's Military Intelligence force, GRU. The use of Russian military infrastructure is common: in Libya, Wagner used Russian military Ilyushin Il-76 cargo planes to supply their troops. As the Wagner Group enjoys more benefits than a traditional PMC, analysts refer to them as a proxy organisation capable of furthering Russian interests abroad. 
The Wagner Group's approach is generally multi-faceted. They can train, equip, assist host countries' forces and provide specialised tactical capabilities where necessary. As with a traditional military they are able to provide important intelligence capabilities from recruiting human intelligence sources to surveillance and reconnaissance. Wagner also provides protective services to political elites and site security to economic assets, particularly in Africa. They have also proven particularly agile in spreading both propaganda and disinformation. 
Why does the Russian state use the Wagner Group?
The Russian state uses the Wagner Group to extend their influence abroad whilst saving state resources and maintaining the allure of a strong state should operations go wrong and lives are lost, particularly important for Putin domestically. For example, during Russia's intervention in Syria, public polls showed 50% supported Russia's growing involvement, however only 19% supported deployment of Russian soldiers. Wagner can then be employed to plug this gap whilst not affecting domestic politics. Another asset the Russian government enjoys by using Wagner is plausible deniability, both for the Russian government itself and Wagner's actions. 
Plausible deniability has essentially given Wagner carte blanche to carry out operations as they please. Wagner mercenaries are reportedly responsible for countless human rights abuses including rape, looting, extra-judicial executions and other serious crimes. As they are not recognised as legal contractors, nor even officially exist, prosecutions would be very complicated, and unlikely to be pursued, and, because their actions do not reflect officially on the Russian state, accountability is incredibly difficult.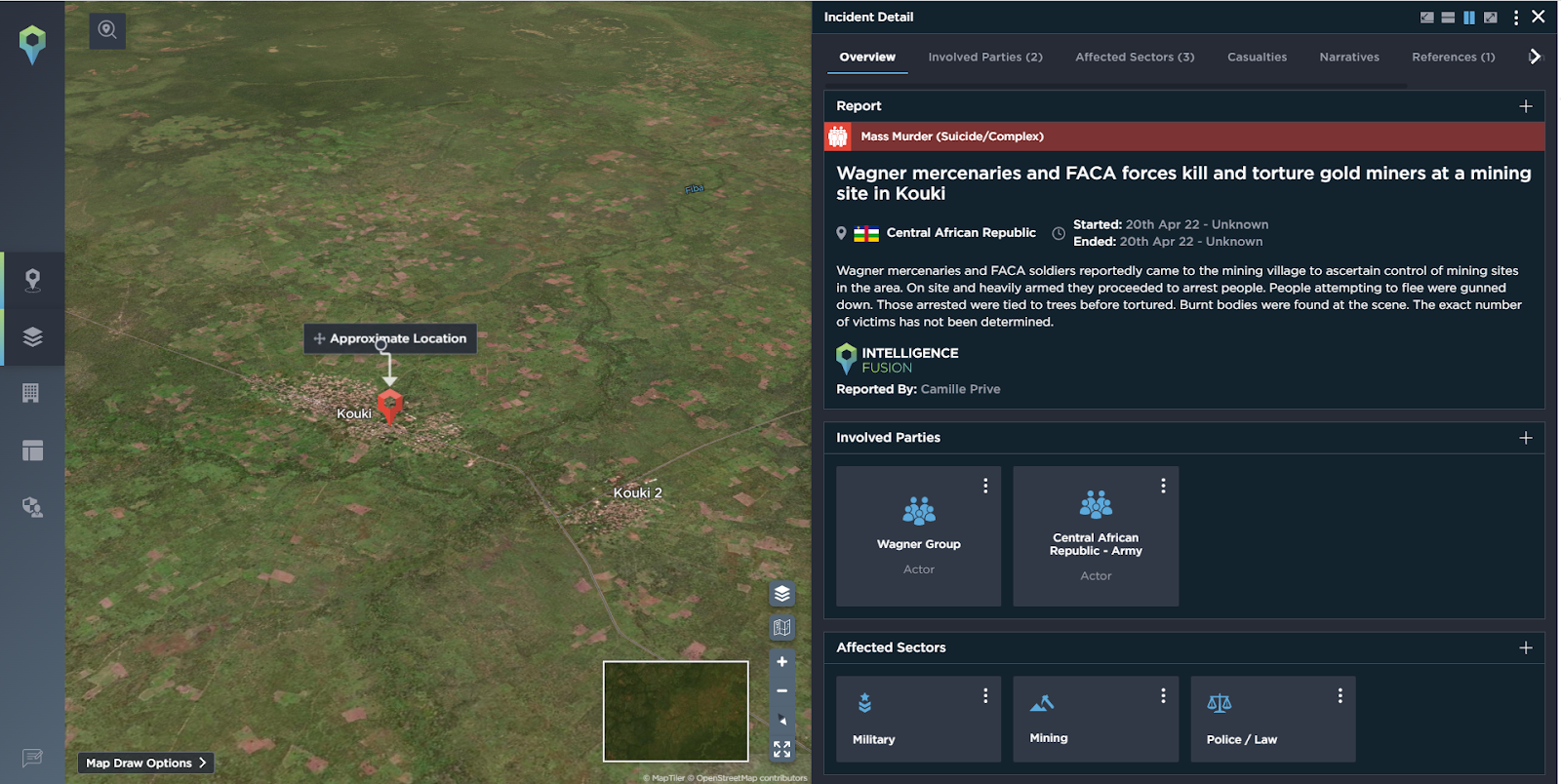 Wagner mercenaries have been accused of carrying out human rights abuses [image source: Intelligence Fusion]
The Wagner Group in Africa
The US estimates that between 3000-5000 Wagner operatives are present on the African continent, with this number fluctuating as troops move between conflict zones. In recent years, Wagner has primarily operated in Libya, Sudan, the Central African Republic, Mali, Mozambique and Madagascar supporting ruling elites. A combination of Africa's vast mineral wealth, political instability and Russia's wish to expand its influence to the continent make it the perfect playground for the Wagner Group to extend its influence and pursue financial and political goals on the ground.
Central African Republic (CAR):
Wagner was initially brought in to stabilise the country, but has since helped to bolster Russian economic interest rather than bring peace, increasing CAR's dependence on Russian support. Recent conflict in CAR started in 2013 over ethno-religious tensions and after Western partnerships failed to assure the security of the country, President Touadaré turned to Russia for political and military support. Initially, Wagner's presence stabilised CAR and allowed Touadaré to regain some control over important strategic areas in the country but instability has recently returned.
Politically, Moscow plays an important role: in 2019, Russia helped negotiate and encouraged Touadéra to sign a peace deal still considered a road map for peace today. Russian officials have also taken advisory roles to help Touradaré's government. Moscow is involved politically whilst relying on Wagner to provide the military components to their foreign policy.   
In addition to their role in combat, Wagner has guarded and distributed weapons, trained the government backed military (FACA), provided security for political figures, and guarded financial assets. It is unclear how Wagner is compensated as no payments can be traced; officially Touadaré has not signed a deal with them. 
However, CAR is rich in gold, uranium and diamonds and after Wagner's arrival, diamond and gold mining permits were granted by the Ministry of Mines and Geology to the Lobaye Invest SARLU group, a corporation linked to Prigozhin. Unsurprisingly, Wagner's military operations have been focused on resource rich areas.
Since the start of 2022, human rights abuses perpetrated by Wagner operatives have been rife. Abuses alleged to have been carried out by Wagner mercenaries have included: 
On the 12th March, at least 15 civilians were killed and burnt in Markounda. 

On 9th-10th April, mercenaries broke into the infirmary of the Henri Izamo military camp in Bangui, raping sick women and others who had just given birth. 

Between the 23rd-26th May, mercenaries looted villages and spread panic in populated areas of the Vakaga province. 
These attacks coupled with those perpetrated by CAR's government have had far-reaching effects. UN estimates suggest over 60% of the population need urgent relief, a task made difficult by troops blocking humanitarian convoys entering areas of need, due to 'security reasons'.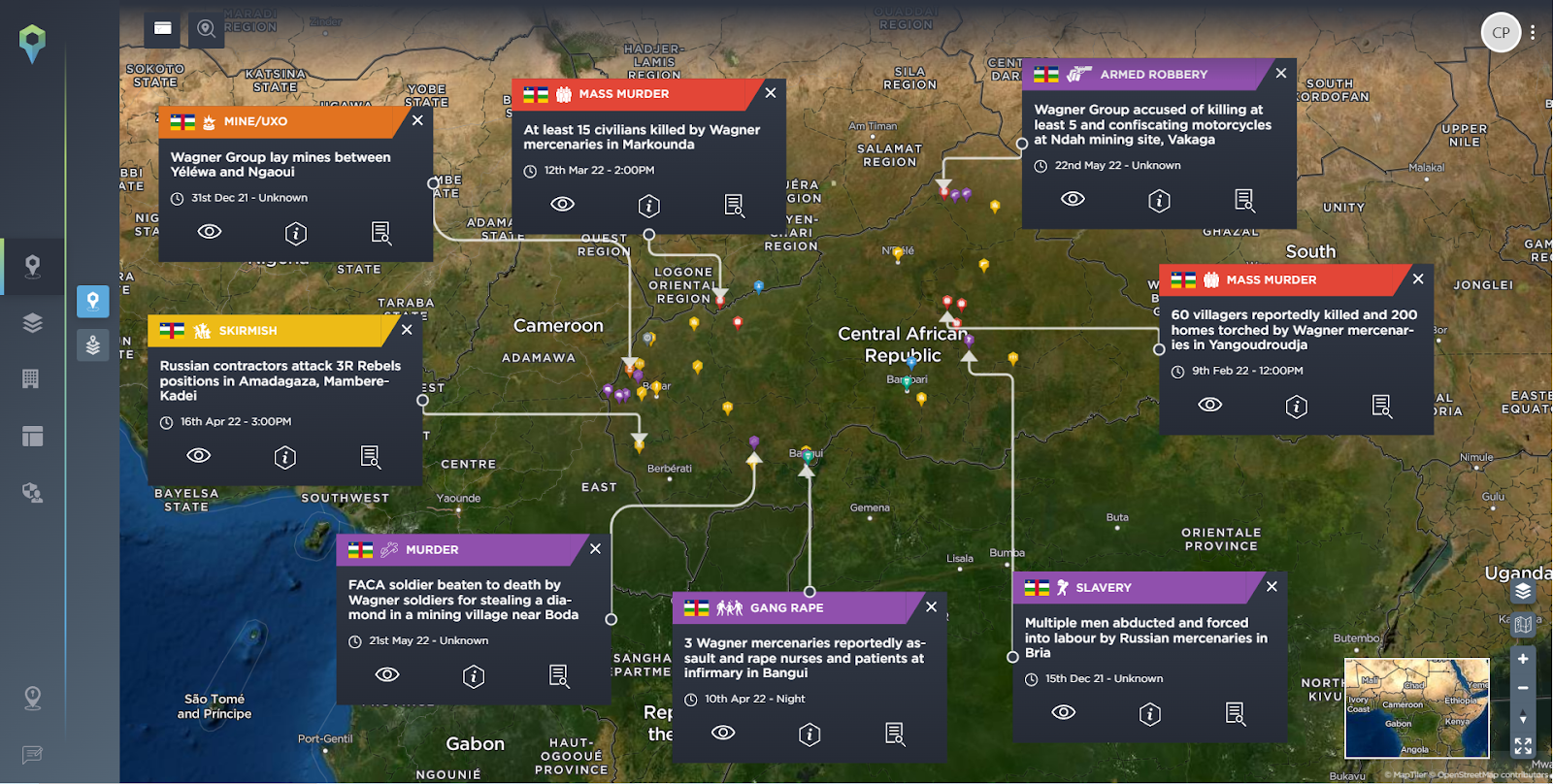 A selection of incidents of alleged Wagner Group atrocities in Central African Republic [image source: Intelligence Fusion]
Wagner's actions have put CAR in a precarious position financially. Western donors compose more than half of CAR's $496 million state budget but Wagner's actions are causing hesitation amongst these donors, fearing funds and/or equipment will end up in the hands of the proxy group. Future funding is likely to come with strict conditions or not at all. 
The influence of Wagner in protecting Russian financial and political interests in CAR is clear, a task achieved through force. Moscow has been heavily involved politically, allowing Wagner to secure the military end of Moscow's policy.
Mali:
After separatist uprisings in 2012, France intervened to secure the government's positions and prevent further instability; this came to an end in 2021 after a coup led by Colonel Assimi Goita. Goita turned to Russia for support and employed the Wagner Group to ensure his position endures. Goita promoted anti-French and anti-colonialist rhetoric which contributed to a poisoning of relations between Mali and France, fuelled by disillusionment with a perceived inability to combat the persistence and growth of a cross-border jihadist insurgency. In 2022, France announced its complete withdrawal from the country. 
Dispersed throughout the country Wagner has provided training, combat and created important disinformation campaigns. For example, when the French military ceded control of the Gossi military base, Wagner operatives reportedly buried bodies near the site and on social media a Russian campaign blamed the French for these graves, in an effort to discredit France's actions.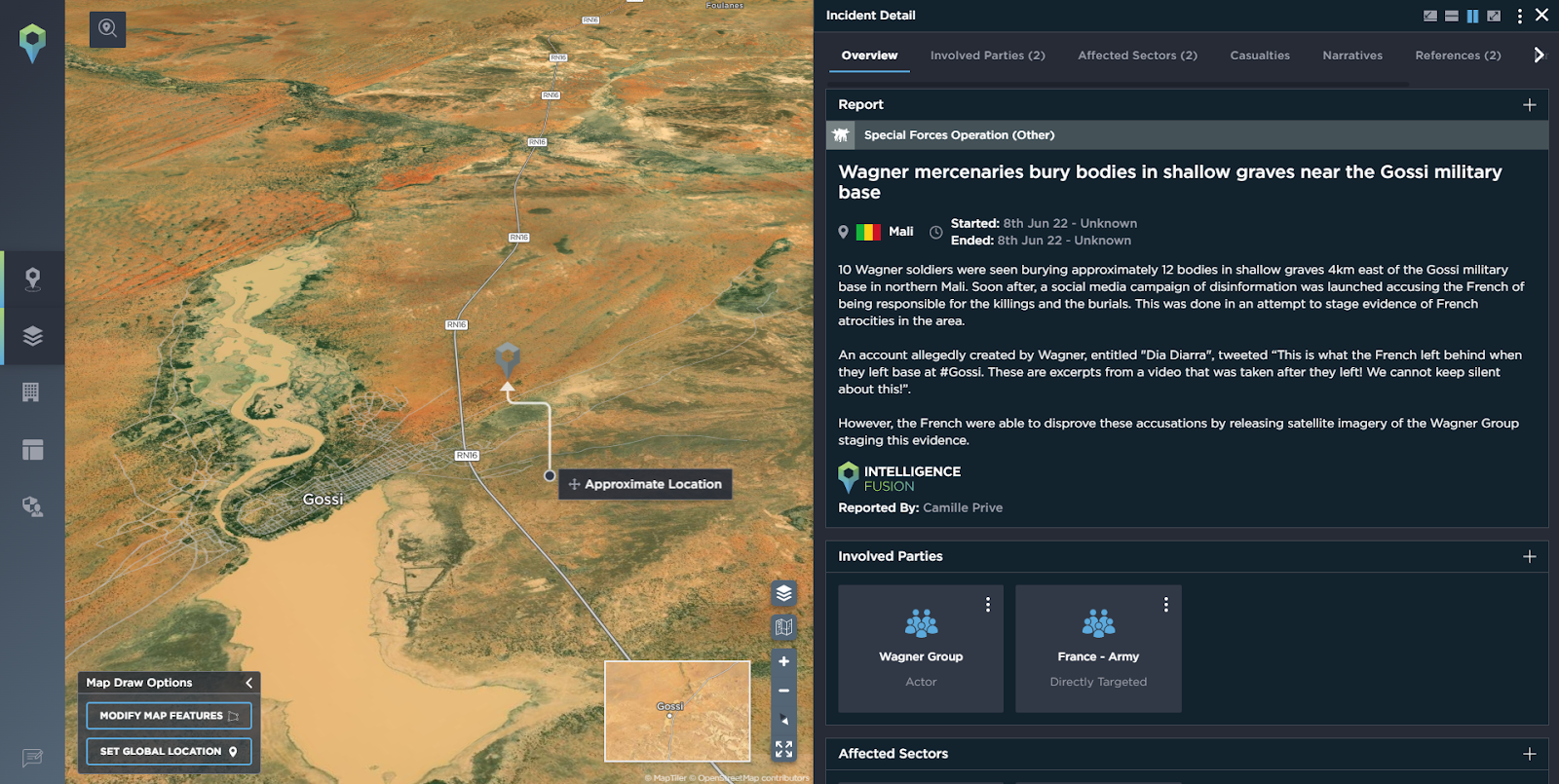 Wagner Group mercenaries appear to have staged evidence of French war crimes in a bid to sew disinformation in Mali [image source: Intelligence Fusion]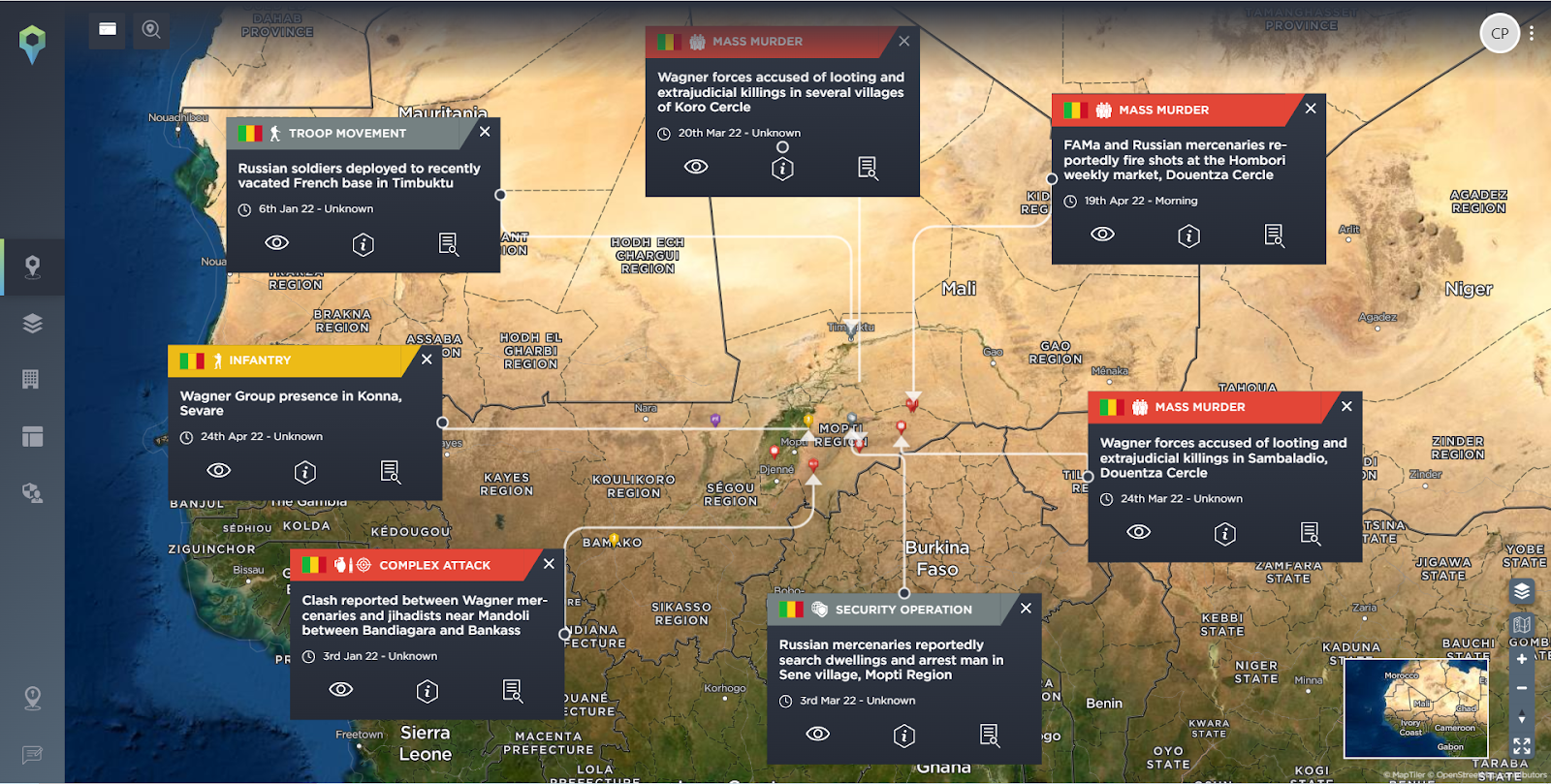 Wagner Group activities in Mali [image source: Intelligence Fusion]
Future considerations
Looking to the future it is likely the Wagner Group will continue to play a significant role securing Russian interests abroad at the expense of peace. Wagner provides an effective way for Moscow to secure both economic and political development abroad, bypassing diplomatic channels and using coercive force at will. 
As the conflict in Ukraine intensifies it is important to consider how this will affect power balances and Wagner's operations in Africa, as mercenaries are called to Ukraine. Forces stationed in CAR for example, have declined from 2500 to 1200 from March to April 2022. This is certain to alter local dynamics in Africa and may become a contributing factor to further instability, possibly exacerbating existing conflict. 
Wagner's continued human rights abuses in Africa and the possibility of reduction in funding by international donors, may change African governments' attitudes towards the group and this may counter Russia's objectives. In the meantime, while they are operating, their continued tactics both in combat and via propaganda, will continue to destabilise countries, in turn creating a more insecure environment for the commercial operations of non-Russian companies operating on the ground.
Wagner Group's influence and power across Africa is clear to see. Their commission of violent human rights abuses and use of unregulated power sets a dangerous precedent for other areas vulnerable enough to need support from such paramilitary groups. 
---
If you'd like to take a closer look at the data that supports our analysis, schedule a demonstration of our threat intelligence platform. Providing timely, accurate incident data to security teams across the world, we can help you to better protect your people, assets and operations in times of unrest.