Threats to Telecoms Businesses: Mobile Tower Attacks in Pakistan
Threat affecting telecoms towers in Pakistan's Balochistan Province.
The purpose of this blog is to review recent 4G/5G and telecommunications tower attacks in the Balochistan Province of Pakistan. We will discuss: 
Why are there so many attacks?

 

Who is carrying out the attacks? 

 

What is their motive?

 

How is it impacting the local area? 

 

How is it impacting telecommunication businesses in the region?

 
What is the current situation?
Telecom companies operating in Pakistan's Balochistan Province are frequently targeted in armed attacks by separatist Baloch militant groups as part of their ongoing anti-government insurgency.  
It is reported that attacks on Pakistani mobile phone companies 'Ufone' and 'Warid' as well as the Chinese company 'Zong' are among the most common due to rumours that the companies are laying a network of mobile phone towers in different areas of Balochistan to facilitate their spies and soldiers. It is also alleged that the towers are used for surveillance of the Baloch people. 
The telecommunications network has apparently been using other telecom companies, including Hawaii and Subcon companies (Netcom, Exeleron, ZTE), to facilitate their activities.  
Telecom companies operating in this region have found that security forces have often struggled to protect the assets of Telecommunication companies based in remote areas. As a result, attacks reported against both civilian and military targets take place on a near-daily basis.  
Who is carrying out the attacks?
The most active of the groups operating in Balochistan is the Balochistan Liberation Army (BLA) and the Balochistan Liberation Front (BLF), though various smaller groups operate in the province as well as the Tehreek-I-Taliban Pakistan (TTP) and Islamic State (IS).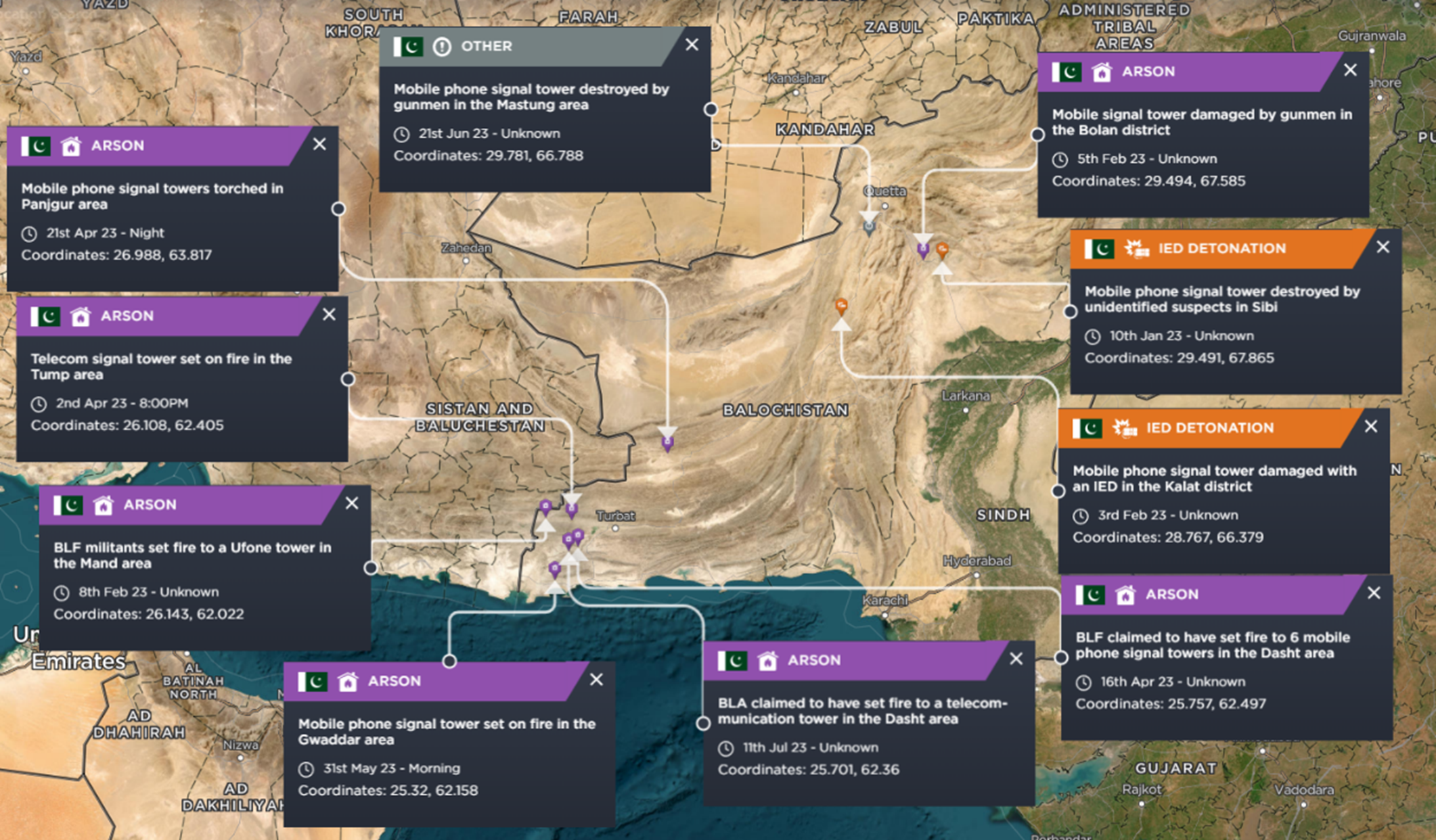 A selection of incidents affecting the telecoms industry in the region, so far this year [Image source: Intelligence Fusion]
What incidents are being carried out?
The majority of incidents involving the telecommunication sector in this period involve groups of militants targeting mobile phone signal towers in rural areas with explosives or incendiary devices.
The above image shows an example of incidents recorded in Balochistan in 2023 to date, but a notable concentration of incidents can be seen in the Turbat area in the southwest of the province.
Baloch militant groups claim that infrastructure projects such as the China-Pakistan Economic Corridor (CPEC) and associated sub-projects do not support the people of Balochistan and that such projects have brought little gain for local communities. Instead, Baloch groups highlight that in many cases, jobs on these projects have been taken by foreign workers (particularly Chinese workers) or workers from other areas of the country.
What's Next For Security in the Balochistan Region?
Pakistan's security forces have been proactive in responding to the security threats in Balochistan and carry out regular operations aimed at pacifying militant groups, though these have had limited results. Baloch groups reportedly utilise the region's remote terrain and the porous border with Afghanistan to their advantage, allowing them to continue activity after such operations take place.
Security forces have made a concerted effort to protect key sites, though trends observed in data on the Intelligence Fusion platform suggest that attacks instead target less well-defended sites or convoys as they moved between areas.
As predicted by many, militancy in areas close to the Afghanistan-Pakistan border spiked significantly following the fall of Kabul to the Taliban in 2021. Today, militant groups in Balochistan, such as the BLA and BLF, as well as larger groups, such as the Tehreek-e-Taliban Pakistan (TTP), have managed to sustain the rate of these attacks, utilising poor security and ad-hoc relationships with the Afghan Taliban to create safe-havens in Afghan territory. With this in mind, insecurity and militancy in the Balochistan region are expected to continue to deteriorate, with more frequent attacks and more severe attacks.
As part of this, the telecoms sector and other sectors will continue to be targeted in Balochistan's rural areas, particularly if assets are affiliated with projects deemed valuable to Pakistan's security forces in their ongoing counter-insurgency efforts.
Other Threats Impacting The Telecoms Industry In Pakistan
Natural hazards and severe weather are becoming a bigger issue for more countries and businesses than ever before.
Last year, severe flooding in the Balochistan region caused mobile phone signal outages for multiple hours. This is not uncommon in the region with frequent flooding and power, internet and mobile service outages severing all communication lines, as well as land and air traffic routes.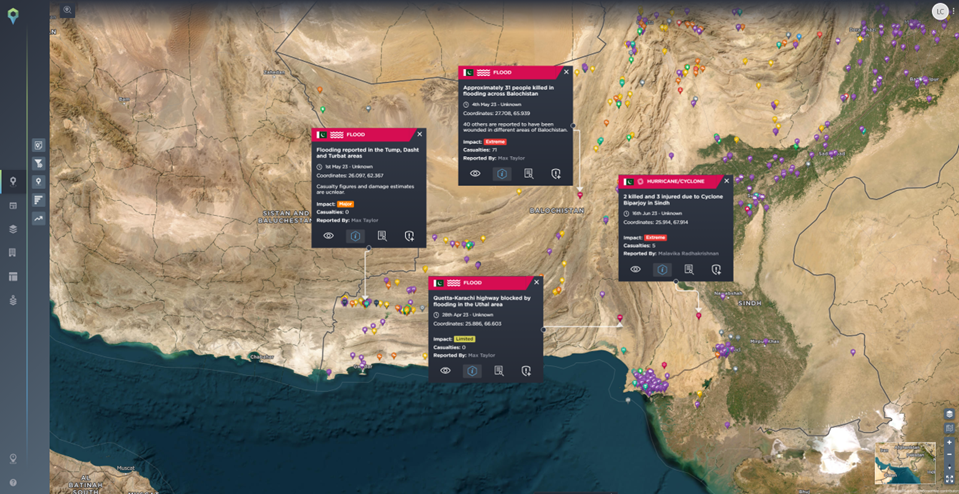 Floods in the region since the start of 2023 [Image source: Intelligence Fusion]
There have been nearly 300 separate incidents reported in the Balochistan region this year alone. The most common category is criminality, including murder and small guns fire. Followed by direct weapons, grenades, bombing, protests, natural hazards and more. However, it is clear the biggest threat to the telecoms industry in this area is mobile phone tower attacks in the form of arson and IED Detonations.
To discover more about attacks impacting the telecoms industry and how threat intelligence software can help mitigate risk in your business to protect your people and assets. Book your free demo today.