Serbia-Kosovo tensions and NATO's underbelly
How local tensions over an electoral dispute in northern Kosovo have the potential to escalate into serious conflict, and demonstrate how a local conflict can tie into global affairs.
On 14th June 2023, three Kosovo Border Guards were kidnapped by Serbian forces on the Serbia-Kosovo border near Gnjilica. However, as shown in Figure 1, conflicting reporting has also come to light, stating that Serbian authorities arrested three armed members of Kosovo Special Forces in central Serbia; but no further information was available for these sources.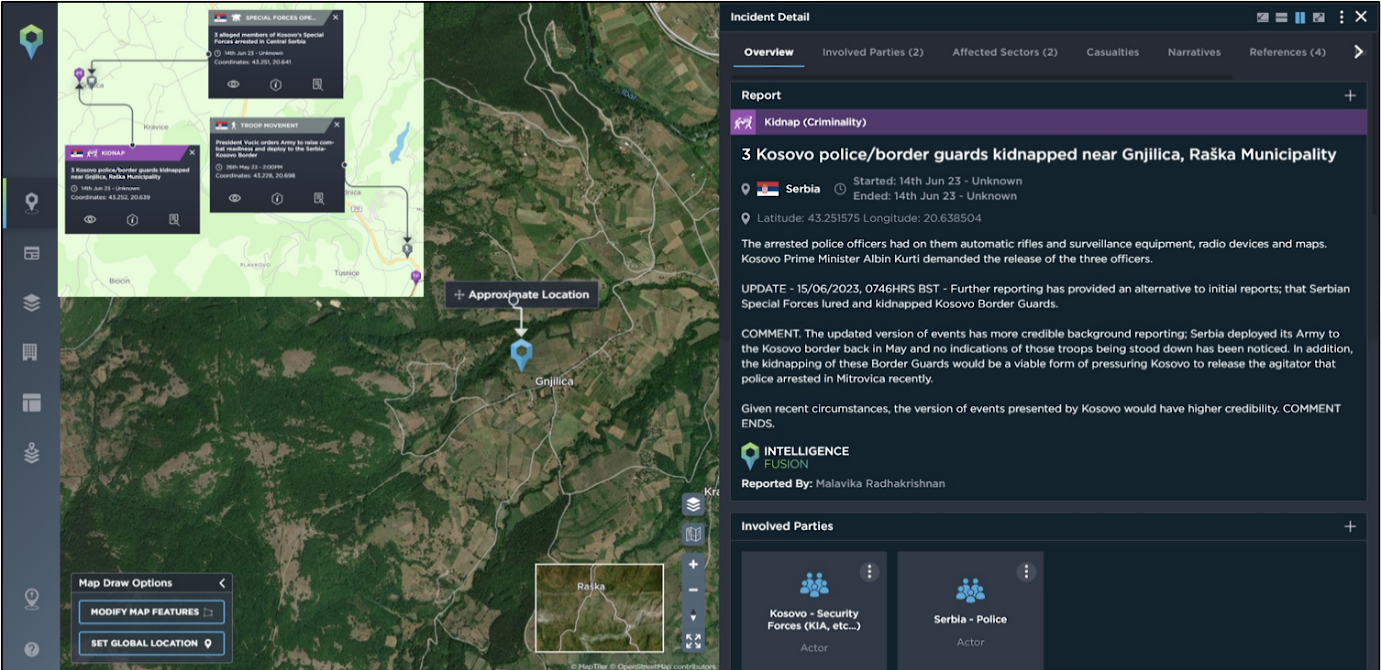 Figure 1: Kidnapping of Kosovo border guards and Serbia's version of events [image source: Intelligence Fusion]
These developments occurred during a period of heightened tensions in Kosovo's Mitrovica district and have seen reactions by foreign governments, which suggests these tensions have a significance stretching beyond Serbia and Kosovo. This report aims to provide a quick analysis of the situation by summarising these recent events, adding relevant contextual factors and assessing what could actually be occurring.  
Renewed tensions in Kosovo
Back in late May 2023, the Mitrovica district's predominantly Serb population began protesting attempts by newly elected Kosovar mayors of Zubin Potok, Zvecan and Leposavic to begin their terms in office following elections. The Serb population boycotted these elections at the encouragement of Serbia's President Vucic in Belgrade. Shown in Figure 2, these protests quickly became riots, which prompted support from NATO's KFOR and saw Serbia's military being placed on high readiness and deployed to the border. There were also reports of journalists being harassed/assaulted by masked men during these riots. Kosovo police have been arresting Serbian nationals suspected of being involved in these incidents; which have seen clashes resulting in over 20 KFOR personnel and 53 rioters wounded and IED incidents against local buildings.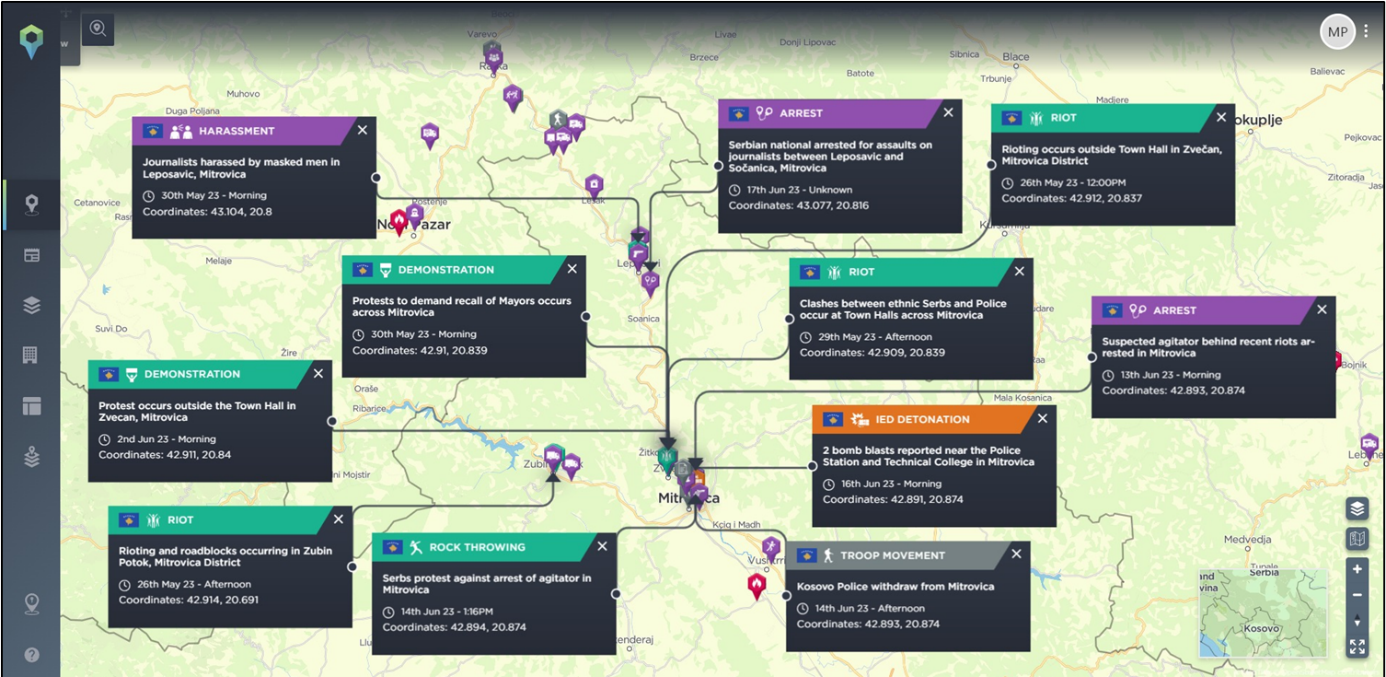 Figure 2: Recent incidents across Mitrovica District, Kosovo [image source: Intelligence Fusion]
During this period, Serbia's President Vucic and government figures made several statements. Shown in Figure 3, they claimed that ethnic Serbs were under threat in Mitrovica; northern Kosovo belonging to Serbia; considerations for the use of force in order to protect ethnic Serbs; a hostility towards NATO, and; a refusal to support sanctions against Russia. Interestingly, there has been widespread condemnation of Kosovo/support for Serbia from NATO, Russia and the United States (although the UK pointed out that Serbian gangs have been operating across Mitrovica district during this time). This hostility towards Kosovo has since played a part in Prishtina's consideration to holding new mayoral elections in Mitrovica (a repeat of the very elections which ethnic Serbs boycotted at Belgrade's encouragement).
Figures 3 and 4: Serbian statements relating to recent tensions in Northern Kosovo; Condemnation towards Kosovo following riots in Mitrovica, including statements from Moscow [image source: Intelligence Fusion]
COMMENT. The almost unanimous condemnation of Kosovo is peculiar given the United States' and NATO's ongoing support for Ukraine against Russia's invasion; Serbia's refusal to join in on sanctioning Russia (while similar refusals from NATO member Hungary have seen ongoing, harsh reactions from the United States and others), and; Serbia's hostile rhetoric to NATO, encouraging the election boycott and apparent refusal to recognise Kosovo's sovereignty. Even without consideration of the UK's observations, siding with Kosovo would be a position more consistent with their wider interests. Siding with their enemies would suggest there are other factors at play. COMMENT ENDS. 
Contextual factors to recent tensions
There are several contextual factors to consider alongside these recent incidents. Beginning with Mitrovica district, the recent clashes are the latest in what is developing into a pattern as shown in Figure 5. Tensions began to build from mid-2022. By December, local Serbs were setting up roadblocks on major roads and border crossings, riots were occurring, KFOR personnel were fired upon in Zubin Potok and Serbia's Army was deployed to the border. During this time, President Vucic made statements of Mitrovica ("Kosovo and Metohija") being Serbian territory, Russia warning of a dangerous situation brewing and requests to NATO to allow Serbian forces to quell the tensions. Serbia's refusal to recognise Kosovo's sovereignty has been the case since Kosovo's Independence in 2008 following the war in 1998-1999.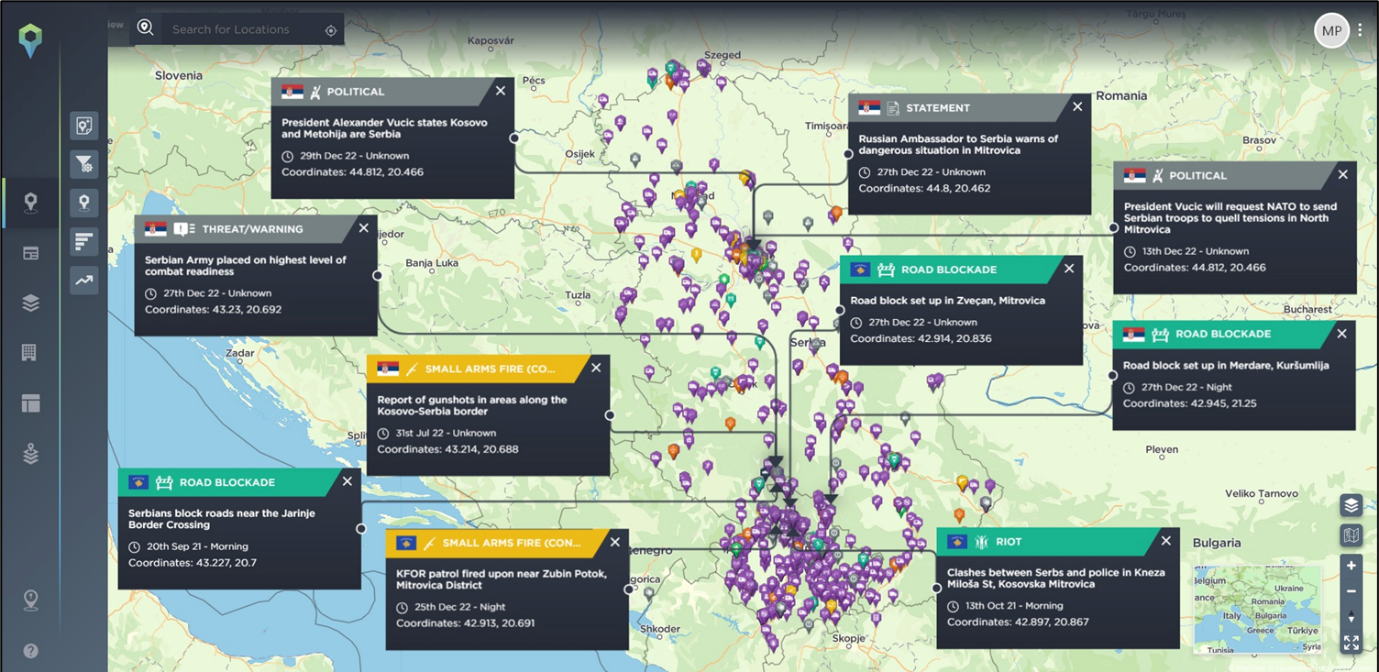 Figure 5: Clashes in Mitrovica district and Serbia's reactions in 2022 [image source: Intelligence Fusion]
COMMENT. Rhetoric of ethnic Serbs being under threat and preparing for military action to address it could be deemed – in Serbia's view – as following the 'Responsibility to Protect (R2P)' doctrine. However, such justification could easily be an excuse to retake territory which Serbia deems as its own. When considering the feature of Serbians having a part in stoking the tensions, there is the possibility of Serbia deliberately causing the tensions across Mitrovica District. Add considerations of the effects of the wars in former Yugoslavia between 1991-1999 (ethnic cleansing along with mass displacement/deportations stretching into Europe) and the potential effects should tensions escalate further can be harrowing. While the wars have long ceased, Kosovo, Serbia, the wider Balkans and Europe continue to have issues with human trafficking (as shown in Figure 6). Alongside the Balkan, Mediterranean, Costa Del Sol and Canary Islands trafficking routes, Belarus has been pushing migrants to the Polish border since 2021; although the construction of a border wall by Poland has done a lot to curb the problem it remains a new trafficking route. A resumption of the wars in the 1990s would make an already problematic human trafficking situation much worse with the addition of people fleeing the violence. COMMENT ENDS.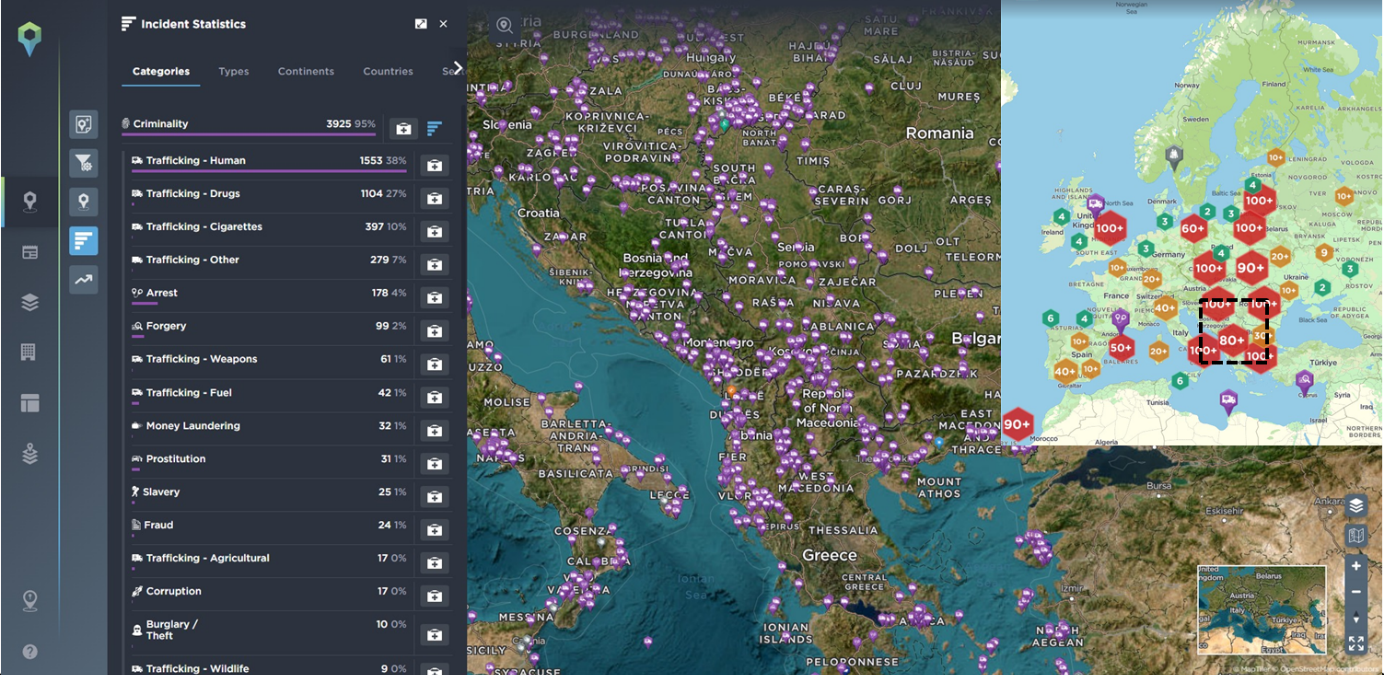 Figure 6: Incidents relating to organised crime across the Balkans and wider Europe [image source: Intelligence Fusion]
Russian, NATO and American involvement in these tensions is also worth examining. Russia's support of Serbia comes as no surprise; Serbia is a key ally for Russia in the Balkans (as seen with Serbia's refusal to sanction Russia since invading Ukraine). Yet the US and NATO condemn Kosovo alongside Russia while fighting Russia by proxy through their support of Ukraine, effectively siding with their enemies. 
COMMENT. It is worth noting the R2P-style-rhetoric from Serbia and the refusal to recognise Kosovo is similar to Russia's justifications for its invasion of Crimea and the Donbas region in 2014 and its follow up efforts since February 2022 ("modern Ukraine was entirely and completely created by Russia, more precisely, Bolshevik Communist Russia" – President Vladimir Putin). Serbia could be following Russia's example for Ukraine. With NATO and the US heavily entrenched in supporting Ukraine, an escalation of tensions in Mitrovica could become a second war in Europe; one which NATO and the US will have very limited resources in addressing. This would provide a potential explanation as to why Kosovo is bearing the brunt of condemnation; another war would amplify an already dangerous situation of human trafficking across Europe and create pressure for US and NATO intervention – meaning a reduction in resources for Ukraine's efforts being necessary, allowing Russia better chances in taking Ukraine. If a war broke out between Serbia and Kosovo, the cessation of hostilities would require a political solution; and this would involve Russia. In such a scenario, Russia would have an ideal opportunity to have its aim of breaking international support for Ukraine realised by either confronting the US and NATO directly or having Serbia mention cutting support for Ukraine as part of its terms. COMMENT ENDS.  
Assessment

Considering the above, these recent tensions in Mitrovica are more than just a local conflict between different ethnic communities. However, they are LIKELY being created/exacerbated by the Serbian government in Belgrade as part of a long-standing refusal to recognise Kosovo's sovereignty. Creating/exacerbating these tensions would manufacture a situation which provides the opportunity to retake terrain under the guise of R2P doctrine as the casus belli.
This situation in Kosovo comes at a time when Europe already has major problems with human trafficking and a war in Ukraine which has caused significant humanitarian pressures across the continent. Another war – or just the potential for it – would LIKELY cause significant pressure on already stretched humanitarian and military capabilities across Europe. Given Russia's involvement, it is LIKELY these recent events in northern Kosovo are serving as an opportunity for Russia (via Serbia) to exert pressure on the US and NATO to reduce or cease its support for Ukraine. It is PLAUSIBLE that Serbia is deliberately causing the situation in Mitrovica on Russia's behalf/order who can in turn offer a solution before/after tensions escalate and the potential for a second war in Europe becomes a possibility/reality.  
With the condemnation of Kosovo by the US and NATO, these tensions in Kosovo appear to have exposed an underbelly for Russia to strike at; which is the PLAUSIBLE reason that the US and NATO are siding with Russia and Serbia. The US and NATO are UNLIKELY to side with Kosovo while the war continues in Ukraine due to being unable to provide support to Kosovo should conditions in Mitrovica escalate further. 
---
With 20,000 global incidents mapped each month, and a historical database of more than 1,000,000 incidents, Intelligence Fusion's threat intelligence platform is designed with analysts in mind.
Learn more about how you can use our highly visual, comprehensive software solution to track security threats, geopolitical developments, business risks and much more. Fill out the form below, or book some time with a member of our team here.