Deforestation in Colombia: A Multidimensional Threat
As the rate of deforestation in Colombia rises at an alarming rate, we take a closer look at the multifaceted risks posed by environmental crimes. In this blog, Regional Analyst Marta Garcia-Ruiz provides an insight into the drivers behind the surge in deforestation as well as the links to continued unrest in the region, and the impact on businesses operating in the region.
3 out of 4 murders of environmental activists worldwide took place in Latin America in 2020.
From the start of the COVID-19 pandemic onwards, these numbers have not merely increased, but an "anti-terrorist" narrative conveyed by state actors has translated into smear campaigns, arrests and even violent attacks.
As evidenced by Global Witness, 71% of the deceased victims correspond to advocates against illegal logging and deforestation and a third of the victims belonged to indigenous communities. As deforestation of the Amazon reaches its peak, so did the number of murdered climate activists. According to Front Line Defenders, 358 human rights activists were killed in 2021. The most common locations were Mexico, Colombia and Brazil, with the deadliest country being Colombia.
138 environmental activists have been reportedly killed in Colombia in 2021. Among those, 60% had associations with environmental, land and/or indigenous activism.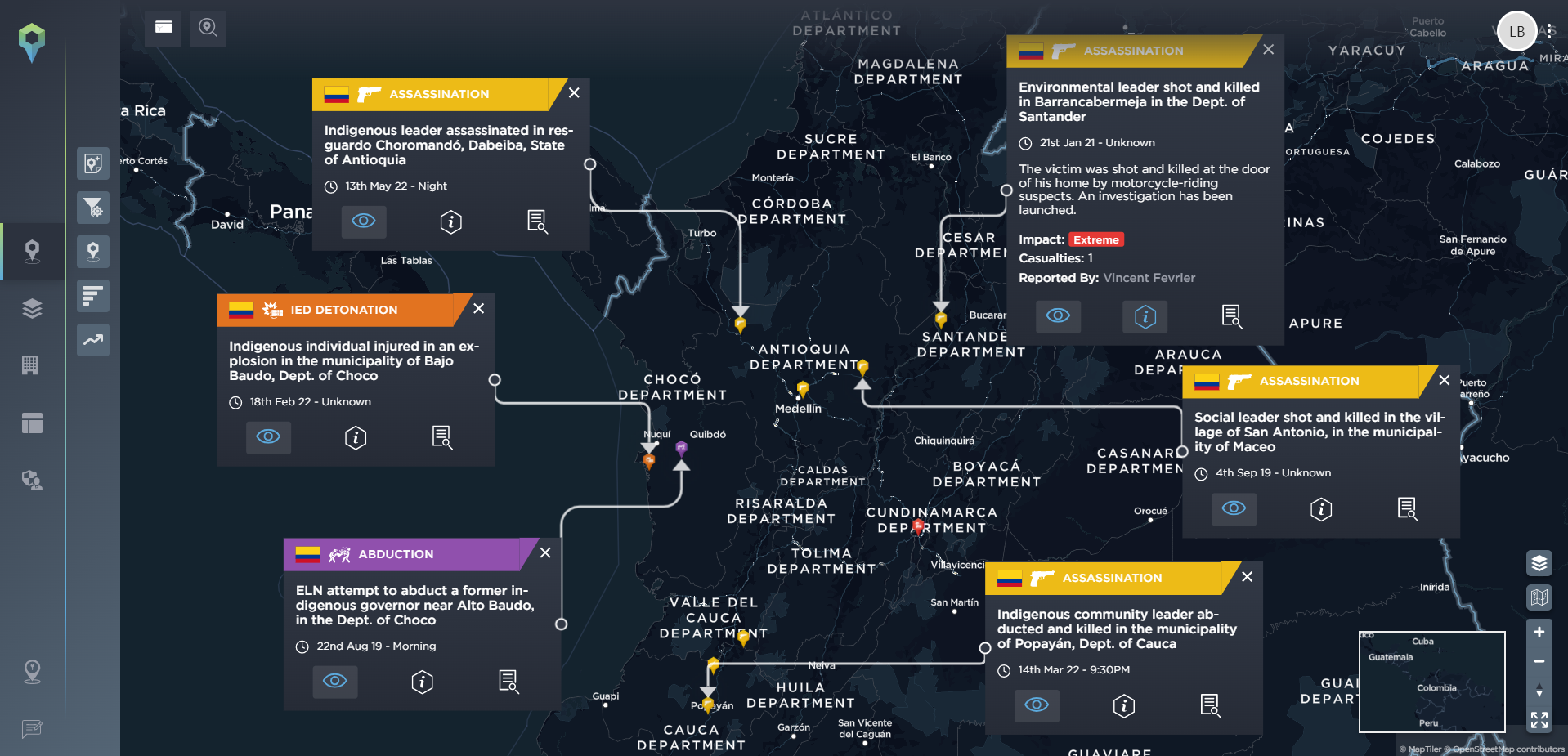 A selection of incidents targeting indigenous people and environmental activists in Colombia since 2019.
What makes Colombia such a dangerous place for environmentalists?
Fear percolates amongst Colombian activists, as recent data from Colombia's 'Special Jurisdiction for Peace' (JEP) and 'Corporación Compromiso', a local NGO, demonstrated. They reported a sharp increase in threats and violence towards environmental activists, in addition to the already long-standing abuse towards indigenous and countryside people.
Corporación Compromiso recorded even higher numbers in certain regions, citing 68 threats towards environmental activists in Santander in the first three months of 2022 alone – a significant increase from 2021 when it documented a total of 70 incidents throughout the entire year.
Environmental activism is mainly supported by indigenous peoples, tribal leaders and small-scale farmers who wish to protect the biodiversity of the Amazon. One of the most prominent groups is 'La Guardia Indígena en el Cauca', which operates in the most heavily affected areas for environmental crimes.
As previously reported by Global Witness in 2020, the highest number of killings are associated with illegal logging whilst in the Amazon as a whole, "more than 300 people were killed during the last decade in the context of conflicts over the use of land and resources".
What is the link between deforestation in Colombia and armed groups?
The wide-ranging impact of environmental crime has granted it the label of a national security threat in Colombia. Illegal activities such as "land grabbing", illegal logging, and illicit crop cultivation are closely linked to criminal groups. When the forests were dominated by the Revolutionary Armed Forces of Colombia (FARC), exploitation existed but was subjected to the needs of the group. They required the lush forest canopy to set up secret camps that would allow them to move their fighters around more discreetly.
The Colombian Amazon benefitted from this strategy as nature conservation was the collateral gain. Unfortunately, during the consolidation of the peace agreement, both the government and the FARC pushed forward 'Reforma Integral Rural' (RRI), a deal that aimed to put an end to the conflict, lay the bases for a structural transformation of the countryside and improve the conditions of the rural population. This agreement has not yet been fulfilled, enhancing the vulnerability of the forested areas.
Ultimately the demobilisation of FARC in 2016 led to the fragmentation of guerrilla warfare and the emergence of its dissident fighters, a turning point for the Amazon lands. Since then, the Colombian forests have experienced an acceleration of encroachment and destruction. Stagnant in 2018, an increase of destruction at an 8% rate took place between 2020 and 2021.
Unlike the FARC which protected its rich biodiversity for strategic purposes, FARC dissidents and local landowners are also extorted to work as intermediaries for non-state actors, which have resorted to the illegal logging of timber. These actors use intimidation and harassment against public officials, and infrastructure, which includes cancellation of commercial operations, arson-related incidents and cargo theft. As a way of illustration, the ELN, by far the most harmful group for business interests, attacks oil pipelines from global corporations for destroying what the group acknowledges as their own natural resources.
Deforestation in Colombia is the most detrimental environmental crime, affecting Guaviare, Metá and Caqueta departments the most. This has been entrenched with another harmful practice: extensive cattle ranching. Cattle ranching, and to a lesser extent coca farming, provide armed groups with revenue and an opportunity to expand territorial control and accumulate land assets. Subsistence farmers who have experienced the brutality of the conflict, forced displacement and the lack of law enforcement have resorted to cattle ranching for survival purposes.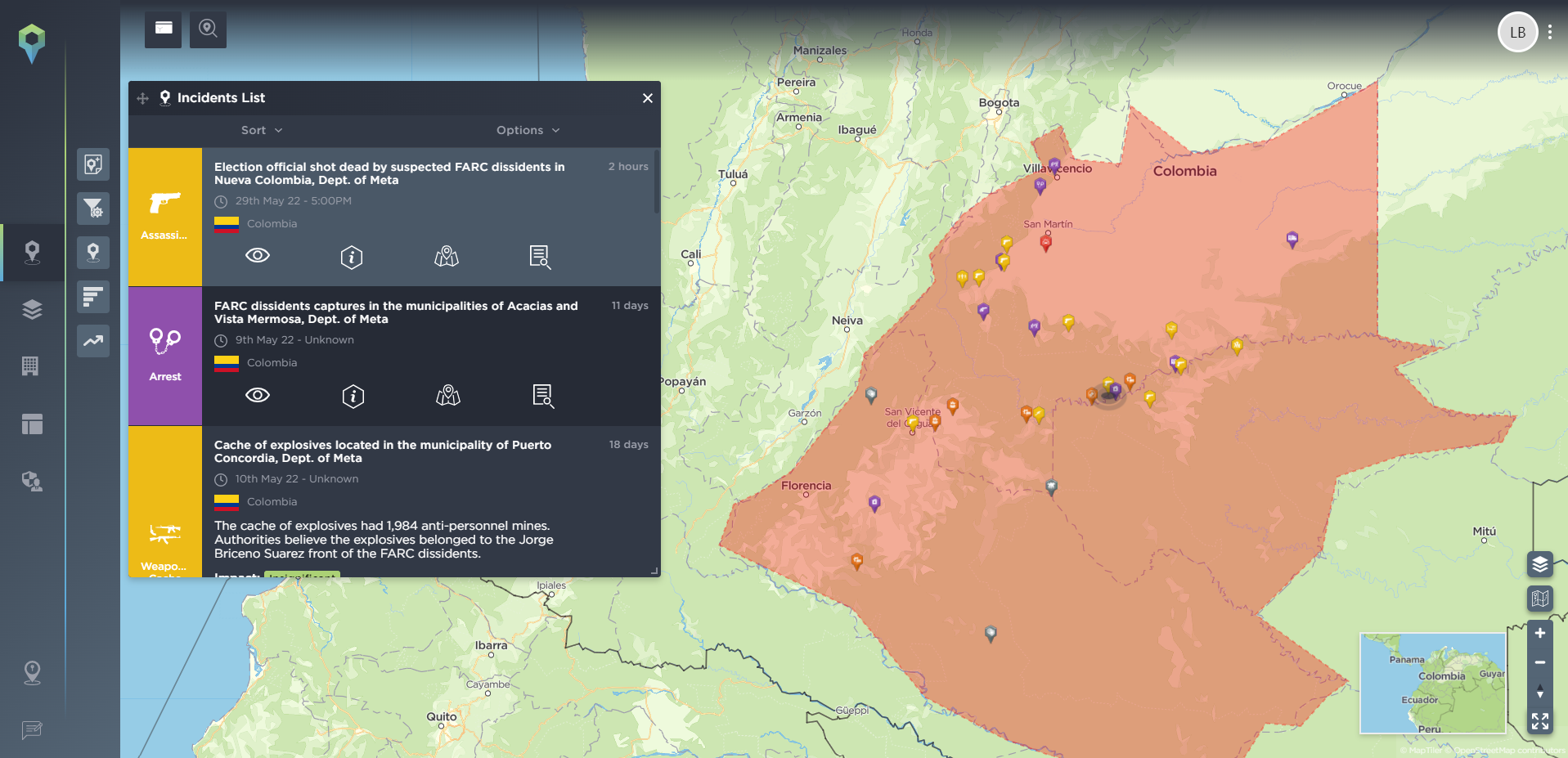 Recent incidents associated with FARC dissidents in the departments of Guaviare, Metá and Caqueta.
Small-scale farmers face double discrimination; besides the aforementioned extortion by non-state actors such as Gulf Clan, they also receive discriminatory treatment from the government. According to rural leaders, state policies concentrate on combatting low-level farming instead of attacking higher-level actors. Farmers experience the highest number of prosecutions in the Latin American country. Arrest warrants linked to deforestation have affected approximately 15-20 hectares of land. Financial rewards have also turned into part of a tactic to harass smallholders for eviction purposes. Reportedly, small farmers are used as a scapegoat as investigations are not launched against large-scale owners.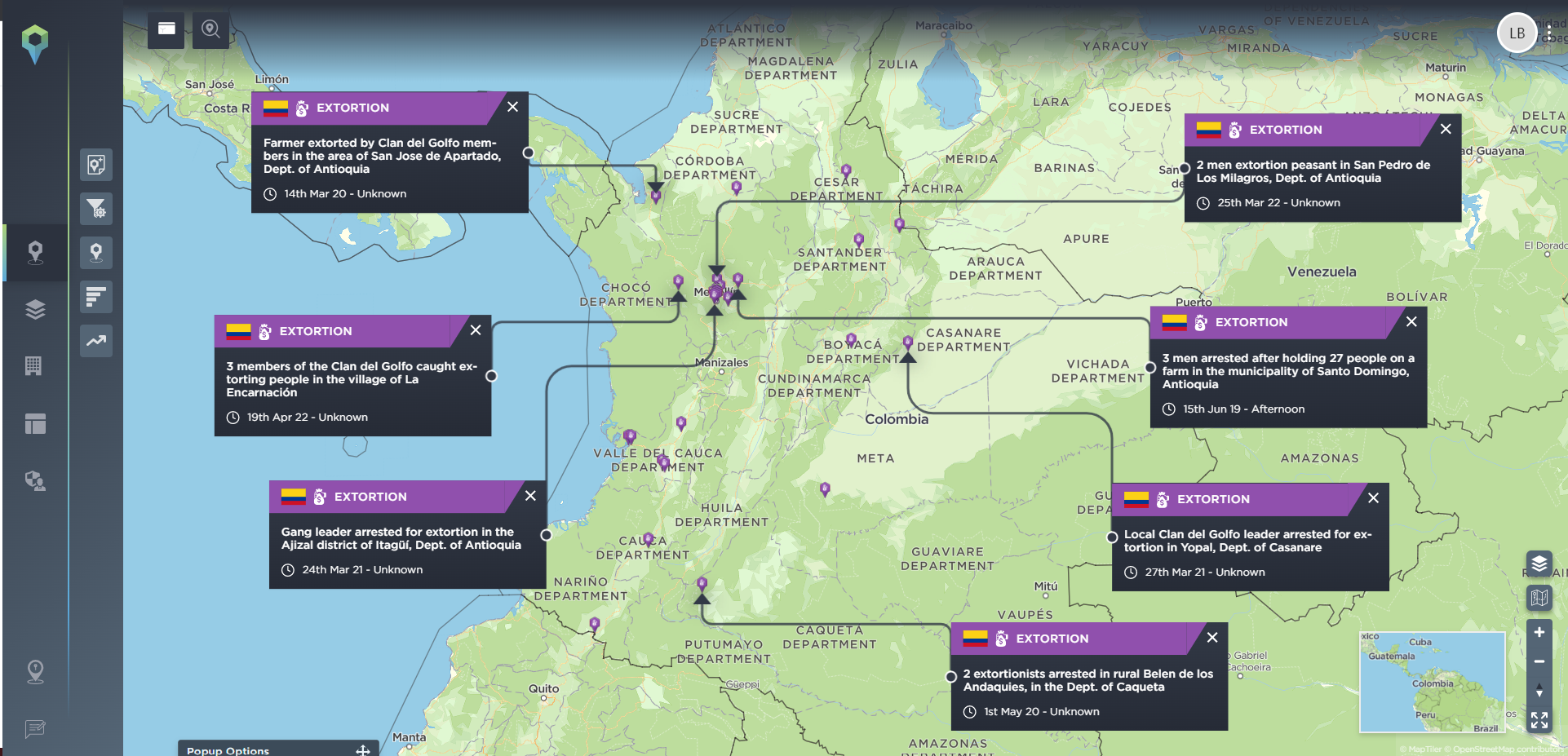 A selection of incidents reported by intelligence Fusion tracking extortion activity targeting farmers across Colombia since 2019.
What does the future look like for deforestation in Colombia?
Despite labelling environmental crime as a national security threat, according to the International Crisis Group, it is unlikely that Colombia will achieve its goal to deter deforestation by 2030.
Colombia's national police have deployed 100 criminal intelligence and investigation officers in a strategy to address environmental crimes citing instead illegal mining and animal trafficking among the gravest threats.
The military-backed anti-deforestation effort led by the Colombian government will probably not be successful without the active participation of farmers and indigenous communities. These communities have only grown increasingly wary of the state due to military initiatives such as Operación Artemisa which aims to counter widespread deforestation; however, the Colombian government estimates that around 2,300 FARC dissidents continue to operate. State sources have also confirmed that former guerrillas had threatened park officials in a bid to force them to abandon the reserves. Needless to say, significant corruption and a lack of bottom-up approaches have resulted in ineffective policymaking. However, what besets the Colombian Amazon lies in detaching deforestation from its scope of impact, especially detrimental to human security.
Deforestation rates in Colombia increased during the pandemic, with new criminal groups bringing diseases including Zika, chikungunya, and yellow fever to the locals, particularly indigenous peoples. Increasing contact with wild animals due to deforestation has also led to low immunity levels prone to infectious diseases such as the recent monkeypox outbreak. Climate-related repercussions may spread in the vicinity through the riverbanks affecting other communities, lands and infrastructure. Tatiana Céspedes from Greenpeace has noted that the loss of forested areas results in floodings, a higher number of displaced people from indigenous communities and the growing disappearance of fauna species.
A cross-sectional phenomenon of lasting aggravated repercussions is not devoid of fault. The positive correlation between deforestation and armed conflict has been debunked thanks to studies by Frontiers in Environmental Science. In other words, peace between armed groups and the government will not necessarily boost forested protection. State-led security measures exacerbate socio-economic grievances and to this day, violence continues to increase with no favourable prospects in sight.
The Global Green Growth Institutes tackles the transformation of illegal logging through a judiciary reform system by building the capacity of investigators, and prosecutors to address the injustices across socio-economic strata. This is key to enforcing democratic ways to tackle deforestation and to responding to grassroots movements of disenfranchised environmentalists, farmers and indigenous inhabitants whose livelihoods are more and more threatened.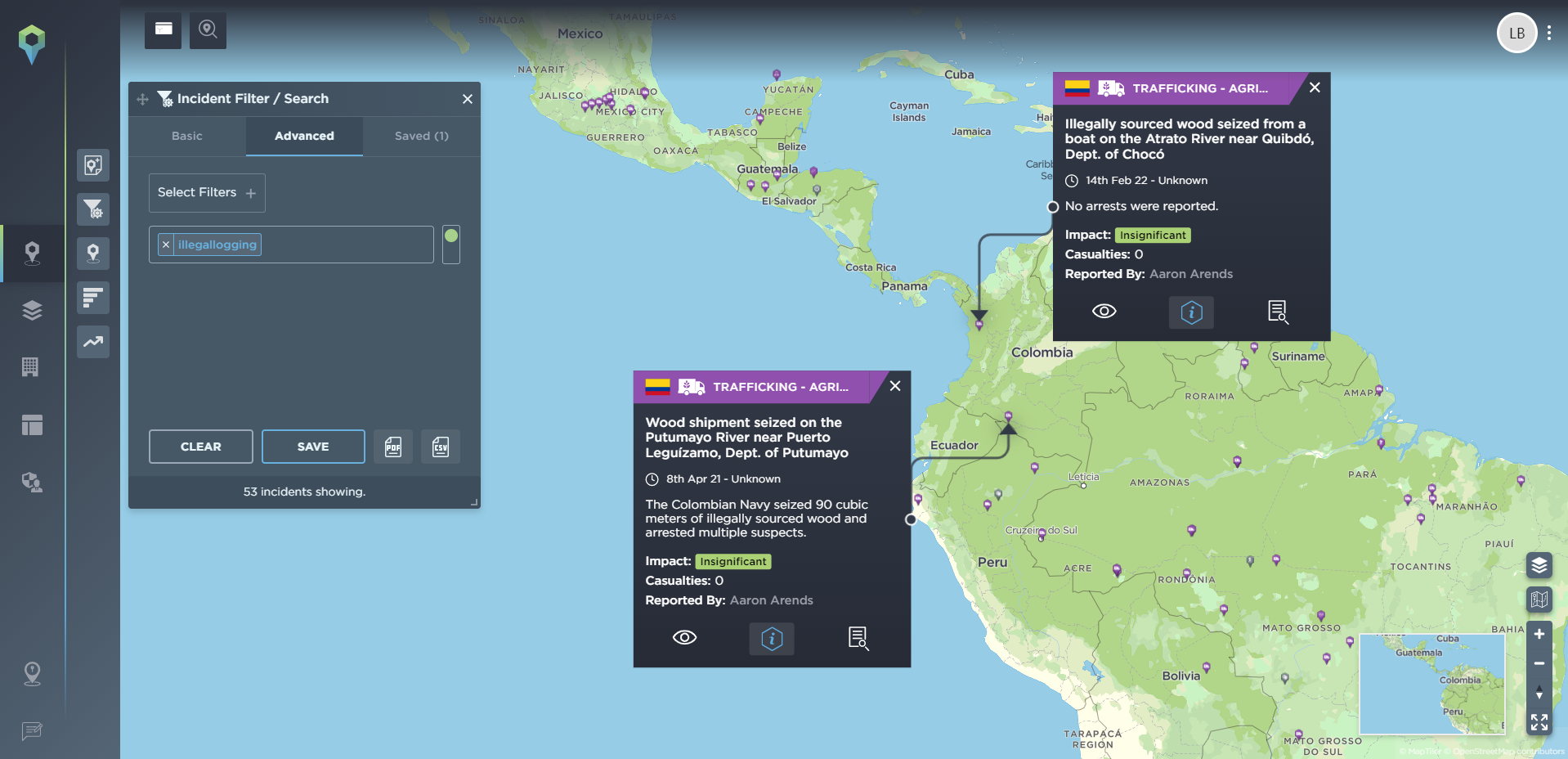 Example incidents of illegal logging across Latin America as reported by Intelligence Fusion.
As landowners, indigenous peoples and environmental activists' exposure to violence increases, environmental hazards, diseases, protests and social unrest is expected to escalate. The risks to supply chains driven by deforestation involve high levels of insurance managed via certification schemes for commodities such as palm oil, soy and timber. Furthermore, businesses are already being impacted financially due to lost taxes from illegal logging. As deforestation is framed as another environmental issue, businesses have ignored the socio-economic consequences. This is why engaging with civil society, NGOs and lobbying organisations is vital to counter the economic loss.
Despite the significant business disruption as a result of deforestation, many organisations don't currently consider it to be a primary concern. This mindset might shift in the medium to long-term based on the alarming rate of deforestation in Colombia.
---
If you'd like to take a closer look at the data that supports our analysis, schedule a demonstration of our threat intelligence platform. Providing timely, accurate incident data to security teams across the world, we can help you to better protect your people, assets and operations in times of unrest.