2021 Myanmar Coup Protests: Myanmar's Civil Disobedience Movement
Intelligence Fusion has closely monitored the security situation following the Myanmar coup, after the military overthrew the civilian government of Aung San Suu Kyi on the morning of 1st February 2021. Our first report analysed the events prior and directly following the coup d'état. Our second report provided a deeper insight into the country's historical context and different stakeholders. This third report will focus on Myanmar's protest movement, also known as the Civil Disobedience Movement (CDM), and the violent response protesters are currently facing from Myanmar security forces.
Civil disobedience
Shortly after the Myanmar military seized power, it issued a statement on national television warning that anyone who participated in protests against the new regime could "suffer loss of life". Despite this threat, youths and student groups started calling for a civil disobedience campaign on social media. In the first week following the coup, supporters of the movement would show themselves by banging pots and pans during the newly installed night-time curfew. Healthcare workers and civil servants went on a nationwide strike and the first crowds started gathering in the streets for demonstrations.
The Civil Disobedience Movement has five key demands and goals: (1) the release of all people detained by Myanmar's military regime; (2) the abolishment of the military dictatorship; (3) achieving full democracy; (4) establishing a federal democratic union; and (5) abolishing the 2008 constitution, which currently grants significant political power to the military.
Although the military has promised to organise free and fair elections, it is going to great lengths to suppress the protest movement and their demands. Initially, it attempted to stop protesters from organising by restricting internet access, and later by blocking Facebook, Instagram, Twitter, and other social media and messaging services. However, Myanmar's younger generation quickly managed to circumvent the military's internet and social media shut downs, using Virtual Private Networks (VPNs) to hide their internet activity and creating local networks via Bluetooth messaging apps to communicate over short distances while avoiding cell towers. Besides continuing to communicate with each other, the young protesters make sure that the increasingly violent actions of Myanmar security forces are constantly filmed and broadcast to the world, and their online posts are widely shared by youths in other Asian countries. The so-called 'Milk Tea Alliance', has seen pro-democracy activists in Hong Kong, Taiwan, Thailand, India and Indonesia join forces to amplify the call for an international response to the situation in Myanmar.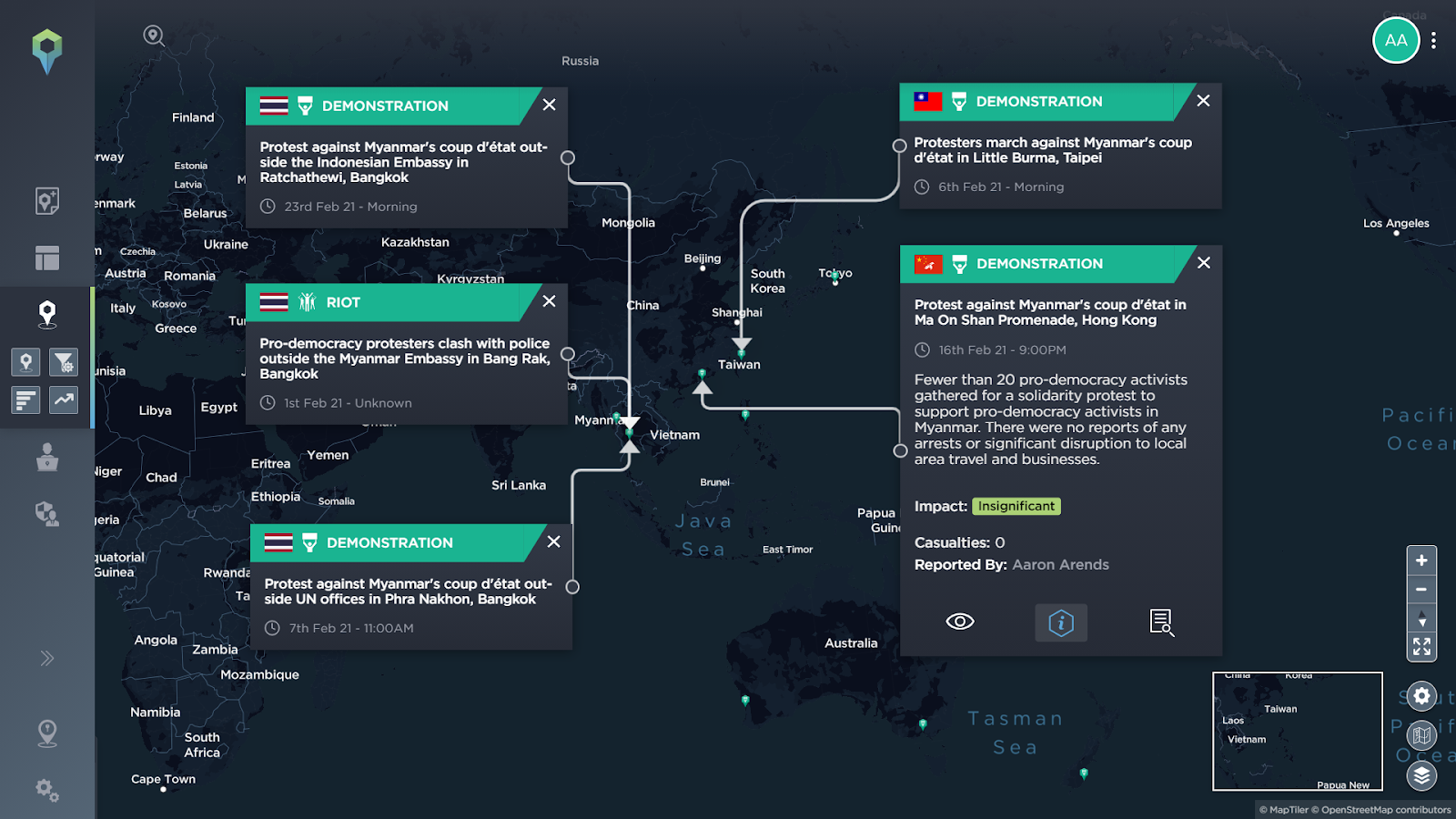 A selection of solidarity protests organised outside Myanmar during February 2021. [Source: Intelligence Fusion]
Business disruption and anti-Chinese sentiment
Myanmar attracted a lot of foreign investment when it shifted to civilian rule in 2011. International companies rushed to set up factories in the young democracy with one of Asia's cheapest labour forces. However, today's political unrest and increasing insecurity is disrupting production and logistics, not to mention the nationwide strikes, which have caused Myanmar's currency, the kyat, to depreciate. While costs are going up, refined oil imports are stalling. Most operations have therefore become nearly impossible, if not ethically irresponsible. Perhaps most affected have been Chinese investors.
An anti-Chinese sentiment was already present in Myanmar, but grew when protesters started spreading conspiracy theories about the arrival of Chinese cargo planes, which they suspect carried technical personnel who could aid the Myanmar military's censorship efforts. Although these rumours were unsubstantiated, an increasingly large crowd of protesters began gathering outside the Chinese Embassy in Yangon. The protest grew by the day, mainly because China refused to condemn the military coup. Anti-Chinese sentiments came to a boiling point on 14th March, when protesters allegedly set multiple Chinese-owned factories on fire in Yangon. Myanmar security forces responded by indiscriminately shooting at people in the industrial zone of Hlaingthaya. Because a Taiwanese-owned shoe factory was also looted and burned, Taiwanese businesses in Myanmar were urged by their government to display a national flag to avoid being mistaken for a Chinese business.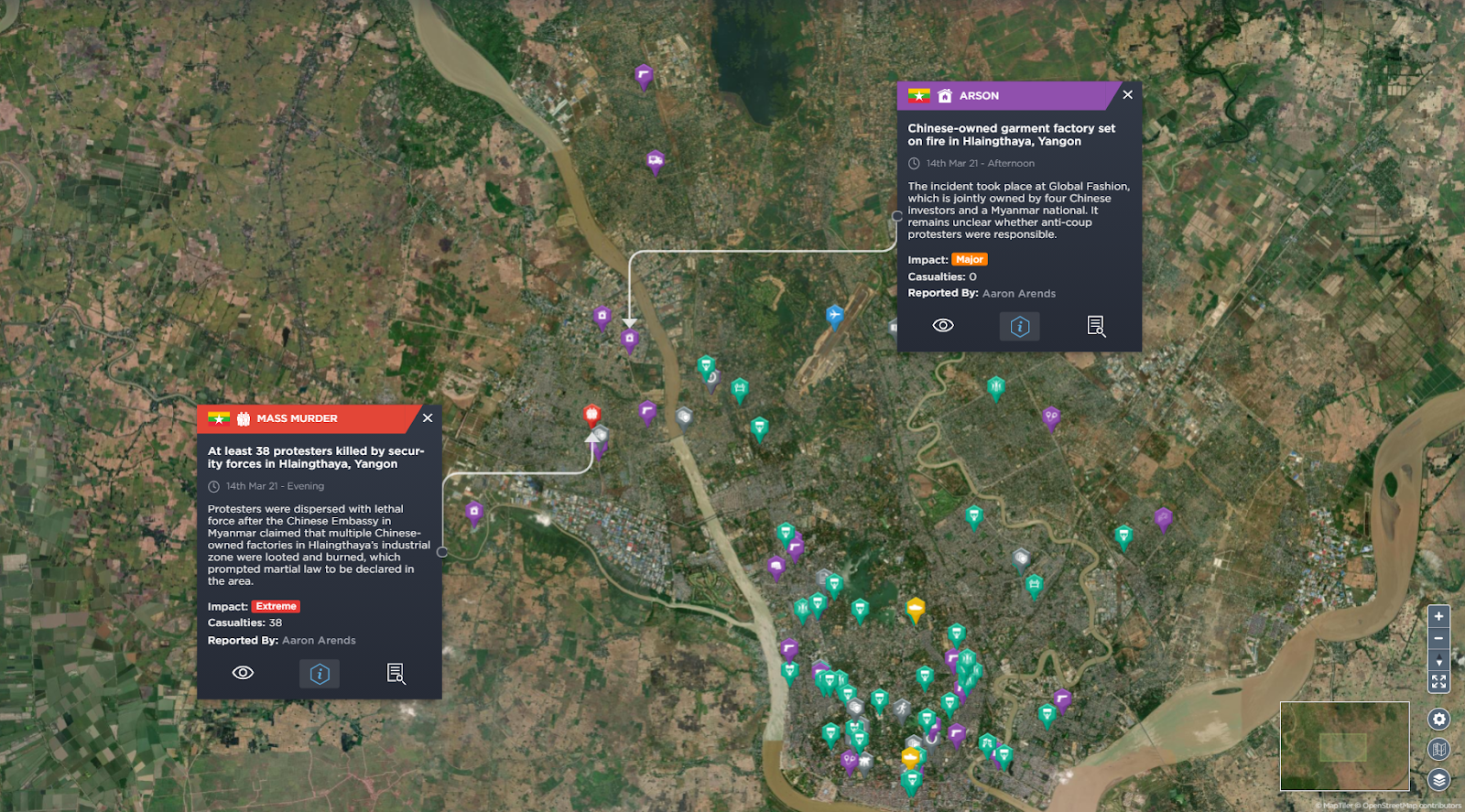 Security forces killed at least 59 protesters in Yangon on 14th March 2021, with the majority of fatalities being reported in Hlaingthaya after a series of arson attacks. [Source: Intelligence Fusion]
As if they had received a different order on that day, security forces fired into crowds in six cities throughout the country, killing at least 18 civilians
Massacre in Myanmar
By mid-February, millions were taking to the streets across Myanmar and strikes began affecting almost all sectors of society. Bureaucrats, bankers, teachers and technicians all walked off the job. Only the health care workers returned to work in order to care for those who got injured during the protests. As the civil disobedience movement gained momentum, the police and military began countering the protesters with more aggression. Besides beatings and arbitrary detentions, the use of live ammunition became increasingly common. 28th February marked a noticeable escalation in the level of violence. As if they had received a different order on that day, security forces fired into crowds in six cities throughout the country, killing at least 18 civilians.
Every week since then, Intelligence Fusion has recorded an increase in the use of lethal force against the population. A large share of reported fatalities are described as gunshot wounds to the head, with witnesses often claiming that the deaths were executions or the result of sniper fire. Video footage coming out of Myanmar today no longer shows direct confrontations between protesters and police, but rather security forces chasing after fleeing protesters, firing into homes, or executing arrestees. At the time of this report, on 19th March 2021, Myanmar security forces have killed at least 224 people. Also on this day is the planned arrival of a Russian IL-76 cargo plane at Naypyidaw Airport, delivering fresh firearms and ammunition to the Myanmar military.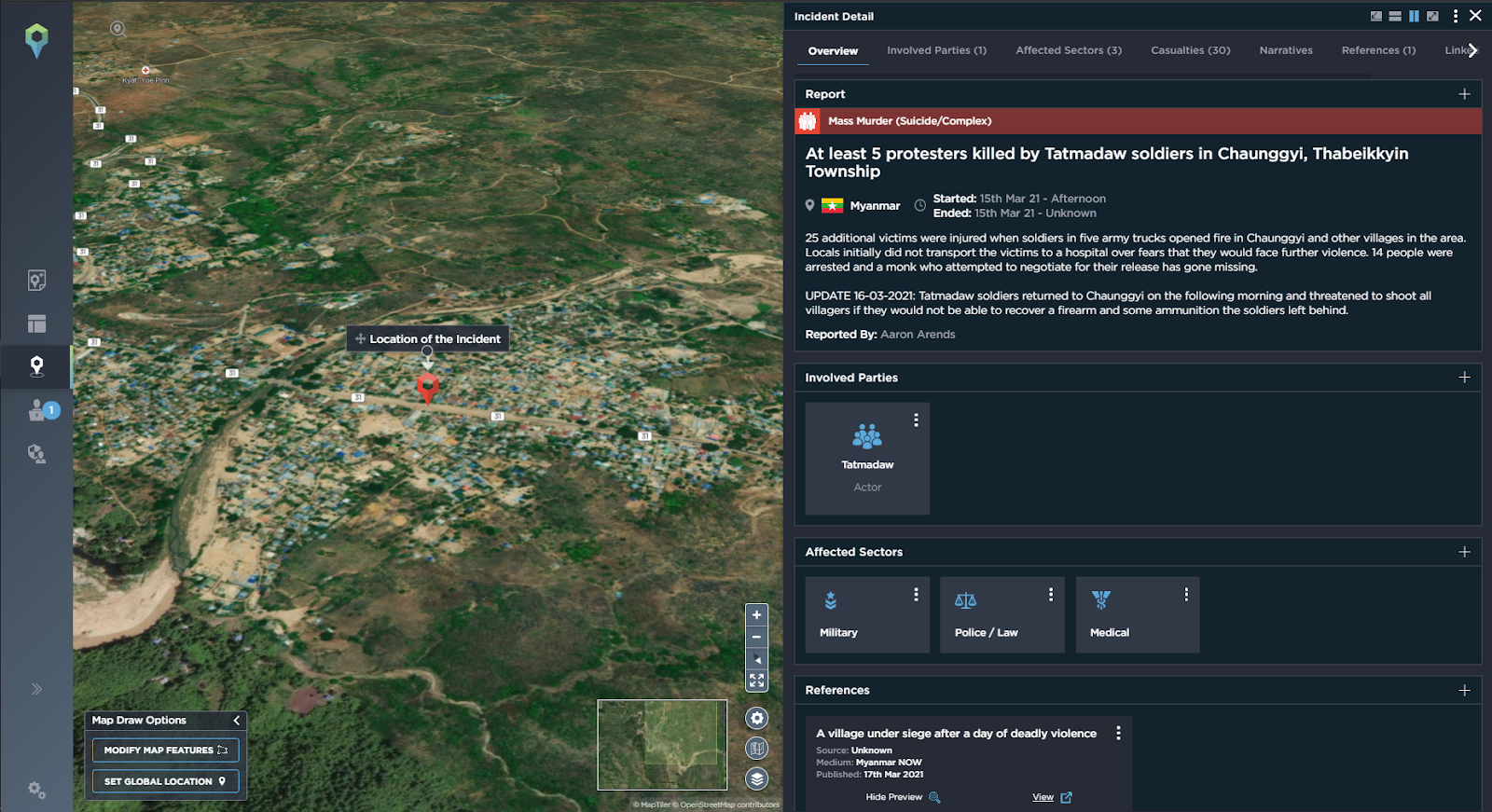 Myanmar soldiers killed at least 5 civilians in Thabeikkyin, a township that overwhelmingly voted for the National League for Democracy in last year's election. [Source: Intelligence Fusion]
Unfortunately, Myanmar's current situation is not unprecedented. The country has a long history of protest movements ending in horrific bloodshed, with thousands of civilians being killed during the 1988 Uprising and 2007 Saffron Revolution. Today's protesters claim they are as committed as their parents and grandparents in their fight for democracy. Some even say that the regime's brutality has only strengthened their resolve. Meanwhile, the relentlessness of the military can also not be underestimated, with the recent Rohingya genocide showing that international condemnation and sanctions are not enough to prevent another massacre in Myanmar.
Intelligence Fusion will continue to monitor the situation in Myanmar, with our 24/7 operations centre tracking and evaluating incidents around the world to provide you with live and historical intelligence. Our team of analysts first logged the possibility of a coup in the country six days before it took place, and our precise, actionable insights help our clients respond and take action, quickly. To learn more about our platform and to see how we help provide threat intelligence to businesses and security professionals around the world, book a demo today.