Gun violence and gang activity in Gothenburg: Police officer fatally shot in Sweden
At approximately 10:34PM local time on the night of 30th June, a police officer aged in his 30s was fatally wounded by gunfire whilst standing outside a property speaking to local residents in Biskopsgården, Gothenburg. As of the time of reporting, no arrests have been made and details of the incident are still emerging. It is unclear if the officer was deliberately targeted or this was a case of mistaken identity.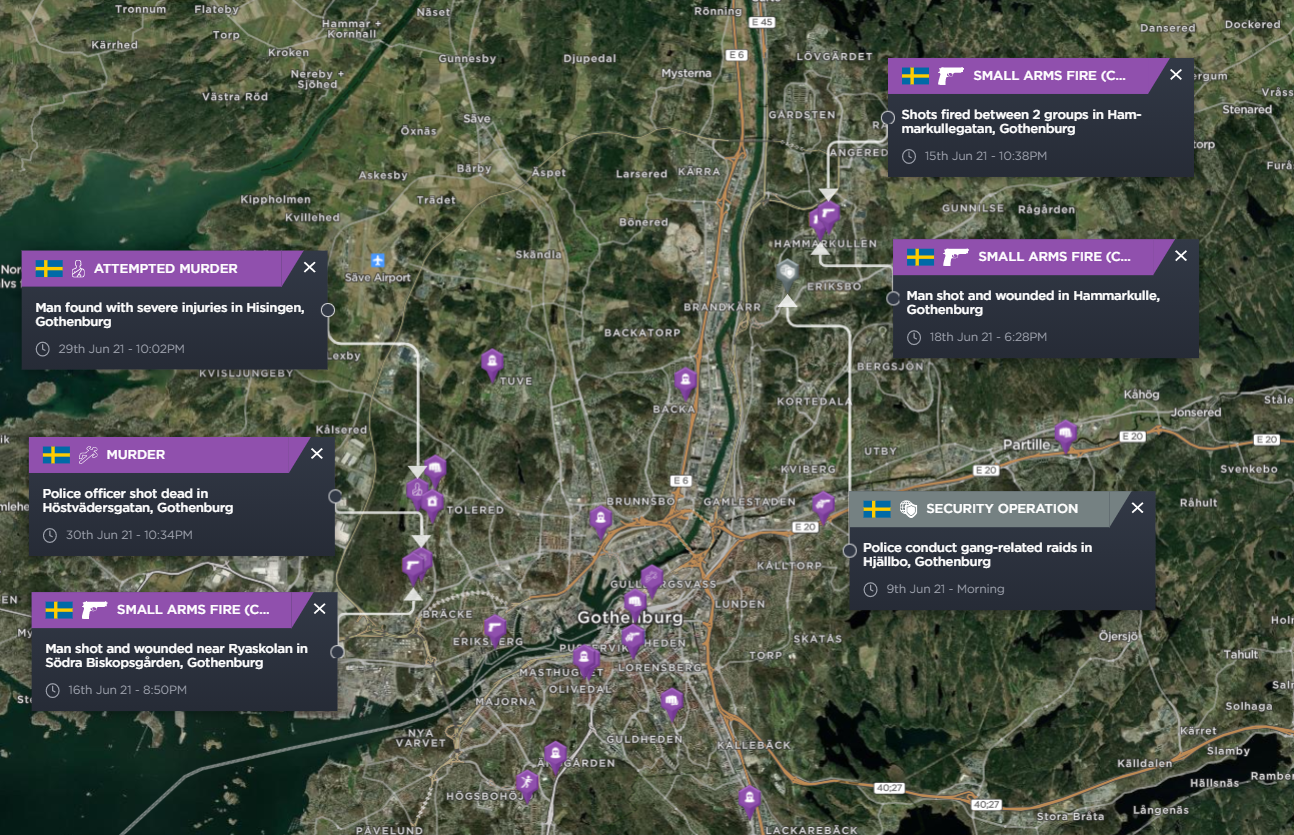 Snapshot of recent Significant Related Incidents in the Gothenburg region last 28 days
Although the motivation for the attack and identity of the perpetrator(s) is currently unknown as of the time of reporting, police units in the wider Gothenburg area have been carrying out a series of operations in recent months aimed at disrupting organised crime and an escalation of gang conflict concentrated in the outer suburbs of Gothenburg such as Angered, Hjällbo and Hisingen.
Although fatal attacks or shootings of police officers in Sweden are extremely rare, other acts of violence or intimidation targeting police officers and property are not uncommon. Intelligence Fusion has been monitoring such similar incidents within Sweden since 2016. In the past police stations have been targeted with explosive devices, police patrols have been regularly attacked with projectiles in vulnerable neighbourhoods and, in other cases, police officers intimidated at their own residences. Our analysts have to date captured over 130 significant incidents nationwide where police were targeted with violent acts or compelled to use force to defend themselves.
Snapshot of Significant Incidents targeting Police in Southern and Central Sweden since July 2016
It is possible that the targeting of a police officer may have been a response to police operations in the area. Organised criminal groups in the past have carried out revenge attacks against the police generally targeting police stations in order to attempt to intimidate police forces and reassert their own authority amongst the criminal community. An example of this type of incident was a grenade attack on a police station in Uppsala in November 2017 that damaged eight cars. Similar incidents have occured at police stations in recent years such as in Helsingborg and Malmö.
The perceived deterioration of the domestic security situation and crime in Sweden has led to the issue taking prominence in political debate. The country's deputy chief of police, Mats Löftving, identified 40 foreign based mafia clans who had come to Sweden 'solely for the purpose of organising and systemising crime'. Anders Thornburg, the National Police Commissioner, even stated that the growth of organised crime within Sweden is a threat to democracy.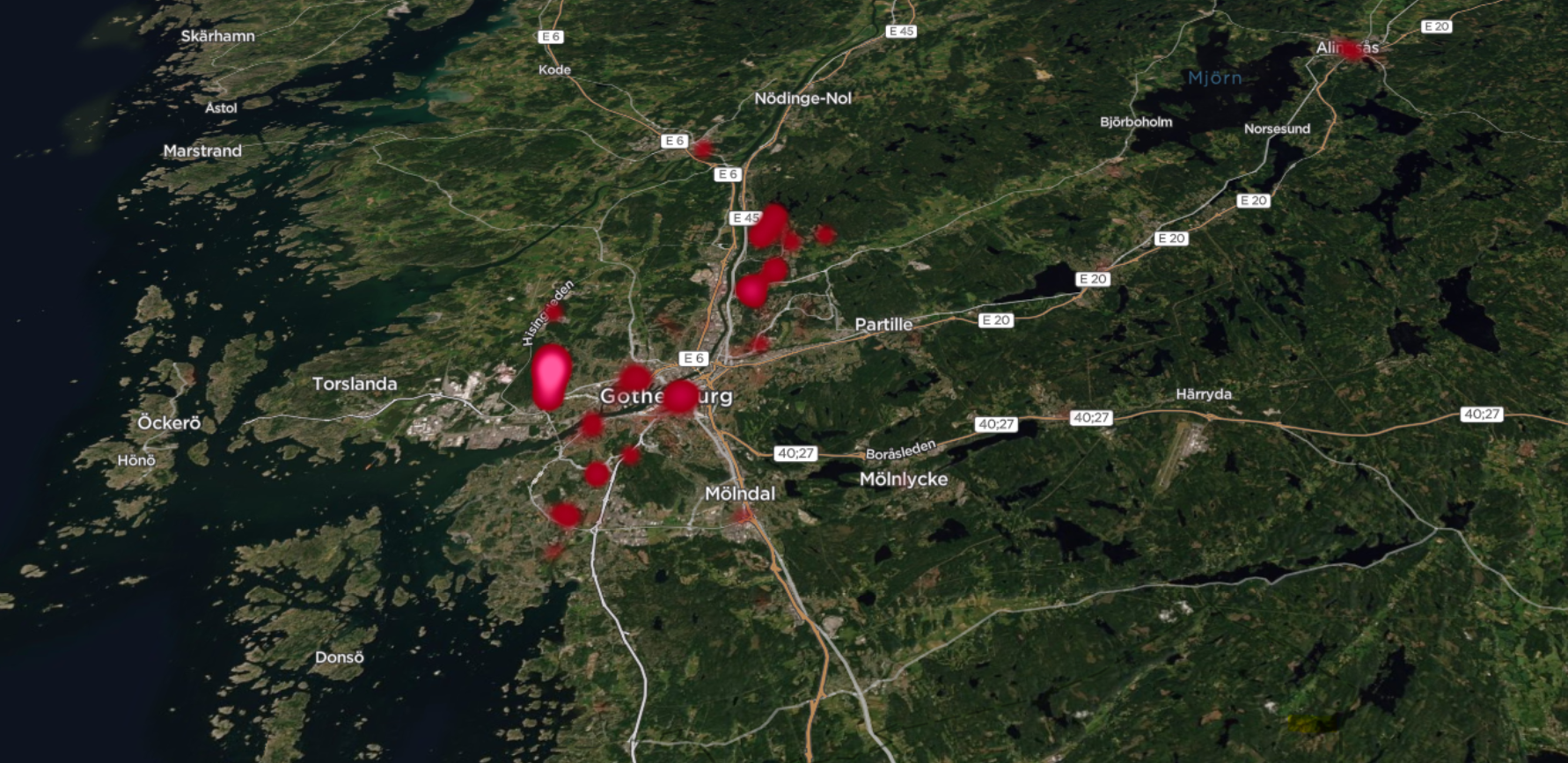 Heat map of gun violence in the Gothenburg region since 2016. Majority of Northern Incidents concentrated in Biskopsgården, Gårdsten, Hammarkullen and Hjällbo
Gothenburg is notorious for having organised crime groups based on ethnic and clan loyalties. Two rival gangs from Hisingen and Angered have been reportedly in competition for drug trafficking distribution and territory in the locality which escalated during 2020 with an alleged truce occurring in the autumn period which has appeared to have broken down.
Historically the Ali Khan network, based in Angered, is alleged to have dominated the drug trade within the locality. In recent years however, that power has been allegedly challenged by the Backa Gang based in Hisingen. Both groups have ethnic ties to the Middle East region with the Ali Khans reportedly having branches in Denmark, Germany and Lebanon. In addition to these two main networks in Gothenburg there are also multiple sub-groups of clan related gangs competing for competition across Sweden emanating from Somalia, Afghanistan and Iraq.  It is not uncommon for organised crime networks to reach out across nations to assist or facilitate trafficking such as the Black Cobra gang based out of Denmark, whose gang members originate from Turkey, Palestine, Iraq and Albania, and operate in Stockholm suburbs such as Tensta and Rinkeby and Rosengard in Malmö.
The following are selected significant chronological incidents that are likely related to escalating tensions in the northern suburbs of Gothenburg and are only a snapshot of dozens of other potentially related incidents that have also been reported through western Sweden and wider. During this period, multiple arson attacks on vehicles and property were also reported in this locality on the IF platform which may be related to ongoing gang conflict.
A timeline of gang activity in the Gothenburg Area: August 2020 – December 2020 and January 2021 – June 2021
Police forces, having previously had to deal with budget cuts, are now under increasing political pressure. Erik Nord, the chief of Gothenburg police, has been an advocate of more muscular policing and higher visibility of police patrolling but has been hampered by a lack of resources. Nord has stated that local criminal clans operating in the area have a completely different culture that makes them very difficult to tackle with normal police methods.
Police are able to conduct specific actions against organised crime such as Operation Rimfrost, a police initiative that lasted six months, after a wave of violent crime in Malmö, but have struggled to maintain a long term presence due to lack of officer numbers and resources.
It is likely that as a response to the killing of a police officer, if it is found to be linked to organised crime, Swedish authorities will attempt to allocate further resources in the region for an interim in order to deny freedom of movement to crime gangs, reassure local residents and apprehend any suspects linked to the killing.
The effect on businesses operating in the area may be minimal unless they are the target of extortion or intimidation by these groups. There is however, always the chance of property or people being inadvertently caught up in violent incidents such as shootings or bombings. Logistic companies should also be vigilant in where their vehicles are parked at night due to the continuation of arson attacks in the area.
---
At Intelligence Fusion, we track and follow incidents until their conclusion, making sure that our clients get the full picture – we'll be providing further updates to this incident on the Intelligence Fusion platform as we learn more information.
Intelligence Fusion is the threat intelligence provider of choice for one of Europe's most high profile police forces. Our platform subscription allows our clients to access a historical database of over 600,000 mapped incidents worldwide – each one tracked, evaluated, verified and analysed by a member of our 24/7 operations team. To learn more about what our platform can do, and how it can enhance your situational awareness and security planning, click here.