Report your own incidents: Create a custom platform for your business
Our threat intelligence platform is highly customizable to suit each of our clients' bespoke needs.
Create your own view of the threat landscape. Get the most value for you and your team to effectively protect your business and assets more easily.
Our team of expert analysts work 24 hours per day, monitoring the global threat landscape and prioritizing threats that will impact our client's operations. Clients are alerted of these incidents instantly, allowing them to act swiftly. Thorough Intelligence Collection Plans (ICP) formulated with customers during the onboarding process and regularly updated throughout their subscription provides our analysts with the information required to understand your needs.
We use our clients as the lens through which our analysts look at the world; we are truly an extension of your security team.
However, we are aware that no one knows your business better than you and having all threat intelligence data that impacts your business in a central source is essential for effective security management.
Therefore, an additional premium feature of our platform is the ability to report your own incidents.
Reporting an incident [Image source: Intelligence Fusion]
As and when an incident occurs that has an impact on your business, you can report it and add your own custom commentary to keep your team up to date and allow risks to be mitigated. This platform view will only be seen by your business; therefore, further customization can then be implemented if required. For example, you might want to visually brand the platform to look like your business, or you might want to change the layout, add extra functionality such as a document repository, build custom reports, change severity ratings to reflect the impact on your business or visualize things such as pipeline networks or supply chain routes to support your security teams.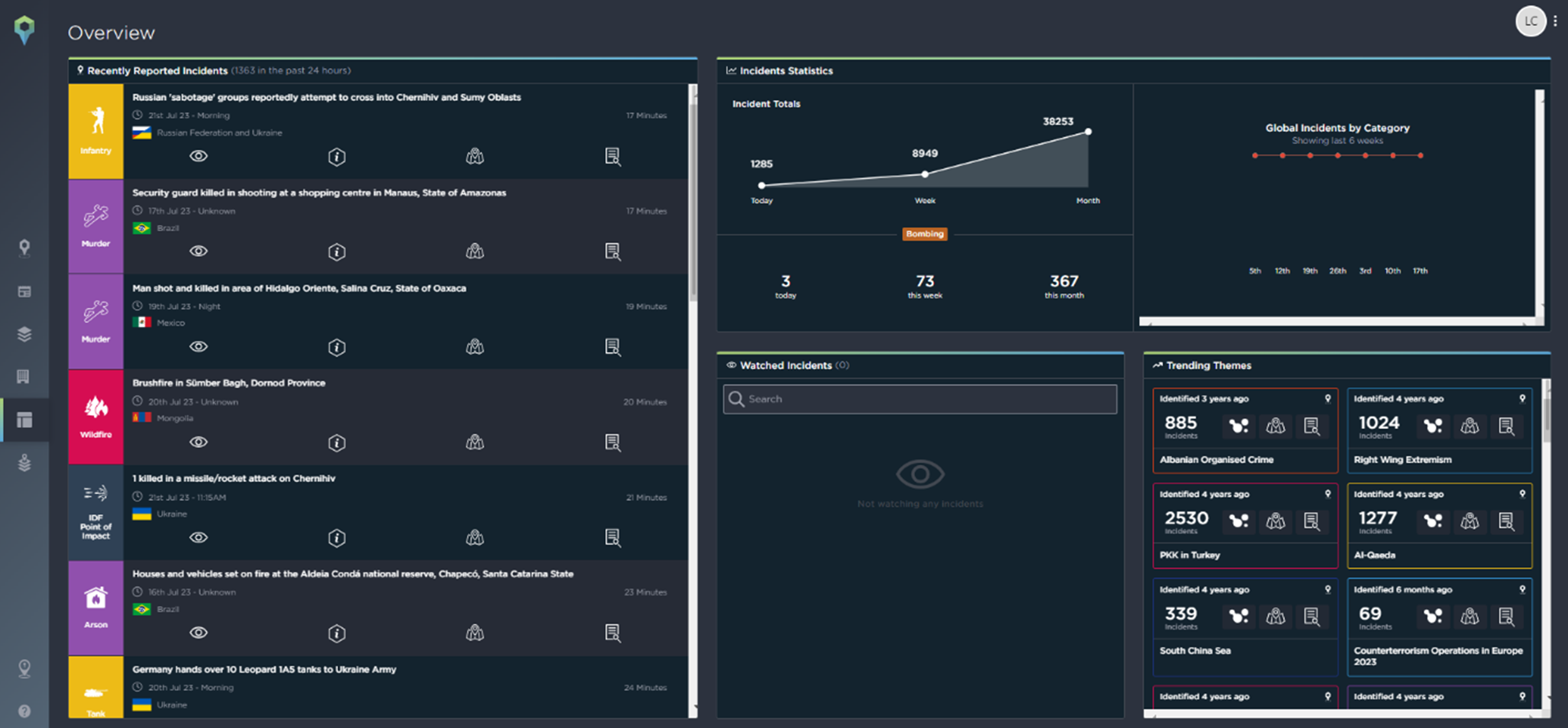 Custom dashboard [Image source: Intelligence Fusion]
If you have an idea for a custom dashboard or development work that we have not already considered, we are always welcome to suggestions and will aim to support your needs. We want to allow you to be as proactive and thorough as possible.
We have 159 incident types allowing you to categorize your incidents in the best way for you to reflect the way you work; adding your own custom severity rating, in addition, can allow your team to filter results or set up alerts for any extreme or major incidents. Setting up geofencing around your assets also allows you and your team to be made aware of incidents happening near your operations.
We report over 20,000 incidents globally per month, and having this insight, as well as dedicated analysts specializing in each region, allows our clients to excel. This, coupled with your own reporting, will give you the most comprehensive threat intelligence platform on the market.
If you want to discuss adding custom reporting to your subscription plan or any other additional features, don't hesitate to get in touch. Or, if you are new to Intelligence Fusion and like the sound of our software, request your free demo today.