Islamic State security concerns at the al-Hol refugee camp
From one perspective, the al-Hol refugee camp is the prime example of the downfall of ISIS: the self-proclaimed caliphate that once controlled about a third of Syria and 40% of Iraq, including its second largest city, is now reduced to a refugee camp of around 57,000 people, 90% of which are women and children guarded by western-backed Syrian Democratic Forces (SDF).
However, from another perspective, the camp is one of the most pressing concerns in the fight against terrorism and presents several problems for the coalition against ISIS. Chief among them is the continued presence of active ISIS operatives. A three-week-long operation beginning in August found dozens of tunnels where the group's operatives had stored weapons and supplies, including more than 25 kilograms of explosives. The SDF arrested more than 300 operatives.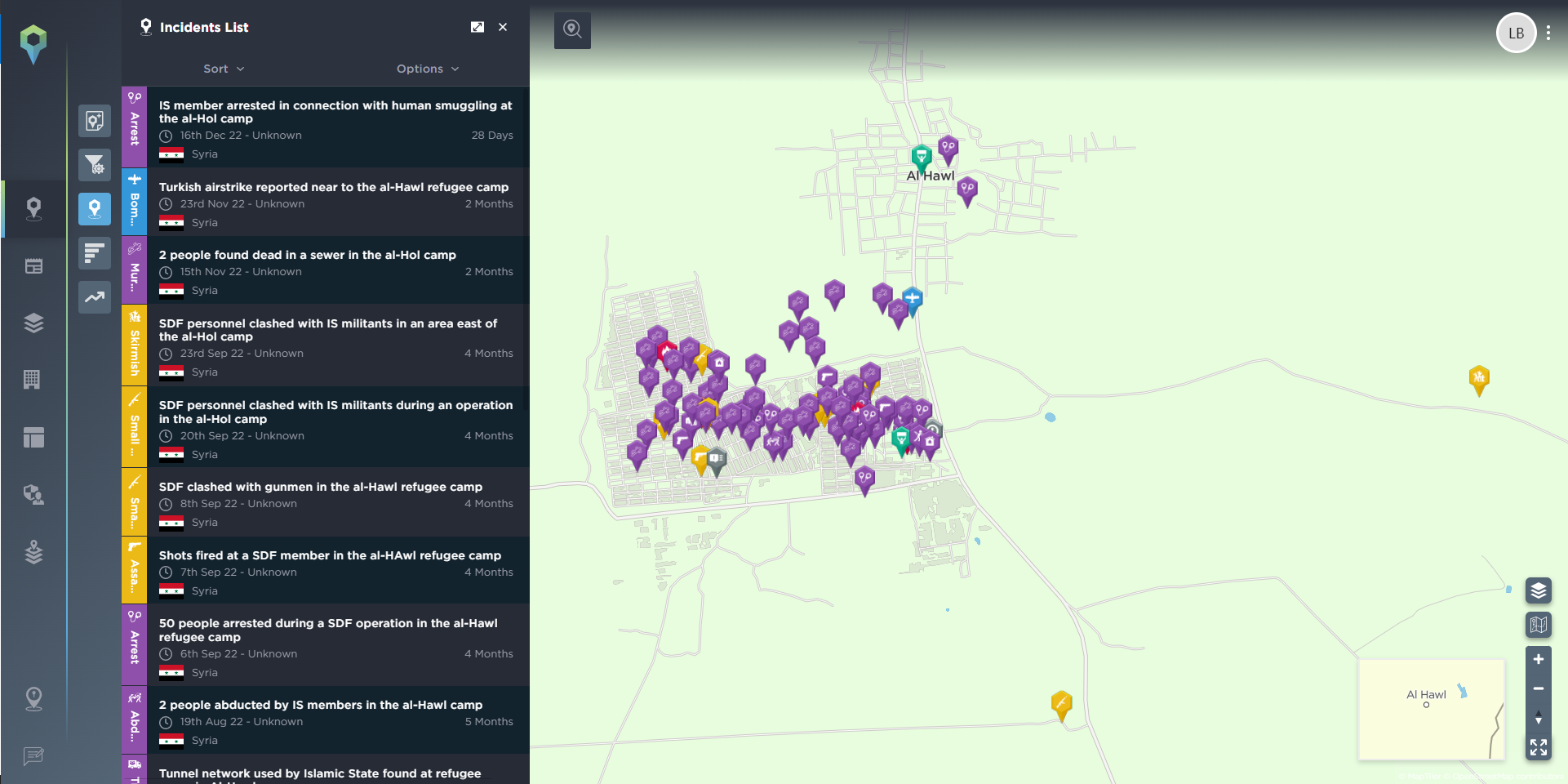 An overview of recent security incidents reported at the Al-Hol refugee camp in Syria. [Source: Intelligence Fusion]
Adding to this, several women were found chained and believed to be held by ISIS for years. One of the victims was captured at age nine, tortured, and sold multiple times by ISIS members. Often these captives are Yazidis who have been forced to live as slaves for ISIS members and their families. Several murders in the camp are also blamed on ISIS operatives with women being at particular risk. In November 2022, two girls, aged 11 and 13, were found beheaded at the camp.
Around 8,000 of the women in the camp are jihadists and wives and widows of ISIS fighters who have organized their own Hisbah religious police units and courts to enforce extreme Salafist rules over the rest of the camp. The niqab worn by women in the camp makes the identification of female perpetrators nearly impossible, and suspects often move from tent to tent to avoid detection. These women were filmed in September chanting "Islamic State remains". They are supposed to be housed in separate enclaves from other refugees but the reality is different.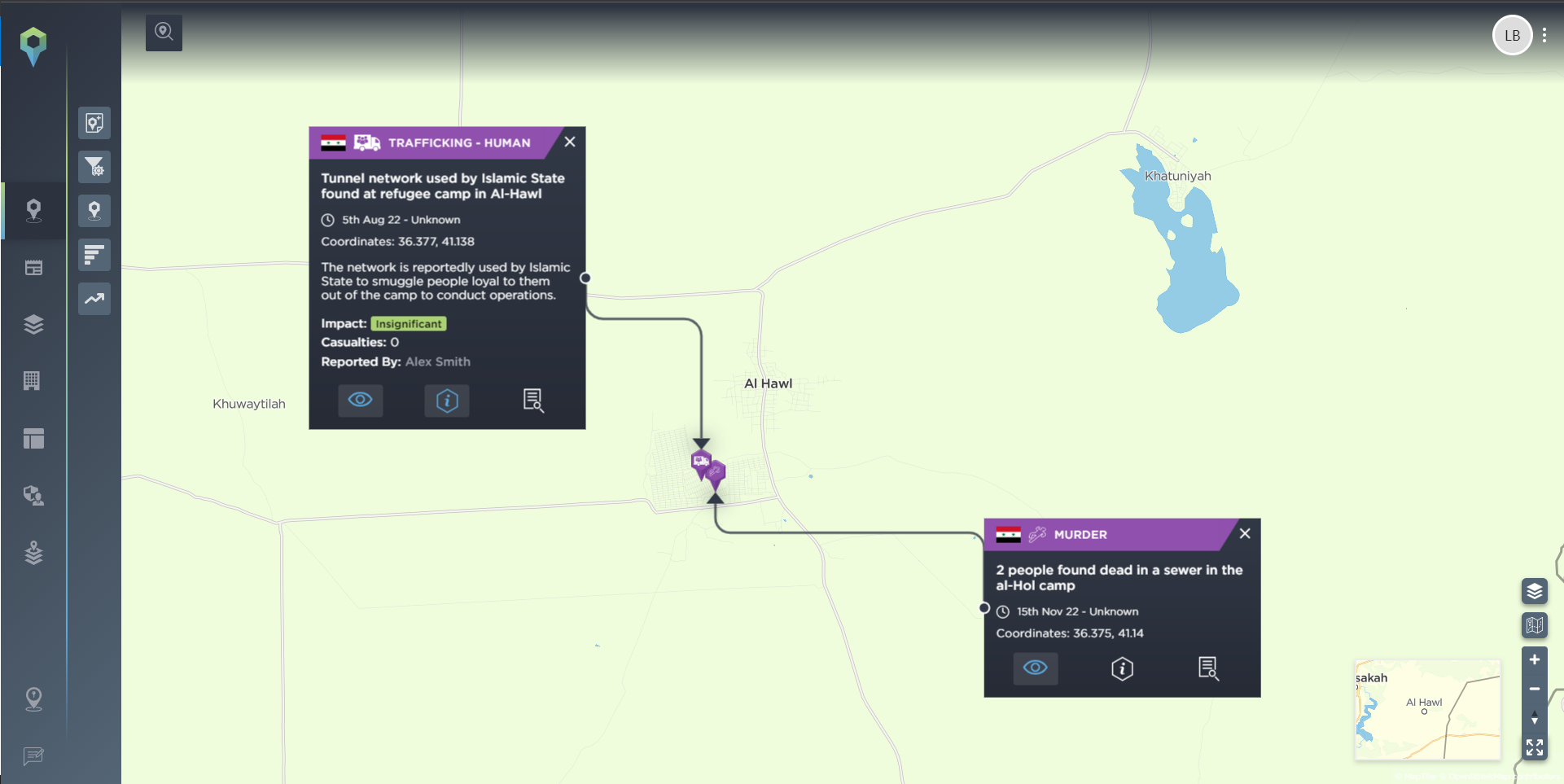 An example of the incidents reported at the Al-Hol refugee camp in 2022. [Source: Intelligence Fusion]
Army General Michael "Erik" Kurilla, the commander of U.S. Central Command, has described it as "a literal breeding ground for the next generation of ISIS". The US Administration fears that the tens of thousands of children at al-Hol are especially vulnerable to being recruited by ISIS or forced to join with 40,000 of the children under age 12. One of the US's three main pillars of their strategy against ISIS is to prevent children from being radicalized but current conditions do not give grounds for optimism. During an attack on Al-Sina'a prison, foreign minors were recorded being held alongside adult men.
Humanitarian conditions in the camp are dire with inadequate medical facilities, irregular provision of water and insufficient sanitation made worse by high prices for food and fuel. Security conditions at times also lead to temporary lockdowns when no assistance can be delivered to camp residents. Medical care is often secondary to security concerns with a seven-year-old boy who was burned being taken to a hospital an hour away only after two days and under armed guard. The boy died of his injuries. In 2021, 79 children died in the camp.
Who are the detainees at the al-Hol refugee camp in Syria?
Adding to the confusion is who exactly are the detainees in al-Hol. The majority are thought to be from Iraq and Syria, but more than 10,000 are from elsewhere. Some residents lie to be repatriated somewhere other than their home countries, a situation made worse by lack of documentation with passport burning among ISIS practices. Within the foreigner section of the camp, around 3,500 children do not possess birth certificates.
Several countries are reluctant to repatriate citizens due to fears they may spread ISIS propaganda or carry out attacks. Britain has the notorious case of Shamina Begum who traveled to ISIS-controlled Syria and later had her citizenship removed by the Home Secretary. Germany has announced it has taken almost all of its citizens back, with the Netherlands repatriating 40 women and children at the beginning of November and France taking 51 of its citizens for the first time in July. Iraq has done somewhat better with repatriating around 450 families. However, this is out of 8,000 families. At this rate, it is estimated to be several years before all Iraqi citizens would be repatriated. This is not replicated on the Syrian side due to coalition animosity to the Assad regime but repatriation is possible in Kurdish-held areas under a tribal sponsorship scheme.
How effective is the SDF at controlling the al-Hol camp?
Part of the concern of the camp is whether the Kurdish-controlled SDF forces can properly hold the camp with an ideal population size predicted to be between 5,000 and 10,000 people. Added to this anxiety are ISIS and its affiliates' strategy of prison breakouts.
In 2012, when it was still based in Iraq, leader Abu Bakr al-Baghdadi launched its year-long "Breaking the Walls" campaign. The campaign used vehicle-borne improvised explosive device (VBIED) attacks to create eight prison breaks. The infamous Abu Graib prison was one of the targets, and ISIS managed to free around 500 inmates who had been captured during the Iraq war for terrorist activities. In January, a 10-day battle over the Al-Sina'a prison in Hasakeh, Syria erupted after ISIS fighters attacked in the hopes of freeing ISIS detainees. An estimated 500 people were killed, including detainees, prison staff, and civilians with reports of minors being used as human shields. Several ISIS fighters escaped and US air support was required to assist the SDF forces. In December 2022, ISIS attacked an SDF security complex in their old stronghold of Raqqa killing several guards in the hope of freeing high-level prisoners.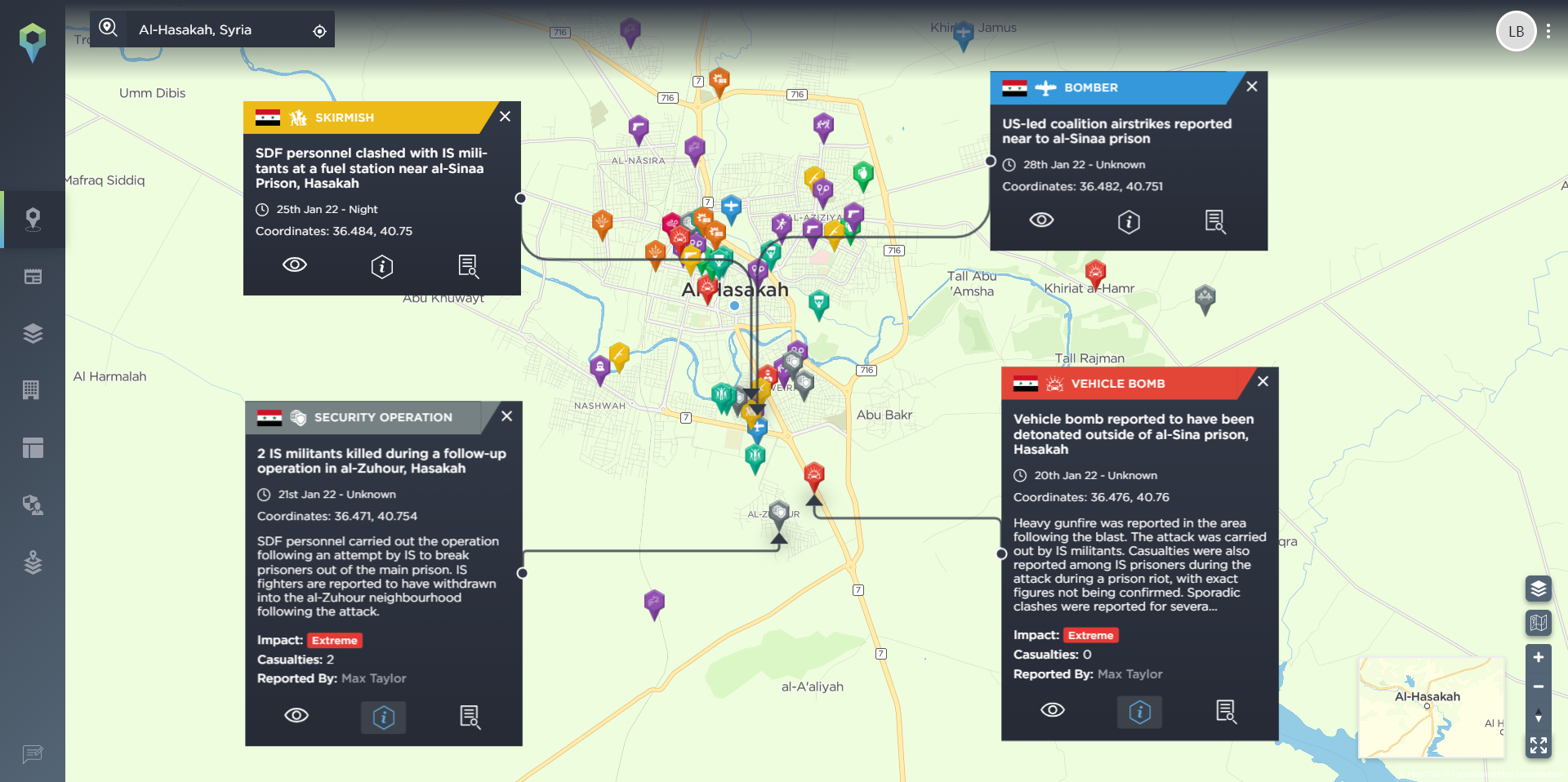 A selection of significant incidents relating to the large scale Islamic State attack and riots at Al-Sina prison in January 2022. [Source: Intelligence Fusion]
In Africa, jihadi groups have followed suit with Islamic State West Africa Province attacking Kuje prison in Abuja which resulted in around 879 inmates escaping including jihadists, and al Shabaab, attacking the central prison of Puntland in Bosaso. Al-Hol itself has been attacked with less success but remains a target with Abu Omar al-Muhajir, a spokesman for ISIS calling on ISIS operatives to liberate ISIS prisoners from prisons around the world as recently as September 2022, the same month a suicide attack targetted the camp.
Recently, further doubts about the SDF's ability to sufficiently defend the camp have been raised. As part of Türkiye's Operation Claw-Sword attack on Kurdish territory, the SDF suspended joint operations with the US against ISIS to divert troops to fight in the conflict. The SDF has also reported that Turkish airstrikes targeted al-Hol in November 2022. The attack killed seven security officials responsible for guarding the camp. Six foreign detainees escaped during the assault but were later recaptured. With rapprochement between Türkiye and Assad's Syria seeming more likely after meetings with defense and intelligence officials, it would seem that Kurdish forces could be stretched thin against multiple opponents. Turkish Defense Minister Hulusi Akar has claimed there is the possibility of joint ground operations with Türkiye, Syria, and Russia.
The location of a Turkish airstrike targeting an SDF-manned site near the al-Hold refugee camp in Syria. [Source: Intelligence Fusion]
What is the current situation at the al-Hol refugee camp in Syria?
Currently, the al-Hol camp is an acute security problem for the global coalition against ISIS with a problem made worse by European allies dragging their feet over repatriation and outsourcing the issue to thinly-stretched SDF forces. On top of this, is the threat that ISIS is keeping the camp firmly within its sights. The latter is further exacerbated by a large number of women and children being held there which compels male fighters to attempt to free them. The group's attack on the Raqqa security complex was justified as revenge for the holding of women. The group remains a formidable force in the region with between 6,000 and 10,000 fighters. The United States estimated that it killed almost 700 members in 2022 alone.
If SDF troops withdraw to confront Turkish attacks, the ominous question is who will replace them? And will they be successful at containing ISIS which has already proven it can use freed fighters as a basis for a larger campaign of international terror?
---
At Intelligence Fusion, we help transform the risk management practices of organisations by providing them unrivalled situational awareness via our threat intelligence platform. We track and accurately geolocate, among other things, terrorism and insurgency across the globe in near-real-time, as well as the impact of ongoing conflict on businesses, governments and military.
To learn more, and find out how we can help you and your organisation, get in contact with a member of the team now.