Intelligence Fusion Employee Spotlight: Vincent Fevrier
Say hello to Vincent.
Vincent, now a Senior Analyst here at IF, started with us as an intern back in 2017. As well as a serious love of donuts, Vincent brings multiple language skills and a relentless dedication to his work.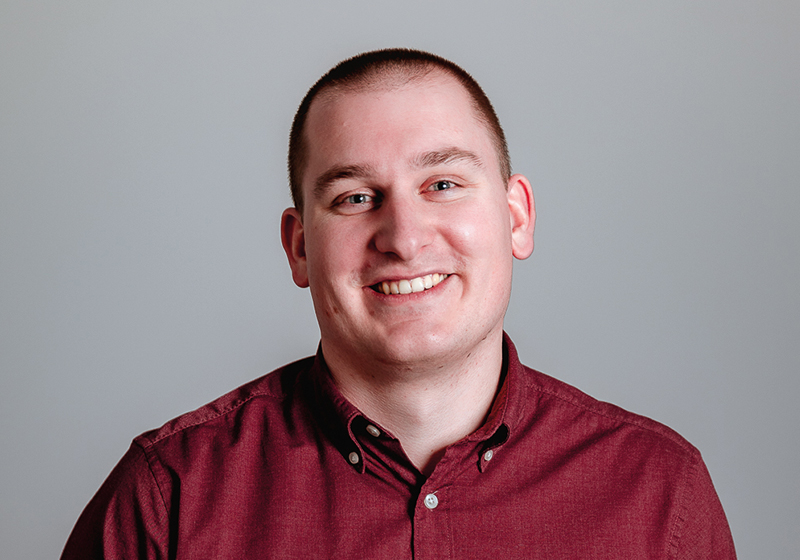 He's also the voice of IF. That's right, Vincent is the man behind the American accent who narrates all of our platform tutorials and how-to videos.
In our latest employee spotlight, Vincent shares his journey with Intelligence Fusion and his advice for aspiring analysts…
What's your role at Intelligence Fusion?
I'm a Senior Regional Analyst who specialises in the Americas.
How long have you worked here?
Since January 2017. I did a year as an Associate Analyst before transitioning into my current role as Senior Regional Analyst.
What first attracted you to Intelligence Fusion?
I was looking for a new challenge that incorporated my various interests, including geopolitics and news, and came upon an opportunity to intern with Intelligence Fusion. The fact that the internship was remote and allowed freedom in what I looked at and what I wrote was also points of interest for myself. Fortunately, after interning, I was fortunate enough to get a permanent role.
What does a typical day look like for you?
A typical day for me includes going through the news for a number of countries I look at within the Americas in order to find incidents that have happened and that need to be mapped on the Intelligence Fusion platform.
In addition to this, I also moderate all the incidents that the interns map, in order to ensure the highest level of quality, as well as run the @IFSouthAmerica twitter profile to disseminate a variety of incidents that have happened in the region.
Finally, I also work on a variety of intelligence reports focusing on the issues that impact the countries I look at on a daily basis.
I think the mindset of the company is what sets it apart. As a new player in the sector, we constantly look to evolve and incorporate new elements…
What aspect of your role do you enjoy the most?
The freedom to decide what I get to focus on in regard to writing intelligence reports, as well as the daily reading of news which allows me to understand what security threats impact countries at a granular level.
What do you like most about working in this industry?
Working in this industry, particularly in my current role, has allowed me to view the world in a different lens and think differently about some of the security issues that I thought were easy fixes.
What were you doing before you took on your current role?
Prior to my current role, I was an intern with Intelligence Fusion, with a focus on Southeast Asia, particularly the Philippines. However, prior to when I transitioned to the intelligence sector, I was working in the NGO sector with Action Against Hunger in London as a knowledge and information management officer.
What advice do you have for prospective interns or analysts?
What you get out of the job is what you decide to put in. I think this is quite relevant to interns and is what I remember from my first conversation with the CEO, Michael McCabe, during my internship interview.
As I undertook my internship as a way to build up my skillset and transition into the sector, I put a significant amount of effort not only in mapping as many incidents as possible, but also writing as many reports as possible. This allowed me to make myself stand-out and opened up opportunities and led to various job offers.
In your opinion, what sets Intelligence Fusion apart from other providers?
I think the mindset of the company is what sets it apart. As a new player in the sector, we constantly look to evolve and incorporate new elements to our platform so as to not become stagnant.
The size of the company is also something that sets it apart, in the sense that you're not just a number and your opinion and ideas are valued, and it allows honest conversations with management on both things I agree with and disagree with.
You're not just a number and your opinion and ideas are valued, and it allows honest conversations with management…
How have you seen the company evolve since you first started?
I've seen the company grow from primarily an internship program to the hiring of myself and other senior analysts, to the hiring of junior analysts, moving into permanent offices, and the transition from the first iteration of the platform to Intelligence Fusion 2.0.
The evolution that the company will go through in the next year will be very exciting as we continue to grow.
What's one thing you wish people knew about your job?
While some of the tasks, such as the inputting of incidents, may seem repetitive, it's also what allows to undertake the more exciting aspects of the job such as writing about issues that aren't commonly reported about in the Western media.
How would you describe your team in three words?
Dedicated, passionate and a good sense of humour.
What do you like to do when you're not at work?
When I'm not at work, I spend my time watching Formula 1, football and movies.
What is something that not many people know about you?
I wanted to be a writer when I was younger.
---
Vincent recently co-wrote a report analysing the current situation along the US-Mexico border and the wider impact of the increase in migration and trafficking.
The report investigates the involvement of organised crime groups in human trafficking and the drug trafficking trends along the border, analyses of migration hotspots and patterns as well as the security responses from US and Mexican authorities. Vincent and co-author, Megan Broughton (Regional Analyst for North America), also highlight the implications of the border wall and the various threats to each sector.
Do you think you could be a member of Team IF? We're currently recruiting a number of roles based at our UK Headquarters, including a Regional Intelligence Analyst.
To find out more, or to apply, visit the Careers section of our website or email info@intelligencefusion.co.uk